Applications Knowledge Base - Step-By-Step Guides To Specific Network Monitoring Tasks
Find out everything you can do with network monitoring. The Applications Knowledge Base contains step-by-step guides to finding the network alarm management system that's a perfect fit for what you want to achieve with your network monitoring. These applications guides will help you identify your network monitoring goals and direct you to the applications and products you need to reach those goals.
Find the guide that answers your questions:
What is Your Legacy Problem?
Is your network monitoring system dying? Is it no longer supported by the manufacturer? Is it a dead end for upgrade options? There's a way out of the legacy trap. This guide to legacy support issues will show you cost-effective ways to migrate from your obsolete legacy system to advanced network alarm management, without sacrificing your investment in your existing equipment.
What do you want your Network Alarm Management System to do?
This guide to alarm master applications will show you how you can monitor your entire network from one integrated platform, display detailed alarm data in your NOC, send automatic alarm notifications to field technicians, control remote site equipment, and more.
What do you want your Alarm Collection Devices to do?
This guide to Alarm Collection Devices (remote telemetry units) will show you how you can monitor discrete, analog and ping alarms, control remote site equipment, find the right capacity device for your site, mediate alarm inputs between different protocols and more.
What do you want to do with SNMP?
This guide to SNMP alarm monitoring applications will show you how you can mediate SNMP to and from other protocols, forward discrete, analog, and ping alarms as SNMP traps, connect SNMP RTUs to your network via dial-up connection, and more.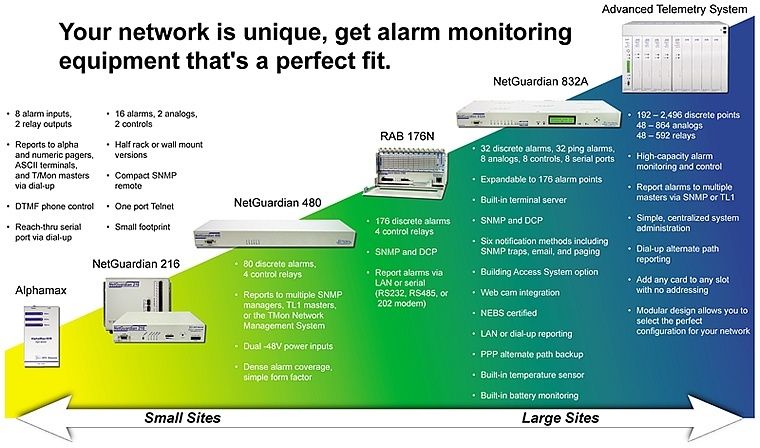 Click on a product image to see product details and specifications.
Other Helpful Links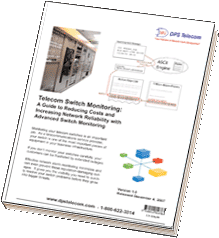 White Paper: When to Update Your Monitoring
If you're currently monitoring your mission-critical equipment with a legacy monitoring solution, can you really be sure you have complete network visibility? What will you do when your aging system fails?
This white paper will teach you how to escape the legacy monitoring trap and gain total visibility of your network. It will also show you how the support and expertise of a modern monitoring vendor will make gaining that visibility much easier.
Remember that we'll NEVER sell your email address to anybody, and that's a promise! We will also send you our informative eMagazine.
This NetGuardian Monitoring Application solves 2 visibility problems.
Remote Telemetry Units (RTU) for Medium Sites.
RTU vs Equipment With Embedded Monitoring - 8 Critical Considerations Affecting Time, Money and Your Future.
Specialized Technologies from DPS.
23 burning questions you must ask of your Remote telemetry unit vendors.
Replace Your Badger Remote Units Without a Forklift Swapout.
The Top 3 Client-Favorite New DPS Technologies of 2013.
Enhance Network Reliability and Create a Competitive Edge with Remote Alarm Monitoring and Control.
Peripherals (Accessories).
Strategic Products are MFD.
Your IPswitch Master Station can Monitor NetDog remotes.
How To Monitor a NetGuardian From Any Telnet Terminal.
DPS has RoHS solutions - You need to have monitoring devices that are ROHS compliant.
Voice Alarm Dialer.
General LCD Display (GLD).
Does your Remote Access Device Have These 4 Features?
Top 5 Technologies from the DPS Overview Slideshow.
Product Showcase--Index.
DVF-64 Card Opens Door to Digital Supervisory Applications.
Working With E2A.
Need a Quote?
Get it by: 4:15 PM Wednesday (tomorrow)
8:00 AM Wednesday
We'll Start Work on Your Detailed Quote
4:15 PM Wednesday
Get Your Quote (Email PDF)
It's 8:56 PM on Tuesday at our Fresno, CA, USA headquarters. It's late in the day, but we promise to start on your quote first thing in the morning.
Get a Quote