The NetGuardian 832A G5 remote access device gives you the tools you need to control your remote sites.
You want the right solution so that's why I recommend taking a look at the NetGuardian 832A G5. This device gives you 8 control relays that grant control for up to 8 external devices via built-in LAN server functionality. This remote access device also features several easy-to-use visibility options - so you have multiple options to access and configure your equipment. With the NetGuardian 832A G5 you'll never have to waste your precious time and resources driving miles to your remote site just to perform simple operations - it can all be done without leaving your desk.
If you have any questions, concerns, or would like a free Return-on-Investment (ROI) analysis (to see how much you can save) contact the remote access specialists at DPS Telecom by phone (1-800-693-0351) or email (sales@dpstele.com).
---
Get a Custom Application Diagram of Your Perfect-Fit Monitoring System
There is no other network on the planet that is exactly like yours. For that reason, you need to build a monitoring system that's the right fit for you.
"Buying more than you need" and "buying less than you need" are real risks. You also have to think about training, tech support, and upgrade availability.
Send me a quick online message about what you're trying to accomplish. I'll work with you to build a custom PDF application diagram that's a perfect fit for your network.
---
Make an Informed Decision
Your network isn't off-the-shelf.
Your monitoring system shouldn't be, either.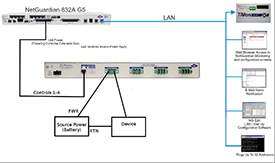 We'll walk you through this with a customized monitoring diagram.
Just tell us what you're trying to accomplish with remote monitoring.
Get a Custom Diagram