Network Alarm Monitoring Fundamentals
You've just been put in charge of purchasing, selecting, or recommending a new network alarm system for your company. Where do you start? What alarm equipment do you need? What monitoring features are essential, and which can you live without? How can you make sure your network is fully protected, without spending too much on equipment you won't use?
This White Paper is a quick guide to how you can answer these questions for yourself. This paper will NOT tell you, "Just buy this system and everything will be fine." Every network is different. A one-size-fits-all system won't provide the specific coverage you need and may cost more money than you really need to spend.
This guidebook has been created to give you the info you need to implement an alarm monitoring system in your network.
It's an intro to alarm monitoring strictly from the prospective of telecom network alarm management. It has fast specific answers to help you create an effective system that's customized to fit your network.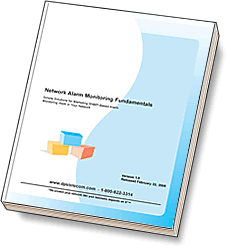 We'll never sell your email address to anybody, and that's a promise! We'll also send you our informative eMagazine.