Using Probe Temperature Sensor Technology to Prevent Network Outages
Have you suffered from an overheating emergency - which left you with giant repair bills, lost revenue, and unhappy customers? Or are you one of the lucky ones who have avoided these nightmare scenarios and want to keep it that way? Either way, when it comes to your valuable equipment you can't afford to take the risk of leaving all your valuable equipment unmonitored.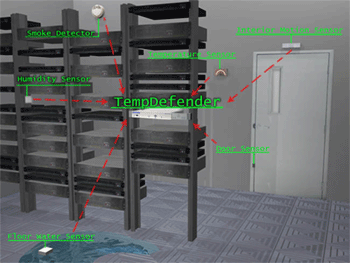 A TempDefender IT remote terminal unit with a probe temperature sensor used to monitor a high-powered server room.
Overheating and other temperature-related emergencies can happen because a server room, data center, or remote site isn't being properly monitored. Not all probe temperature sensors are created equal, though. Using cheap or limited sensor technology still leaves you vulnerable to a critical network outage.
Why it's important to use the right kind of sensor technology
Using weak sensors gives you a false sense of security. You think your network is being monitored properly, but in reality it's still at risk. That's why it's crucial to use the right probe temperature sensor.
At its most basic level, a sensor will simply detect when the temperature has risen above a specified point. This discrete sensor will send you an alert to inform you the temperature has reached a critical point. This may work for some purposes, but discrete sensors limit what you can and cannot do with your network.
Analog sensors feature more advanced technology than discrete sensors. Analog temperature sensors with probe output at a continuous rate (4-20mA) - which can provide you with a precise reading (within 1 degree) of the actual temperature of your server room, data center, or remote site, as well as log the data for analysis. Consider this scenario to understand the true power of analog sensors:
At your company you have several server rooms that house thousands of dollars of precious equipment. On a hot summer day your cooling systems experience technical difficulties. You receive alerts from two of your server rooms: One reads 82 degrees and the other reads 127 degrees. You realize the second server room is in greater danger and you dispatch your technician to resolve the cooling issues.
With a discrete sensor you would have simply received two alerts: "Temperature has risen above 80 degrees," but you would have never known one was much hotter than the other and facing a much more severe threat. Analog sensors give you these detailed alerts so you know how to prioritize your response.
Your probe temperature sensor should also be made with rugged industrial-grade hardware - so you don't have to worry about your sensor failing. Cheaply made sensors can't withstand the rigors of your tough environments. Don't let cheap hardware cripple your network - only use the highest quality technology.
For the most effective use of your temperature sensor it should be connected to a remote terminal unit (RTU). A good RTU will grant you the ability to receive detailed alerts about the status of your network. With a quality RTU you'll have access to several alert options (such as email, alphanumeric pages, voice alerts, SMS text messages, etc). These alert methods are capable of notifying you of critical problems on your network outside of standard business hours - so you're never in the dark about your network.
An effective RTU also offers you remote access to your external devices. Instead of driving miles and miles to your remote site to do some configuration - you can do it from the comfort of your desk. Having the power to remotely monitoring and control your network isn't a luxury - it's a necessity.
What technology do I have at my disposal?
The importance of using the best can't be understated. Using the right probe temperature sensors and a high-quality RTU give you the peace of mind knowing that your network is fully protected. With these monitoring solutions, you don't have to worry about your server room overheating, causing a critical outage that leaves you with giant repair bills, a giant headache, and a lot of angry customers.
That's why it's important to choose the right technology. With that in mind, I suggest taking a look at DPS Telecom's extensive sensor catalog. With plenty of options for all kinds of sensors, you'll find exactly what you need at DPS Telecom.


The NetGuardian 832A G5 can tackle your monitoring challenges.
The probe temperature sensors are most effectively used with the NetGuardian line of remote terminal units. The NetGuardian 832A G5 is a powerful and common option to tackle tough network challenges. This device has all of the crucial features to monitor and control your network and comes standard with top-tier 7x24 (that is 7 days per week, 24 hours per day) tech support - so you always have the support you need to maintain your network uptime.
DPS Telecom offers more than just the NetGuardian 832A G5. Call the network monitoring experts at DPS Telecom at 1-800-639-0351 to figure out the right fit for you. You may also reach them by email at sales@dpstele.com. The DPS Telecom experts can help you make the right choice - so you don't leave your network vulnerable.
Other Helpful Links
Using a Smoke Sensor to Prevent Critical Network Outages
How Choosing the Right Network Monitor Hardware Can Prevent Outages
How a Remote Control Monitor Will Prevent Outages and Save You Money
How to Protect Your Server Room Environment from Critical Network Outage
How to Select a Remote Alarm Network Monitoring System
Selecting a Remote Monitoring System
Consolidate Isolated Systems
Positive Train Control (PTC) Monitoring
How PTCI Monitors Its Cell Sites And COs