Using a Smoke Sensor to Prevent Critical Network Outages
How much is your network uptime worth to you? A fire can cause significant damage to all of your valuable equipment - leaving your network at risk for an outage. That's why it's absolutely essential that you know the minute there's a threat to your valuable equipment.
Leaving your equipment unmonitored is an unnecessary risk you can't afford to take. The repair bills alone can be tremendous, and this isn't even considering how unhappy your customers will be if they experience service disruptions because your equipment is damaged. Just imagine if you could prevent this damage and keep your customers happy...How much is that worth to you?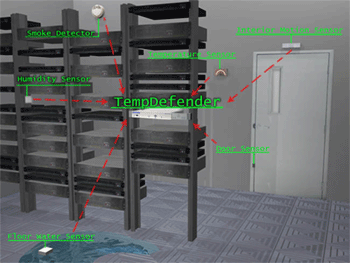 The TempDefender IT is capable of monitoring all critical environmental conditions in your server room, data center, or remote site.
That's why it's important to measure the environmental conditions of your server rooms, data centers, and remote sites. This equipment - and your network uptime - is too valuable to leave exposed to preventable damage.
This peace of mind - knowing you're protected at all times - can be a reality. Using the right monitoring system can give you the right tools to adequately monitor and protect your valuable equipment - without breaking your budget.
Not all monitoring systems can get the job done. There are some essential features you must have to truly protect yourself.
24/7 alerts

- Your smoke sensor should be capable of alerting you 24 hours a day 7 days a week. That's why it's crucial to have a smoke sensor hooked to a monitoring system. What's the point of having a smoke sensor if it can't warn you anytime there's smoke in your server room? The right system will give you the versatile alerts you need via email, pages, phone calls, or SMS text messages. When it comes to your network you can't afford to let weak technology keep you in the dark.

Monitoring flexibility

- Why limit yourself to a single-function? You can have so much more protection than just smoke detection. Your monitoring system should have support for more than just a smoke sensor - that you way you get can more out of your investment. A good monitoring system will have support for additional sensors (temperature, humidity, water, motion, etc) so you can monitor your equipment for all the key environmental conditions. A fire isn't the only threat to your valuable equipment, so keep tabs on all environmental conditions so you're always fully protected.

Rugged durability

- A smoke sensor and monitoring system won't do you much good if it doesn't work. Plain and simple, you need durable hardware - anything less and you're not adequately protected. The right monitoring system and smoke sensors will be built to last on industrial-grade hardware.
I know what my system needs - where can I get it?
You've realized the possibilities. You're ready to never have to worry about the status of your equipment again. Never again will you show up to work to work only to find out service to your customers has been disrupted because of equipment damage/failure. Having the right monitor system can give you this peace of mind.

Front panel of the TempDefender IT remote terminal unit (RTU)
Monitoring and protecting your equipment is serious - that's why you want a serious solution. Look no further than the TempDefender IT. This powerful, yet compact, device is easily rack-mounted and gives you all the tools you need to monitor your server room, data center, or remote site. Featuring a plug 'n' play design and easy-to-use graphical web interface, you'll have your monitoring system up and running in just minutes.
DPS Telecom products also come standard with 7x24 tech support. No matter what time of day you'll always have the support you need to protect your equipment. If the TempDefender IT doesn't solve your monitoring and smoke detection needs, you can return it for a full refund within 30 days.
Don't hesitate. Call (1-800-693-0351) or email (sales@dpstele.com) the specialists at DPS Telecom to get your questions and concerns answered, or to receive a free Return-on-Investment (ROI) analysis - so you can see exactly how much you can save with the right monitoring system.