How to Protect Your Server Room Environment from Critical Network Outage
You have thousands upon thousands of dollars invested in your server room. All of this powerful equipment generates a ton of heat - turning your server room into a furnace. It's crucial to have the right cooling system to maintain the right temperature - and it's equally important to monitor the status of your server room at all times.
Leaving your server room environment unmonitored exposes it to overheating, water damage, or unwanted visitors. Exposure to these threats can lead to a network outage - which leads to nothing but giant repair bills, thousands in lost revenue, and a throng of angry customers ready to take their business elsewhere. Don't let these preventable emergencies happen on your watch.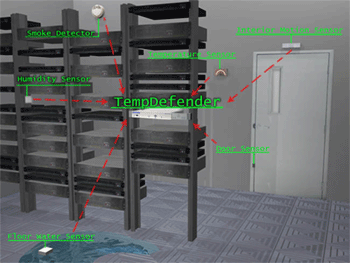 The TempDefender IT monitors all of the critical variables in your server room.
Many monitoring systems just don't cut it because they fail to see the big picture. It's really a shame that so many systems lack the essential features to get the job done. That's why picking the right monitoring system is crucial to giving your network the security it needs.
What does it take to effectively monitor my server room environment?
Effectively monitoring your server room takes the right solution with the right features. You need the system that can provide you with the technology to monitor the critical variables in your server room, the right tools to report these values to you in a meaningful way, and a system that can withstand the rigors of the job.
At the most basic level, sensor technology is capable of reporting information to you in a binary (or "on/off") way. A discrete sensor can notify you when there has simply been a change - for example the temperature of your server room environment has risen above 82.7 degrees. You specify the point and if the desired variable crosses that point, you will be notified. These sensors work best for measuring things like power to a server room or for detecting motion.
Only having discrete sensors limits your options. Many variables (like temperature, humidity, or battery levels) require more information than simply "on" or "off". That's where the power of analog sensor technology comes in. Analog sensors are capable of providing live monitoring of your critical equipment. An analog sensor can notify you that the temperature has passed a certain point and tell you exactly what the temperature is. Consider this scenario to truly understand the power of analog sensors:
You're the network operator for a company that has multiple server rooms. One day you receive alerts that two of your server rooms are overheating. One alert notifies you that the temperature in the server room is 90.1 degrees. The other alert reports the temperature at 106.7 degrees. You see the second notification is more urgent, and dispatch your technician to address it first, then the other alert. You're able to restore the temperature to normal levels in each server room, preventing a network outage from disrupting service.
You can see from this scenario that having detailed alerts gives you meaningful information to make the right choices.
Many monitoring systems are severely limited in their alert capabilities. They lack the detailed alerts necessary to make good decisions and lack the flexibility to alert you around the clock. Having a versatile alert system is crucial for staying on top of your server room. The capability to provide notifications in several ways (via email, pages, voice alerts to your phone, or SMS text messages) is an essential function of any good monitoring system. You can't predict when the next network emergency will occur, but you can guarantee you'll be the first to know when it does.
It's disappointing to see so many monitoring systems fail because they aren't built to withstand the rugged environments they're used in. The best monitoring system in the world is worthless without the durability to function. That's why it's important to use industrial-grade hardware that's built with quality in mind.
Where do I find the right monitoring system?
The right equipment can provide you with so much. Picture how much easier your job would be if you knew that your server room environment was monitored at all times? Imagine being able to prevent a critical network outage because you knew about a threat before it caused severe damage. This doesn't have to be a dream - you can make it a reality.
You want the best, so that's why I recommend the TempDefender IT. This compact device is easily rack-mounted and can provide you with up to 16 daisy-chainable analog sensors reporting on all the environmental factors of your server room. You'll never be in the dark or out of the loop with the TempDefender IT. This device also comes standard with 7x24 tech support and a 30 day risk-free guarantee.
"Every telecommunications alarm system I make is backed by my no-risk, money-back guarantee. If you buy my equipment and you're not satisfied for any reason during the first 30 days, simply return it for a full refund. If my product doesn't solve your problem, I don't want you to have it."
- Bob Berry, CEO, DPS Telecom
Don't leave your server room environment at risk any longer - call (1-800-693-0351) or email (sales@dpstele.com) the specialists at DPS Telecom today. These specialists can answer all of your questions or concerns and even provide you with a free Return-on-Investment (ROI) analysis - so you can see exactly how much you can save. Protecting your network doesn't have to be a hassle - and it certainly doesn't have to be expensive - so call DPS Telecom today to get started.
See Also: