The Critical Alarm Enunciator provides local audible and visible notification of three battery level alarms and three discrete alarms, and then relays alarms to your existing monitoring equipment.
Make sure your system supports these essential remote network alarm monitoring functions:
Alarm collection and device management: Don't settle for a limited remote alarm network monitoring system. Get multiprotocol support for every monitoring device in your network, plus discrete alarms, analog alarms, ping alarms, and redundant path reporting.
Alarm sorting and analysis: Make sense of alarm cascades with automatic intelligent alarm sorting, filtering, processing, and trend analysis.
Alarm presentation and notification: Send detailed alarm descriptions and correction instructions to NOC and field techs via pager notifications and web interfaces.
Checklist: Remote Alarm Network Monitoring Essentials
Here's a handy checklist of essential remote alarm network monitoring features you should look for in your next system. Print this checklist out and use it to rate the systems you're evaluating. If a system can't meet these basic requirements, cross it off your list.
Critical alarm collection and device management functions
Essential alarm sorting and analysis functions
Alarm sorting: A large, complex network can create a cascade of alarms. Some are unimportant, but others are critical. Look for a system that can

automatically sort and prioritize

this flood of information for you.
Custom combination alarms: A low battery isn't a serious problem, and neither is a failed generator - but they're pretty serious when the happen at the same time. Look for a system that can watch many different alarm inputs and spot critical alarm combinations.
Root cause analysis: Finding the underlying cause between alarm cascades can take hours of patient detective work. Look for a system that can automatically correlate repeated combinations of alarms.
Nuisance alarm filtering: Even the best NOC staff stops taking alarms seriously if they're bombarded with status alerts, oscillating conditions, and unimportant alarms. Look for a system that filters these out.
History and trend analysis: Identify problem areas and

eliminate recurring problems

with a system that keeps a complete alarm history that's exportable for trend analysis.
Key alarm presentation and notification functions
---
This is just a checklist of basic monitoring functions.

If you want to find a network alarm monitoring system that meets and exceeds your requirements, select one of the options below ...

Option 1: TMon / IAM remote alarm network monitoring system product details

Option 2: Sign up for a free demonstration via web conferencing

Option 3: Find remote alarm network monitoring application details
---
Get a Custom Application Diagram of Your Perfect-Fit Monitoring System
There is no other network on the planet that is exactly like yours. For that reason, you need to build a monitoring system that's the right fit for you.
"Buying more than you need" and "buying less than you need" are real risks. You also have to think about training, tech support, and upgrade availability.
Send me a quick online message about what you're trying to accomplish. I'll work with you to build a custom PDF application diagram that's a perfect fit for your network.
---
Make an Informed Decision
Your network isn't off-the-shelf.
Your monitoring system shouldn't be, either.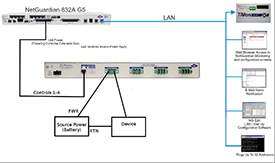 We'll walk you through this with a customized monitoring diagram.
Just tell us what you're trying to accomplish with remote monitoring.
Get a Custom Diagram