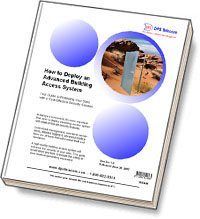 Your guide to protecting your sites with a cost-effective security solution.
In today's environment, it's more important than ever to deploy a building access system with state-of-the-art security features.
Centralized management, user-level permissions, detailed logging & advanced notifications are all good tools. They will combat theft and vandalism.
A high-quality building access system will enhance the security of your sites. This guide will show you how to ensure the safety of your revenue-generating equipment.
Executive Summary
With crime rates on the rise, it is more important than ever to protect your sites with a comprehensive building access system. In July, 2200 homes in Lexia, Australia were without power when West Power Company's mission-critical equipment was damaged by vandals. In February, thousands of customers in Virginia were left without phone service or access to 911 due to the theft several hundred thousand dollars worth of communications equipment. Later that month, 100,000 customers in Wisconsin were without cable when Charter Communications had network equipment maliciously damaged.
How many of your best customers would be affected negatively if your mission-critical equipment or facilities were stolen or vandalized? Do you know how much revenue you stand to lose? With incidences of industrial vandalism and theft on the rise, you need to protect your company's important assets. While you may have been hesitant to invest in a building access security system due to the high costs of purchasing new security equipment, you can now seamlessly integrate building access elements into your existing network alarm monitoring system. This integrated building access security will protect your sites from security threats.
This white paper is a guide to the essential elements of a building access system. It will give you the information you need to increase uptime and protect your revenues through site monitoring.
White Paper Contents
Have you ever wondered about how a Building Access System (BAS) works? By reading this White Paper, you can determine if a BAS is right for you. See how access control is possible and easy to manage by using keypads and proxy card readers, and door strikes. Click on your desired link and learn more about BAS now!
What is a Building Access System?
Why do I need a Building Access System?
The DPS SiteCAM.
What is a Building Access System?
A building access system is a critical component of protecting your network reliability. A building access system is an advanced electronic system that will protect your revenue-generating equipment by controlling and logging all entries and exits at your mission-critical remote sites.
Why do I need a Building Access System?
Whether or not you've already experienced theft or vandalism in your network, your unmanned sites are vulnerable. While you might expect this type of criminal activity from strangers, an alarming amount of damage is done by employees, ex-employees, and outside contractors. With industrial crime on the rise, you need more than basic security features. A simple lock-and-key system is not a viable security solution, and it will not adequately protect your network uptime. To effectively manage your sites, you need to restrict access to authorized personnel only. Traditional keys can't give you user-level access control, and they also can't provide you with a log of every entry and exit.