The ECU LAN is one Electronic Access system that enables both keypad and proxy card entry.

An electronic access control system offers several advantages over traditional locks and keys. Here are 8 of the most important to keep in mind when considering your access control options:
1) Electronic Keys are Difficult to Duplicate.
While physical keys can be copied very easily, duplicating electronic keys requires a much higher degree of sophistication. This makes your access system much more secure than it could ever be with physical keys.
2) You NEVER Have to Change the Locks.
An electronic user database means that you never have to change locks at your sites. If a key card is ever lost, it can be removed from the database and a new one can be issued. If an employee leaves your company, his or her access rights can be deleted within seconds. This greatly lowers your overall exposure to risk.
3) You Only Have to Remember One Key.
With electronic access, your single key or access code grants you access to every door you need to access, so there's no chance of forgetting the key for a particular door. If you get to a site where you need access and you are not recognized by the system, a network operator can add you or your supervisor to the list instantly.
4) Electronic Keys Reduce Windshield and Repair Time.
If a tech needs extra access to handle an emergency in the field, his or her rights can be updated. This way, the tech can travel straight to the emergency without returning to the office, reducing costly windshield time and accelerating repairs.
---
Get a Custom Application Diagram of Your Perfect-Fit Monitoring System
There is no other network on the planet that is exactly like yours. For that reason, you need to build a monitoring system that's the right fit for you.
"Buying more than you need" and "buying less than you need" are real risks. You also have to think about training, tech support, and upgrade availability.
Send me a quick online message about what you're trying to accomplish. I'll work with you to build a custom PDF application diagram that's a perfect fit for your network.
---
Make an Informed Decision
Your network isn't off-the-shelf.
Your monitoring system shouldn't be, either.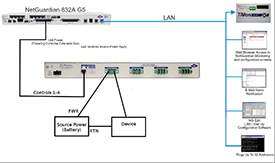 We'll walk you through this with a customized monitoring diagram.
Just tell us what you're trying to accomplish with remote monitoring.
Get a Custom Diagram