Top 4 Advantages of Electronic Key Access Control


The ECU LAN
is one Electronic Access system that enables both keypad and proxy card entry.
Have you ever had to deal with an intruder in your unmanned site? What about that keyring that got misplaced when your employee took them home by accident? If you can relate, then you know how difficult physical security issues can be to deal with.
A lost key can pose a huge risk if it falls into the wrong hands, and replacing all the locks it could have operated can get rather pricey, not to mention if that key happened to be a key ring with a key to every lock in the building. Even if it didn't get lost, how many times have you had a copy made of a mechanical key that said: "DO NOT DUPLICATE"?
When security issues arise, it's far better to be prepared than to have to recover any losses. This is where building access systems have shown that they are worth more than their weight in gold.
Having a well-designed electronic door access system in place can be far more effective than placing a security guard at every door. Security guards are still people, and people can make mistakes. How many people do you know that can memorize well over 1,000 individuals, which places they can access, which times of day, what days, and how often?
An electronic access control system offers several advantages over traditional locks and keys. Here are some of the most important to keep in mind when considering your user access control options:
1. Electronic Keys are Difficult to Duplicate
While physical keys can be copied very easily, duplicating electronic keys - like a key fob - requires a much higher degree of sophistication. This makes your access system much more secure than it could ever be with physical keys.
As long as you continue to use traditional locks and keys to secure your sites, you can never know how many unauthorized copies have been made - or who is holding them.
2. You NEVER Have to Change the Locks
If you lose a traditional key, the only way to maintain security is to change all the locks that it can access.
Locksmiths are expensive, especially when they are called out for an emergency rekeying. If an employee were to misplace a key ring, the entire site security would become compromised if those keys fell into the wrong hands.
If you lose a multi-site key, the cost can quickly become outrageous. Imagine the cost of losing an entire ring of keys for multiple sites, necessitating the replacement of multiple locks at your sites.
An electronic database for keys and lock control means that you never have to change locks at your sites. If a controlled access card is ever lost, it can be removed from the database and a new one can be issued. Lost keys will no longer be an issue.
In the event of employee separation, either voluntarily or through termination, being able to maintain the security of your sites is imperative. In the event that the employee was a keyholder and the keys themselves are not returned, this could present a dangerous situation.
Maybe they were honestly misplaced, they could've been stolen, or maybe the former employee has a malicious intent for them. Regardless of the reasons for them not being returned, and without placing any blame, you must still ensure that nothing happens to violate your security protocols.
If an employee leaves your company, his or her access rights can be deleted within seconds. This greatly lowers your overall exposure to risk and improves security.
With physical locks and keys, your options for user-level access rights are severely limited. "Master" keys are just about the best you can do. Keys always work, even when you don't want them to on Sundays at 3 a.m. So, if only authorized users are able to get in your facility, you'll have a high-security level.
Also, keep in mind that physical keys make it impossible to log entries to your sites.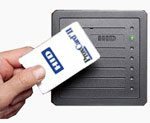 3. You Only Have to Remember One Key
Every time a technician forgets to take a front door key on a truck roll, your travel time and expense doubles. That tech has to drive back to the office, pick up a key, then drive all the way back out to the site. The same situation can occur if that tech simply picks up the wrong key, as large organizations will have at the very least dozens of similar-looking keys.
With electronic access, your single key or building access code (for keyless entry through keypad locks) allows you to lock and unlock every door lock you need to access, so there's no chance of forgetting the key for a particular door. If you get to a site where you need access and you are not recognized by the system, a network operator can add you or your supervisor to the list instantly.
4. Electronic Keys Reduce Windshield and Repair Time
If an unexpected event comes up and you want to allow access to a site immediately, you can't if you use traditional, physical locks.
If a tech needs extra access to handle an emergency in the field, you can use your web-based electronic key management system to update his or her rights.
If you already have a tech in the field near the site of an alarm, it's almost always best to dispatch them from their current location. If they don't have the right key on hand to open the door, however, they'll have to drive all the way back to the NOC to pick up the key they need.
With remote control of your locking system, the tech can travel straight to the emergency without returning to the office, reducing costly windshield time and accelerating repairs. This is especially important during network failures.