The proximity card reader has several advantages over other input devices. Like traditional magnetic stripe cards, proximity cards cannot be easily shared by employees - a card cannot be in two places at once.
Unlike magnetic cards, however, you never have to struggle with failed swipes. You simply hold your card within a few inches of the environmentally sealed reader to gain access to the site. This is especially handy in colder climates, where you don't have to remove gloves to swipe a card or enter a keycode.
---
Get a Custom Application Diagram of Your Perfect-Fit Monitoring System
There is no other network on the planet that is exactly like yours. For that reason, you need to build a monitoring system that's the right fit for you.
"Buying more than you need" and "buying less than you need" are real risks. You also have to think about training, tech support, and upgrade availability.
Send me a quick online message about what you're trying to accomplish. I'll work with you to build a custom PDF application diagram that's a perfect fit for your network.
---
Make an Informed Decision
Your network isn't off-the-shelf.
Your monitoring system shouldn't be, either.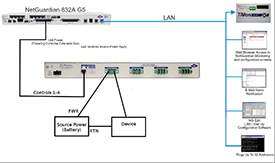 We'll walk you through this with a customized monitoring diagram.
Just tell us what you're trying to accomplish with remote monitoring.
Get a Custom Diagram