The DPS Building Access System Supports Keypads and Proxy Card Readers
Previous Page:
7 Costly Pitfalls of Physical Locks and Keys


Download White Paper
Keypad
The DPS Keypad is a timetested user input device. It is designed to withstand extreme heat and cold, and the metal hood provides added security from prying eyes.
Because data processing is handled primarily by the Entry Control Unit (ECU), which is mounted inside of your building, there is no amount of tampering with the keypad that will allow unauthorized access. It would be impossible for anyone to access your site by working directly with the wiring in the key pad. However, even attempting to enter false key codes will lock the system and alert the regional operating center after only five failed attempts.
Proxy Card Reader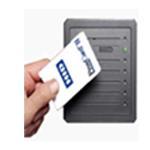 The proximity card reader has several advantages over other input devices. Like traditional magnetic stripe cards, proximity cards cannot be easily shared by employees - a card cannot be in two places at once.
Unlike magnetic cards, however, you never have to struggle with failed swipes. You simply hold your card within a few inches of the environmentally sealed reader to gain access to the site. This is especially handy in colder climates, where you don't have to remove gloves to swipe a card or enter a keycode.