Microwave Antenna Tower Monitoring - What You Need to Know
A microwave antenna is a major system component that allows a microwave system to transmit and receive data between microwave sites. They are usually located at the top of a tower.
A Microwave Antenna Must be Mounted on a Tower to be Effective.
To operate properly, a microwave antenna must be located high atop a microwave tower. Placing these antennas on towers allows microwave signals to be sent longer distances that wouldn't be possible otherwise. This allows the antenna to transmit data to other antennas via line-of-sight propagation. There cannot be any structures, including mountains or large buildings, directly between the two antennas. Obstructing the antennas line-of-sight path will prevent the microwave gear from properly transmitting complete microwave messages. When the line-of-sight's path is clear, data can travel through the microwave system. This need for clear airspace is very important and defines "line of sight" technologies.
Microwave Antenna Towers Must Be Monitored.
Your microwave antenna is the key to your communications. You need to know if anything has obstructed your important data transmission. This is why you need to deploy a network alarm monitoring system for your microwave antenna towers and other gear. These systems will provide you with instant email and pager alerts. They'll alert you when they detect a problem. The problem could be with your microwave antenna. It could also be with other important system components. This will allow you to quickly send a technician out to your site. The technician can then evaluate and correct the problem.
The Federal Communications Commission requires you to monitor your microwave tower lights. This is true even if they've been decommissioned.
You may or may not be aware of the Federal Communications Commission's requirements. These rules apply to monitoring your microwave antenna tower lights for safety reasons. You must monitor your microwave antenna tower lights to avoid hefty fines from the FCC for light failures. Based on their location, height, and markings, some tower lights will pose an aviation hazard. Pilots must be able to see your tower lights when they're navigating an aircraft. These rules still apply even if you're not actively using all of your microwave antenna towers. This includes the tower lights at your decommissioned sites. Deploying alarm monitoring systems for your decommissioned tower sites will save you from making a major demolition investment. You'll also meet the FCC's safety requirements.
If you're microwave antenna tower is in an unmanned remote location, this makes it more susceptible to copper theft. Thieves will target places that they believe are easy targets, especially locations with no form of monitoring system in place. Victims of copper theft will suffer some form of loss: windshield time, money, and a sense of security at their sites. Prevent these losses from happening to you by deploying an alarm monitoring system with the proper sensors and cameras at your sites. If you can prevent an incident of copper theft, the system will pay for itself. This is a win-win situation!
Don't Wait to Monitor Your Microwave Antenna Towers.
Don't wait for a fine-causing outage or become a victim of copper theft to start looking into monitoring solutions. Start monitoring your microwave antenna towers now. Deploy an alarm monitoring system at each of your microwave antenna tower sites.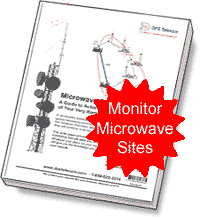 Download the Microwave Site Monitoring White Paper.
Related Products:
T/MON NOC.
Related Topics:
Microwave System