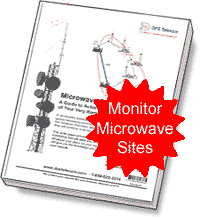 Microwave Site Monitoring White Paper
In an industry dominated by fiber communications, you may be quick to ignore microwave communications technology. It's important to remember, however, that many telecom companies still use microwave, and they will continue to do so.
This white paper provides you with a working knowledge of microwave monitoring that will allow you to maximize your microwave site visibility. Whatever your plans for your microwave infrastructure, this white paper will give you the knowledge you need to make the right decisions for your network.
You might be using microwave transport in your communications network sites. I want to provide you with information you can use to improve your site monitoring, without breaking your budget.
This white paper provides solutions for network operators who find themselves unable to get the support they need for their microwave monitoring equipment.
Microwave Site Monitoring will give you a basic understanding of monitoring you microwave equipment. It will cover the different types of microwave communications, as well as the advantages and disadvantages of using microwave data transport.
Microwave Site Monitoring is one of over 30 white papers by DPS Telecom. With a wealth of expertise monitoring a wide range of equipment in over 25 modern and legacy protocols, I write in-depth, practical guides for telecom professionals like you.
Remember that we'll NEVER sell your email address to anybody, and that's a promise! We will also send you our informative eMagazine.