Prevent Copper Theft:
Use Advanced Surveillance To Monitor Your Sites In Real Time...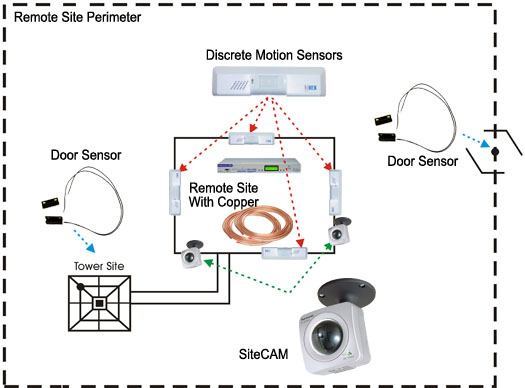 Stop Copper Thieves In Their Tracks With
an Advanced Surveillance System...
Equipment Used:
How This Application Works:
You can't be everywhere at once, and many of your sites are unmanned. Outside plant operations (OSPs), remote cabinets, and microwave radio sites are a few examples. Unmanned sites make it the ideal target for thieves to steal your copper and re-sell it. The good news is, there is a way for you to protect yourself.
One critical way to stop copper thieves in their tracks is a good surveillance system. Cameras are crucial to the protection of your copper materials because they act as both a deterrent and a watchdog. A thief who spots a camera may decide that it's simply not worth getting "caught on film". And if a criminal were to escape the premises, photos and video of the crime will help authorities catch them and put them behind bars.
The Motion Sensor monitors motion within a user specified field of vision. This sensor will integrate with the Building Access System (BAS) to provide automatic exit tracking and intrusion notifications. The Door Sensor (Surface Mount) is a closed loop magnetic contact sensor. The unit consists of magnet and contact. Gap distance is 5/8". The package includes screw kit for mounting hardware.
The SiteCAM is a small lightweight -48VDC IP video camera that will allow users to pan and tilt around a site for visual confirmation of events. This network camera features 60 degrees pan left & right and 45 degrees tilt down. Its web browser is accessible via the NetGuardian's web browser. The SiteCAM provides remote site visibility in more than one way. Use the SiteCAM to add security for co-location sites by providing video surveillance. With the SiteCAM, you'll be able to view live streaming video of your sites and equipment with the touch of a button.
Up to four SiteCAMs can be connected per NetGuardian, and can be mounted to the rack or attached to a wall / ceiling. When coupled with the Building Access System (BAS), the integrated camera provides the most complete remote site monitoring solution available.