Monitoring your microwave data and important microwave radio gear will decrease your network downtime by instantly informing you of growing problems along your network. RTUs are one of the core pieces of these monitoring systems. The most advanced RTUs, such as the NetGuardian 832A, will help you to collect these vital alarm messages. This enables your alarm master to send pager and email alerts to the network tech.
Protect Your Microwave Radio Towers and Mission Critical Equipment with the Versatile and Expandable NetGuardian 832A G5 RTU.
With inputs for 32 discrete alarms and 8 analog alarms, the NetGuardian 832A can monitor all of your microwave radio gear at your remote sites. It will allow you to verify that these important devices are online by pinging up to 32 elements. It will also allow you to remotely control your microwave gear with 8 controls. The NetGuardian can even serve as your terminal server with the 8 built-in serial ports. For sites without LAN, the KDA 864 RTU can also provide you with these important monitoring functions.
You need to know that your microwave radio gear is operating well. Don't let your customers be the first to tell you of a problem. Deploy a microwave monitoring system. You might use the NetGuardian 832A or KDA 864 RTU. You might choose a different RTU for different circumstances. Just make sure you work with experts to design a monitoring system that is a great fit for your requirements.
Related Products:
NetGuardian 832A RTU
KDA 864
Related Topics:
Microwave RF
Microwave Frequency

---
Get a Custom Application Diagram of Your Perfect-Fit Monitoring System
There is no other network on the planet that is exactly like yours. For that reason, you need to build a monitoring system that's the right fit for you.
"Buying more than you need" and "buying less than you need" are real risks. You also have to think about training, tech support, and upgrade availability.
Send me a quick online message about what you're trying to accomplish. I'll work with you to build a custom PDF application diagram that's a perfect fit for your network.
---
Make an Informed Decision
Your network isn't off-the-shelf.
Your monitoring system shouldn't be, either.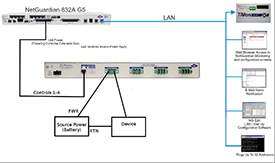 We'll walk you through this with a customized monitoring diagram.
Just tell us what you're trying to accomplish with remote monitoring.
Get a Custom Diagram