Microwave Data in Remote Alarm Monitoring and Control
Microwave data is the info that makes up a microwave communication message. This data can be any type of message that is sent between microwave towers using microwave communications gear.
Microwave Data Transmission is Commonly Used by Telecom Providers.
Microwave data often refers specifically to telecommunications messages. This is because the major users of microwave data transmission gear are telecommunications service providers. Microwave data transmission has declined in popularity with the advent of cellular, satellite, and fiber transmission technologies. It is still widely used at more remote telecom sites as a better fit than fiber.
Microwave data can be sent in two formats, either analog or digital. Some networks may benefit from using the most economical method of analog microwave data transmission. Other staff may prefer the service of digital microwave data.
Digital Format Provides for Microwave Data Collection.
Most microwave networks already have analog microwave data transmission gear. It most likely costs less to use the gear that is already in place. Because staff are most likely familiar with this gear, they will be better working with microwave gear and the data it carries. However, many network staff are willing to do away with this for the more uptime linked with digital microwave data collection. It is important to make sure your customer's communications are transmitted as microwave data across your network.
No matter what transmission method you use in your network, the best way to protect profit is to monitor your microwave communications with a network alarm monitoring system. You need to know that your microwave data is being received at all of your tower sites. With a network alarm monitoring system that uses an advanced alarm master, you'll be the first to know of any outages in your network.
An Alarm Master Alerts You of an Error.
The role of an alarm master is to alert you when there is a problem with your transmission. You will receive a alert via email or pager when the system is not working. This warns you if a microwave data message was not received by another tower site. This will allow you to quickly send out a tech to the problem area.
By monitoring your microwave data, you can provide good telecom service, lower customer churn and costs that occur during down time. Don't wait for a big microwave data loss to impact your sites. Deploy a monitoring system and protect your bottom line.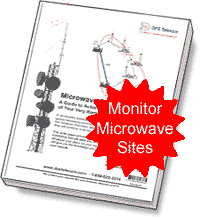 Download the Microwave Site Monitoring White Paper.
Related Products:
T/MON.
Related Topics:
Microwave Communication.