Microwave Data Transmission: Why Monitor Your Microwave Link
The transmission of data through microwave in telecommunication involves the sending and receiving of microwave signals over a microwave link. This microwave link is made up of a string of microwave radio antennas. They're located at the top of towers at various microwave sites.
A Microwave link is a communication system, that bridges radio signals, to transmit data between two or more fixed locations. Multiple microwave links make up a microwave network.
Microwave links are used for point-to-point communications. The small length of their waves allows for antennas to direct them in narrow beams. The beams can be pointed directly at the microwave receiving antenna.
This allows nearby microwave gear to use the same frequencies without interfering with each other, as lower frequency radio waves do. Another benefit of microwave links is that the higher frequency of microwaves gives the microwave band a very large information-carrying capacity.
Microwave Transmission Is Considered a 'Line of Sight' Technology
Microwave transmission is considered a 'Line of Sight' technology. This is because the proper functioning of microwave transmission requires empty airspace. The airspace between two point-to-point microwave towers must be clear of mountains, buildings, and other objects. These obstructions can block microwave signals.
This wireless technology uses high-frequency beams of radio waves to provide high-speed connections that can send and receive voice, video, and data information.
Microwave transmission - although long-distance - is limited by this need for a clear line of sight. Radio transmission can also be interfered with by the atmosphere and rain fade. For these reasons, microwave transmission is usually only used in areas without LAN or other transport methods.
To make sure that any new microwave site will work properly, you need to prepare. Conduct a microwave line-of-site survey to verify whether open space is available between your two locations.
Analog or Digital Options with Microwave Technology
Microwave gear can be used to transmit both analog and digital microwave signals. Analog microwave transmission often saves money for microwave site staff. It doesn't require the purchase of any new equipment.
You also don't have to train your staff on new transport systems. An extra benefit of familiar analog microwave transmission is that your operators know its exact transport capacity.
Users of digital microwave transmission find it easier to obtain support and gear for their systems. That's because digital transmission is the newer, more advanced form of microwave communication. Increased microwave transmission speed will also allow for more traffic - including remote monitoring data.
Monitoring Your Microwave Transmission Equipment Protects Your Reputation
You need to monitor all of your mission-critical microwave gear. It doesn't matter what your microwave transmission method is, your equipment is too vital to forget about. Most microwave sites are remote and don't get visited too often when things are running smoothly. This also makes them easy targets for vandalism and theft.
Remote monitoring enables you to quickly respond to microwave transmission errors. It's important to know exactly which piece of equipment is having the issue, and where it is. Otherwise, you waste an expensive truck roll just figuring out what the problem is. Getting notified the moment an issue arises at a site gives your company the ability to focus on your goals.
You need to be able to bring your network back online as soon as possible when there's a problem. Don't wait for the next "Act of God" to convince your company to invest in network monitoring gear. Protect your revenue and safeguard your reputation with your customers by being prepared for the next event.
Troubleshoot Your Microwave Transmission Using Ring Polling
Microwave sites are most likely found in a ring formation. That's why you can use your network monitoring system to perform advanced monitoring applications. One such technique for determining the locations of problems is ring polling. This troubleshooting technique will also allow you to continue microwave transmission during a break between single sites.
Microwave data is sent from site to site sequentially and can be sent from either side. This is known as 'backhauling'. During a break, you can continue transmitting data by simply sending messages in two directions.

Ring Polling Microwave Link System
This will also allow you to identify where a problem has occurred. You just need to find the site where the microwave radio transmission has stopped.
Safeguard Your Microwave Transmission Equipment with a NetGuardian 864A RTU
The NetGuardian 864A RTU is an advanced remote that can be used for your ring polls. It also works for other microwave monitoring functions. Packed into a compact, 19-inch single rack unit, the NetGuardian 864A includes 64 discrete alarms and 8 analog alarms.
The 864A can also ping 32 network elements and control 8 relays. This provides you with the maximum point capacity for your microwave sites.
The NetGuardian 864A also has an internal modem, so if there's no LAN connection possible, you can still access your RTU. The 864A will give you the visibility you must have of your microwave transmission equipment. It has support for a number of different protocols including SNMP, DNP3, and more.
Deploy a NetGuardian 864A RTU to Protect Your Bottom Line Today
Don't let a major network outage destroy your reputation as a reliable service provider. Deploy a NetGuardian to monitor your microwave transmission devices. This ensures that your customers receive the industry-leading network up-time they deserve.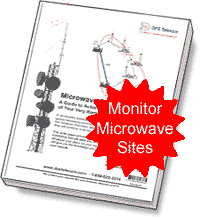 Download the Microwave Transmission White Paper.
Related Products:
Related Topics: