You've been researching the best vendors and the best devices, and now you're getting prepared to actually buy your remote monitoring gear - or might have even already bought it. However, there's usually one lingering question on your mind: how will you install it?
The Challenges of Deploying New Remote Monitoring Devices
Experience and time are necessary to properly deploy a remote monitoring system. Unfortunately, there aren't many tutorials on the Internet showing you how to properly deploy your specific monitoring gear.
Also, this challenging project involves more than just a physical installation. Power cables, power supplies, network connections, configuration and databasing - these all are tasks that should be done right the first time.
You or your techs might not be familiarized and prepared to deal with your RTUs or master station just yet, so talking to your vendor and figuring out how you're going to do this is critical. After all, that's the very first step you'll take towards better remote visibility, so it's important to start on the right foot.
How Do You Know if Relying on Your Provider Is Right for Your Deployment?
To make sure that the deployment won't turn into a headache, your best option might be finding a company that will provide you engineering, manufacturing and installation. These full-service companies should be able to handle all the details of the deployment for you, so don't accept anything less than guaranteed quality and results.
This is especially important if you have to deploy your monitoring solution as soon as possible. I don't blame you for delegating the logistics of being in the right place at the right time to your vendor - which should be qualified to do the job anyway. Get it done right the first time.
When comparing remote monitoring sellers, there are some things that you should keep in mind and look for before making a decision. Some manufacturers will provide the best values for your money in terms of installation, and that's what you should aim for. Some of these values include:
Expertise on your product

You probably already know quite a bit about remote monitoring. However, even though you have been researching extensively about it, it's easy to make a beginner's mistake when you're working with new gear for the first time.

That's when the right manufacturer comes in. They must be able to tell how their equipment interacts with other different types of devices. It goes without saying that you don't want to choose a vendor that doesn't have experience, or won't know how to integrate the gear that you already have with their own during your installation process.

You'll avoid headaches & waste less time

If you don't have the time to dedicate yourself solely to the task of installing your equipment, then passing this responsibility to someone else might be the best thing to do. Making sure to go with a company that knows what to do is a recipe for a job done faster and more efficiently.

Your project will get done in a timely manner

This is one of the biggest values your manufacturer should be able to provide you.
Always keep in mind that choosing an experienced vendor, with years working on deployments, must mean that they have a highly developed methodology to guarantee that your project is completed within your specific time frame.
Analyze Your Situation: It Might Be Possible to Get Your Gear Installed by Yourself
Sometimes, depending on your scenario, delegating this responsibility might not be the best option for you. Before making any kind of decision and committing to a vendor that might not be the best fit, ask yourself the following questions:
Do I have experience deploying my new gear? Or will my techs need some extra training?
Will I have time to handle all the steps of the installation by myself?
Will I know what to do in order to prevent or to deal with problems along the way?
If you answered these questions positively, then installing your own equipment might work out for you. However, even if you'll be doing this by yourself, it's still important to have a vendor providing you free - and fast - tech support to help you at any time during this process.
Is Having Your Manufacturer Install Your Gear Is the Best Case Scenario for You? These Key-Points Will Help You Find the Best Vendor for That
Choosing a remote monitoring vendor is already hard enough without having to worry if they are actually qualified to deploy your devices. Having a list of questions or features to compare is always helpful.
I've put together some key-points that will support you through the process of finding the best fit vendor for you. Here are the crucial points to keep in mind:
Testimonials, feedback from clients and other proof of reliability

Checking your vendor's reputation is very important. Reputation - whether good or bad - tells volumes about a company. So, don't settle for their own words - always make sure to get a real sense of how this company is actually rated. Ask for testimonials, maybe even talk to their other clients yourself to find out how experienced and reliable this vendor really is. These other clients face the same problems and have to make the same decisions you do, so a recommendation from a disinterested third party means more than any amount of adverting.

Quality certifications

Companies are more likely to be trustworthy if they have their procedures certified by industry standards organizations. They must have, at least, an ISO 9000 certification.
Custom work

No two networks are exactly the same. The combination of variables is virtually unlimited. If you have specific requirements in mind for your device, an off-the-shelf monitoring solution won't meet all of your needs, so look for companies that have control over their production. Full-service manufacturers must be able to accommodate all your needs into a new device if necessary, providing you a perfect-fit solution. They should also be able to step up and deploy your gear efficiently and in a timely manner.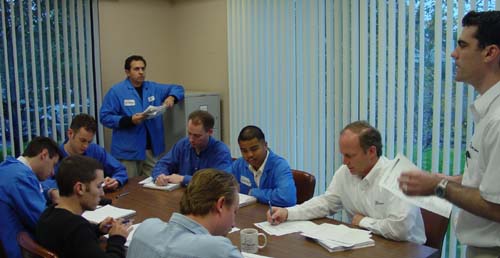 The DPS engineers are responsive to client requests, because our core business is to deliver perfect fit solutions that will meet 100% your needs. Every client is different and every network is different, so a perfect fit solution is often a custom-engineered solution.
Tech support

Your new network monitoring equipment can only be effective if it's the most reliable and trustworthy element in your network, and that requires good support from the vendor. You don't want to be left on your own during your gear installation, what if you have questions or something goes wrong? When selecting your network monitoring equipment, look for things such as free, 24-hour technical support. Inefficient tech support from your vendor can threaten your network as much as any equipment failure.

Training

A good way to make sure you'll know how to install, configure and use your monitoring gear is looking for a vendor that offers hands-on training. The classes should be taught by experts in your gear - engineers that designed your system - that have real-world experience to understand the issues you face. This training should be a chance for you to work with equipment yourself - in a non-risk environment - and learn monitoring tips and best practices from other industry professionals as well.
Annual maintenance agreements

Your monitoring system is a safeguard for your network - so it makes perfect sense to ensure that this safeguard is always there. So, the best vendors will offer you maintenance agreements. These agreements should act as an added layer of security for your network, being the safest way to ensure that your revenue-generating equipment is being protected. Looking for companies that do offer maintenance agreements is a great way to keep your monitoring system running at its best, worry-free.

System design

If you need a new monitoring system, don't go with companies that will leave you guessing about what products you need. Your chosen company should be able to design an alarm monitoring configuration specifically for your application, and prepare a customized report detailing every aspect of the proposed system. The bottom line is: how can a company be able to deploy and install your monitoring equipment efficiently if they don't know your solution in depth?

To provide a good reflection of the customized solution - in a simple and comprehensive way that virtually anybody would be able to understand - we always include a drawing with the proposal. The objective of this drawing is to show you exactly what our equipment will be doing in your environment or application. Consequently, you'll be able to give us a better feedback and make an informed decision.
Legacy support

If you're purchasing new monitoring equipment to replace your legacy gear, then it's important to find a modern vendor that will support you through the path of a controlled migration. Your manufacturer should never make you decide between your legacy gear that's still fully functional and a brand new system. Go with a company that focuses on providing you with a system that integrates legacy and modern equipment, helping you squeeze every last ounce of value from your original investment.

When our team is working on a legacy project, our goal is to preserve and maximize the value of the client's existing network, while also adding new alarm monitoring capabilities. We want the clients to be able to interface with non-DPS products, so they don't have to do wholesale swapouts of their network. We find ways they can evolve their networks by introducing new products with new capabilities - seamlessly, using their existing interface and protocols.
Finally, you'll get what you paid for

It's always important to compare prices, especially if you're working with a tight budget. However, good products and services will cost more - particularly if they're somehow customized. It's justified by speed of the implementation and the quality of the work. Of course you want to find the cheapest option possible for what you need, but don't forget to make sure you're getting the best value for your money. The cheaper solution now might bring you more costs down the line.
The Quickest and Easiest Way to Get Your Network Monitoring System Up and Running
As a full-service manufacturer specialized in alarm monitoring, DPS has a lot of experience in successful deployments. We know exactly how to work with your equipment - after all, we designed and built it - and we make sure that your installation is done right the first time.
Also, we offer not only an on-site turn-up assistance - to help you install and configure your system - but we'll also train your staff to use it.
We will send one of our qualified teams of engineers to your site so they can work with your techs - or anybody that will be using the network system daily - to provide basic training. We'll show you how to best use and configure your system to perfectly attend your needs, while also preparing you for any future self-installations or troubleshooting needs.
Defining your database is the most complicated aspect of configuring your alarm monitoring system. However, you don't have to worry about it - we can do it for you. This service is especially helpful if you're upgrading to DPS equipment from your legacy gear, we can convert your existing database from your legacy master.
Don't forget that DPS makes sure you that you'll end up with a monitoring solution that runs great for years and that you know how to maintain it this way.
So, if you have any other questions about the installation of your monitoring gear - or if you want to discuss more about how you can achieve a perfect-fit solution for your scenario - simply contact me and I'll be happy to help you.


Morgana Siggins
Morgana Siggins is a marketing writer, content creator, and documentation specialist at DPS Telecom. She has created over 200 blog articles and videos sharing her years of experience in the remote monitoring industry.