Option 1: TMon / IAM remote monitoring system product details
Option 2: Sign up for a free web conference demonstration
Option 3: See details of Badger compatibility applications
Mediate Badger, Larse, and NEC to SNMP
Mediate Badger, Larse, and NEC Other Legacy Gear To SNMP...
Equipment Used:
How This Application Works:
The software modules listed in the 'Equipment Used' section will allow NOC to poll multiple legs of Larse and NEC remotes in one common platform and provide the protocol mediation to SNMP. We also recommened a database conversion utility for both systems which will allow your existing database to be substantially transferred to the T/MON NOC, saving considerable time preventing errors.
The T/Mon NOC will perform many critical functions such as collecting, filtering, categorizing & presenting your alarms. T/Mon is ideal for maintaining history, alphanumeric paging and e-mail notification. One of the most powerful features of the T/Mon NOC is its ability to mediate alarms to other protocols. The SNMP responder module will provide alarm visibility at other locations that use an SNMP manager.
Poll the Badger 475 from T/Mon
Monitor Badger 475 RTUs with PSK Polling using T/Mon NOC
Equipment Used:
RS2332 to PSK Polling Interface
Badger 475 RTUs
How This Application Works:
We have proven, in our test lab, that we can poll the Badger 475 units successfully from our T/Mon Master Station using a PSK Interface. Also included in this application is the Badger Polling Software that will enable this increased functionality.
In order to interface with the PSK Polling leg, we will need to add an external device. This interface will dock with one of the T/Mon NOCs available RS232 Ports.
Additional Details about the RS232 to PSK Polling Interface:
RS232 to PSK Polling Interface,-48VDC, 19 and 23" Rack Mountable. Electrical interface adapter chassis that will Bi-directionally convert RS232 to PSK (Phase Shift Keying). 1 RU tall, rack mountable in 19 or 23 inch shelves. Connectorized. Front panel activity LED's. -48vdc power supply.
See Also:
---
Get a Custom Application Diagram of Your Perfect-Fit Monitoring System
There is no other network on the planet that is exactly like yours. For that reason, you need to build a monitoring system that's the right fit for you.
"Buying more than you need" and "buying less than you need" are real risks. You also have to think about training, tech support, and upgrade availability.
Send me a quick online message about what you're trying to accomplish. I'll work with you to build a custom PDF application diagram that's a perfect fit for your network.
---
Make an Informed Decision
Your network isn't off-the-shelf.
Your monitoring system shouldn't be, either.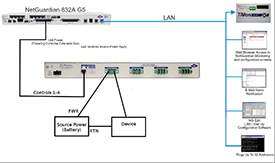 We'll walk you through this with a customized monitoring diagram.
Just tell us what you're trying to accomplish with remote monitoring.
Get a Custom Diagram