SNMP, short for Simple Network Management Protocol, is nothing more than a standard language that computers use to control each other and report important data. Its advantage today is that a very large number of devices support it, enabling them to work together. There are many versions of SNMP: v1, v2c, and v3 are the most referenced.
SNMP RTUs are Remote Telemetry Units that are able to send SNMP traps. Often times, SNMP RTUs can also mediate non-SNMP devices to an SNMP manager as well, providing you an integrated solution for your network needs.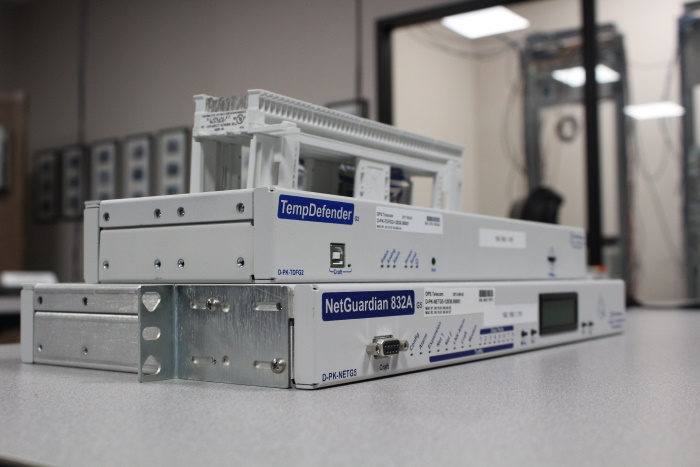 SNMP RTUs collect alarms and report them via SNMP traps.
SNMP RTUs do come in a variety of sizes, making it relatively easy to find one that fits the size of your site and your needs. This also means that you can find different RTUs with different prices, depending on your specific requirements.
If you're trying to determine how much you'd be paying for your SNMP RTU solution, your first step is to analyze RTU price ranges - so let's get started.
First of All, What Can Affect the Price of your RTU?
1. Features
These are the #1 factor that will affect the price of your RTU. The more value an RTU can generate for you, the more it will cost.

2. Build Quality and Location
Keep in mind that, in terms of quality, you get what you pay for. If you opt to buy a very cheap RTU the internal components are one of the best ways for any manufacturer to reduce costs.
Also, is the device built in the US or is it assembled overseas? This has a big impact on the minimum price that the manufacturer is able to charge you - and a big impact on the final quality of your RTU as well.
3. Included Services
These services have more to do with the total cost of ownership than with the price of the RTU software/hardware itself.
Included services are things that you might otherwise have to pay for later if they're not bundled in with your initial purchase. Some of these services are:
Pre-sales consultation

Tech support and training

Custom product development

Free firmware updates

Compliance testing
4. Distribution Channel
If you're buying a remote that comes from a manufacturer, then goes through a large regional distributor, then to a more local distributor, and then to you, you'll inevitably pay more. At each step of the way there's another company that has to take out a little bit of profit in order to stay in business.
You can eliminate this chain by finding a manufacturer to buy directly from. This way you can actually create some savings because you don't have all those middleman in the way adding to your RTU price.
RTU Price Ranges
Now that you know what exactly affects remotes prices, let's take a look at the RTU price ranges. This way you'll know what you can expect to pay for each specific type of RTU.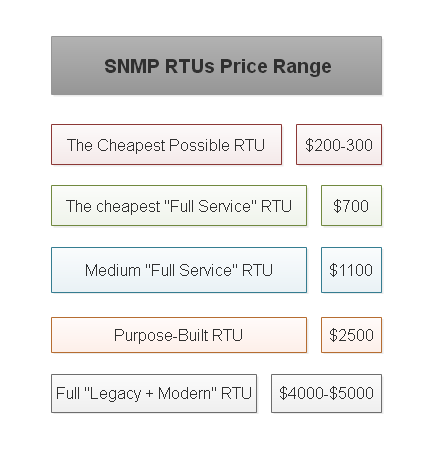 The cheapest possible RTU
At the bottom of our price range, we have bare-minimum RTUs. For those you can expect to pay between $200 and $300.
Technically be considered RTUs, these devices can be perfect for you in the right kind of situation. If you're a hobbyist, or have just a server room where you're not really monitoring at all, the cheapest RTU you can buy is better than nothing. Remember, though, that a $200 remote won't be the most reliable device - and it won't be the most full-featured either.
In an RTU at this price you can expect:
Small input/output counts

Built-in intelligence

Web interface

Low grade circuit components

Not made in US

No tech support and/or training

No customization

No guaranteed future availability
The cheapest "full service" RTU
Going up a step of the price range, we have the cheapest possible full-service RTUs. Those cost around $700, and that's what you can expect from those equipment.
In those types of RTUs you can expect:
Small input/output counts

Strong built-in intelligence

Web interface

Open protocol support

Emails alerts

Quality circuit components

Made in US

Free tech support and training

Guaranteed future availability
Medium "full service" RTUs
If you want more capacity, but keeping everything else the same, you'll have a medium full-service RTU. They'll be in the $1100 range.
These remotes will have around 16 discretes, and usually 2-8 analogs and 2-8 relays. They're medium-sized, but everything else from the small full-service RTU list remains the same. You should expect good quality and service, free training and tech support. The only difference is the bigger capacity.
Purpose-built RTU
The middle of RTU industry price range is about $2500. For this price, you can get yourself a purpose-built RTU. These remotes will have fully customized transport and protocol exactly the way that you need them. At this price range all kinds of customization are possible - find a manufacturer that can make that happen for you.
For these devices, you'll be getting built-in quality. That's because, in order to get customizations, you have to have a manufacturer who has control over their whole process in-house.
With these RTUs, you can get high input and output counts. You might have 32 or 64 discrete inputs, 8-46 analogs, and 8-16 control relays.
Your RTU also should provide legacy mediation, so you actually process legacy protocols on-site. It'll convert them to something like an SNMP trap, and then send that back to your central manager.
Full "legacy + modern" RTU
With these RTUs you'll have legacy capability, which means that they can deal with legacy transport and legacy equipment in modern networks. Basically, the reality of any modern evolved network is that it has all kinds of different equipment ages in it.
In the top of the industry price range, at $4000 - $5000, you'll be paying more for the advanced "legacy + modern" capabilities. However, there advantages are obvious.
You'll have support for multiple transports and protocols. For example, you might have a dial modem (POTS), plus a serial connection (RS232/RS485), plus LAN. You might also have multiple different protocols. So, the bottom line is that you can send information through different transport methods and through different protocols - all from the same remote.
Also, at this price range, you are certain to have high input/output counts. You can see 64 or even 80 discretes, 16 or maybe even 32 analogs, and 16-32 relays.
At the top of the price range, the RTU can be totally customized for you as well. Whatever you need can be designed and built to your exact specifications (good manufacturers are able to do this at a minimum order of about a dozen units). So, expect nothing but top-quality components, excellent manufacturing, and future guarantees.
Top Three SNMP RTUs for Your Specs and Budget
Now, since you're looking for the best possible coverage of your remote sites, the NetGuardian 832A, 480, and 216 are ready to help you.
The NetGuardian 832A, 480, and 216 have a lot in common. They're all built for SNMP and to report to the T/Mon Remote Alarm Monitoring System. They all support LAN, and -48 volt power. They're all backed by DPS Telecom quality, top-rated 24/7 tech support, a two-year hardware warranty and a 30-day, no-risk, money back guarantee.
Although having many similarities, those three RTUs are also distinctly different and designed for your remote sites' particular needs.
Full-featured NetGuardian 832A: 32 discrete alarms (expandable to 176), 32 ping alarms, 8 analog alarms, 8 controls, and 8 serial ports.

Heavy-duty NetGuardian 480: 80 discrete alarms, 4 controls.

Economical NetGuardian 216: 16 discrete alarms, 2 analog alarms, 2 controls, and 1 terminal server port.
Why would you need the NetGuardian 832A?
The NetGuardian 832A provides all the tools you need for complete site management, including stand-alone local visibility through its built-in web browser interface server, bypassing the need for a master.


The comprehensive and expandable alarm monitoring solution that goes anywhere in your network, the NetGuardian 832A is NEBS-certified, LAN-based, made for SNMP, and provides stand-alone alarm monitoring. Plus, its internal 33.6K modem lets you connect to the NetGuardian even if LAN is not available.
High capacity

Reports alarms via SNMP

Reports alarms to multiple SNMP managers or to T/Mon

NEBS Level III certified

8 serial ports provide multiple user LAN-based reach through access to PBXs, switches, and any other device with a craft port or serial only interface

Alternate dial-up reporting path in case of primary communication path failure

Configure and monitor via web browser

Email and SMS notifications

Free lifetime firmware updates

Free Windows-based utility for off-site editing and remote provisioning via LAN

Multiple customization and expansion options
Why would you need the NetGuardian 480?
The NetGuardian 480 is a heavy-duty SNMP alarm collector that can provide alarm coverage for an entire site in just one unit - a one-box alarm monitoring solution that provides extremely economical cost per point.

With 80 discrete alarm inputs - 2 and a half times as many as the NetGuardian 832A- you can easily forward all the alarms of a small to medium-sized site. This dense alarm coverage gives you the convenience of a single-box solution, saves you the cost of buying multiple low-capacity RTUs, and offers you the lowest possible cost per point.
80 discrete alarm points: cover your entire site with a single unit

Convenient single-box solution saves costs of buying multiple units - economical cost per point

Reports to multiple SNMP managers or to T/Mon

Configurable alarm descriptions include detailed, actionable alarm data in SNMP traps

Standard dual -48 VDC power inputs for redundant power facilities

4 control relays for controlling site equipment and security devices

Real-time clock for accurate time stamp

Free lifetime firmware upgrades
Why would you need the NetGuardian 216?
The NetGuardian 216 provides exactly enough alarm capacity for monitoring small sites, such as remote huts, collocation racks, and enclosed cabinets - so you can economically install alarm monitoring at every site in your network, without spending a fortune on excess alarm capacity.

The NetGuardian 216 is a smaller RTU that provides exactly the right capacity to manage your small and medium sites and reports alarms using SNMP or DCP over your existing IP network.
Right-size capacity for small sites

Reports alarms over SNMP or to T/Mon

Reports up to 2 SNMP managers - great for reporting alarms to different departments

4-threshold analog monitoring (major over, minor over, minor under, and major under)

Terminal server port for LAN access to switches, routers, PBXs, and other serial-interface devices

Optional dual -48 VDC or 110 VAC power input

Small footprint form factor

Included Windows configuration utility for easy, quick turn up: configure NG 216 unit in your network without leaving your desk

Free lifetime firmware upgrades
We Can Help Select Your Perfect-Fit SNMP RTU
Are you getting started with SNMP remote monitoring? Or maybe you are searching for new, more advanced SNMP remotes? Is it time to make a decision, but you're not sure what to look for?
Alarm monitoring technology is constantly changing. But you don't want to make a rushed decision and then later wish you could go back and find a better remote.
We can help you get the most value out of your budget. Our remote monitoring experts can analyze your specific scenario, showing you which devices would make the most sense for you. Our main goal is to educate you so you can make an informed decision and avoid expensive mistakes.
Give us a call today and let's find the perfect SNMP RTU for you.


Morgana Siggins
Morgana Siggins is a marketing writer, content creator, and documentation specialist at DPS Telecom. She has created over 200 blog articles and videos sharing her years of experience in the remote monitoring industry.