Good monitoring equipment need to function properly. This test ensures that your device is doing exactly what it should do in the way that it should be done. These tests include making sure that analogs, alarms, controls, user menus, and firmware functions are running perfectly.
EMI testing
Electromagnetic Interference testing, also known as EMI testing, is one of the more advanced tests that RTUs can go through. If your equipment is vulnerable to EMI or emits excessive amounts, it may malfunction and even cause your other equipment to fail. EMI "surface area" is also a major contributor to power-surge damage.

Using an EMI test in a simple (but very expensive) anechoic chamber, you vendor can really dial in their RTU designs to dramatically reduce noise levels. EMI testing also allows self-certification with applicable NEBS standards (true NEBS certification involves a independent laboratory).
Temperature testing (hot & cold)
Your RTU must be subjected to the most extreme low and high temperatures to verify it will survive.
Every model that's tested should be put under the low end of its suggested functioning temperature range (ex. -40 F), reach that temperature, and be held there for several minutes.
The same thing is done for the high temperature range. The equipment, then, is cycled several times from hot to cold. The key is to make sure that your RTU not only can operate in those temperatures, but also can frequent changes (real-world seasons and day-night cycles are comparatively easy to withstand).
By performing this test, you vendor is able to design consistently reliable products that will not break down - even when your climate control fails or gets damaged. Your RTU should always be the last piece of gear at a site to fail.
Power-cycle testing
This is a simple test. Each unit is switched on and off for several hours to guarantee that it will remain working. This test will ensure that your unit won't stop functioning after only a few boot ups. It also emulates outages, which can happen during bad storms..

Power-cycling tests both hardware and software/firmware systems. The power supply must survive multiple hours of on/off torture testing. The firmware must boot up successfully after each and every power cycle.
Temperature-Power Cycle test
This is basically the previous two tests combined in one. The purpose is to put extreme stress on your gear to ensure maximum durability. To conduct this test, your vendor will subject the unit to either extreme heat or extreme cold and hold it there for many hours. The device is continuously power-cycled during this period.
Your Last Resort: A Money-Back Guarantee
It may seem like something "As Seen on TV", but a money-back guarantee is also very important when buying monitoring gear.
For a quality monitoring vendor/manufacturer, a money-back guarantee is a no-brainer. If they're making good equipment, they'll almost never see a return anyway.
A money-back guarantee is especially helpful when you're dealing with custom equipment. There are more variables in play with custom gear, so it's very reassuring to know that you can always return the solution if it doesn't do the job.
Look for at least 30 days to test new equipment at your sites, subjecting it to your specific real-world situations. If, at any time, during these 30 days, you decide that the equipment is not meeting your requirements for any reason, you can cancel your order. Simply return it for a full refund (which probably means you just tear up the vendor's invoice).
Featured Remote-Monitoring Manufacturer: DPS Telecom
DPS Telecom is a manufacturer & direct seller of remote monitoring equipment. Headquartered in California, DPS designs and builds custom monitoring equipment for a global client base, including:
Telcos (Phone, Wireless, TV, ISP)

Utilities

Railroads

Police/fire/911

Government & Military
DPS provides all of the services, testing, and guarantees described here, making them a good manufacturer to consider for your project.
---
Get a Custom Application Diagram of Your Perfect-Fit Monitoring System
There is no other network on the planet that is exactly like yours. For that reason, you need to build a monitoring system that's the right fit for you.
"Buying more than you need" and "buying less than you need" are real risks. You also have to think about training, tech support, and upgrade availability.
Send me a quick online message about what you're trying to accomplish. I'll work with you to build custom PDF application diagram that a perfect fit for your network.
---
Don't make a bad decision

Your network isn't off-the-shelf.
Your monitoring system shouldn't be, either.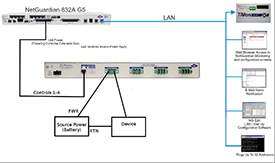 We'll walk you through this with a customized monitoring diagram.
Just tell us what you're trying to accomplish with remote monitoring.
Get Your Custom Diagram Now