Using a remote telemetry unit (RTU), you can protect your computer and server room from environmental conditions.
The Key to Protecting Your Server Room, Equipment, and Infrastructure.
The good news is the answer to monitoring your gear is simple. By using a remote terminal unit (RTU), you can monitor all of the factors that could damage your gear. Here are the six key threats you need to protect your computer server room gear from.
Temperature

- If the temperature of your server room gets too high, your gear will likely shut down due to overheating, bringing your entire network to a crippling halt. By using live analog sensors, you can monitor the precise temperature at all times - so you're always aware if there's a problem.

Humidity

- While humidity threats are much more unexpected than temperature threats, that doesn't mean they're any better. If the humidity levels are too high, you run the risk of water build up on the components of your gear - which could lead to rust and gear failure. Humidity levels that are too low are also dangerous. Low humidity leaves your gear susceptible to static electricity, which could seriously damage your gear.

Power

- If you lose power to your server room, you need to know as soon as possible, so you can either restore power or get your backup generators going. You can't afford to lose power to your key gear and find out later from your customers calling in and complaining. Don't leave yourself in the dark - monitor the power that's keeping your revenue-generating gear online.

Water Damage

- If you rarely go into your server room then a slow water leak could steadily build up and cause severe damage. A few drops of water in the wrong place could short circuit several pieces of mission-critical gear, leading to network downtime and lost revenue. Using water detectors can give you an early warning when water is threatening your network.

Air Flow Disruptions

- One of the simplest, least expensive, and more effective ways to control the temperature of your server room is to use air flow management. By properly managing air circulation in your computer server room, you can regulate the temperature in a cost effective way. However, if there is a disruption to this flow, or one of your cooling units goes down, it won't be long before your servers execute thermal shutdowns. By using air flow sensors, you can be notified the instant the air in your server room isn't being properly circulated.

Motion

- Your server gear is valuable, so it's absolutely key that you physically protect it as well. This is especially important if you have gear located at a remote site that's away from your central office. You need to know the instant you have an unwanted visitor, otherwise you could suffer from damaging vandalism or theft.
By monitoring these six key threats, you'll be protected from preventable network emergencies that could have caused an outage - halting service to your customers and costing you tons of revenue.
Where Can I Find the Technology to Remotely Monitor These Conditions?
Now you know how these threats can cost you a fortune in the long-run, and you're ready to do something about it. The good news is protecting your network doesn't have to be a hassle, and it doesn't have to break your budget. Using a combination of Remote Telemetry Units (RTUs), Master stations and sensors can give you the visibility you need to protect your server room and your mission-critical gear.
The TempDefender from DPS Telecom: The Ultimate Protection for Your Server Room and Gear.
To monitor various spots in the server room from a single device, DPS Telecom makes the TempDefender. The TempDefender is a small, rack mountable remote telemetry unit (RTU) that can handle up to 16 analog sensors reporting on all of the environmental factors in your server room. Sensors for the TempDefender may be daisy chained together, so you don't have to run a mess of cabling back to the TempDefender. You can also string sensors up to 600 feet away from the RTU, allowing you to run sensors to the most extreme spots in your server room from a centrally located device without worrying about connectivity issues.
Be careful if you measure your server room cooling system this way. Be sure to run sensors to spots likely to be hot. These include: above equipment, hot aisles, and near your hottest racks. You should also place sensors where air flow is most necessary. This can include hot air aisles on both sides of your cold aisles. This will ensure even cold-air distribution. You want to ensure that air, both cold and hot, is being effectively moved through the system. Losses and inefficiencies result in hotter server rooms and more energy expended in the cooling process - it's not as bad as a complete meltdown, but still not optimal.
NetGuardian 216 G3: The Best RTU for Inline Environmental Monitoring.
If you're looking for a rack-to-rack solution, you should consider something like DPS Telecom's NetGuardian 216 G3 remote. The unit has four analog inputs, with which to measure the environment within the rack (or string sensors across a few racks) and 16 discrete alarm inputs so you can directly monitor your servers and other equipment. The NetGuardian 216 provides a total solution with which you can monitor environmental sensors and the dry contacts coming directly from your servers, so whether your problem is environmental or otherwise, you'll know about it.
Picture how much easier your job would be with this kind of protection. Imagine - you'll never be the last to know about a threat to your gear. Having the ability to prevent many network outages doesn't have to be a dream - you can make it a reality.
The first step to protecting yourself against damage is to make sure you have the right info. Too many monitoring systems don't see the big picture and leave out vital features that can mean the difference between an outage and network up-time. In order to learn about the basics of network monitoring, I recommend downloading the free Server Room Monitoring Tutorial White Paper.
This free white paper will teach you about the most important server room monitoring features, and how to avoid the common pitfalls associated with installing a network monitoring system.
---
Get a Custom Application Diagram of Your Perfect-Fit Monitoring System
There is no other network on the planet that is exactly like yours. For that reason, you need to build a monitoring system that's the right fit for you.
"Buying more than you need" and "buying less than you need" are real risks. You also have to think about training, tech support, and upgrade availability.
Send me a quick online message about what you're trying to accomplish. I'll work with you to build a custom PDF application diagram that's a perfect fit for your network.
---
Make an Informed Decision
Your network isn't off-the-shelf.
Your monitoring system shouldn't be, either.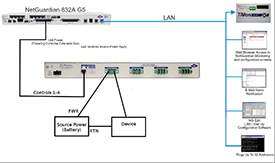 We'll walk you through this with a customized monitoring diagram.
Just tell us what you're trying to accomplish with remote monitoring.
Get a Custom Diagram