Incompatible Network Monitoring Systems Can Work Together with an Integrated Network Monitoring Platform
You don't need to waste time, effort, and money with incompatible network monitoring systems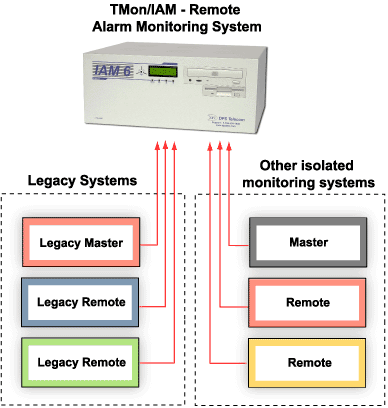 T/Mon Integrated Network Monitoring System makes it all come together
You can bring your incompatible systems together with T/Mon Integrated Network Monitoring that supports multiple protocols.
In this application, two outdated legacy masters are replaced with just one multiprotocol network monitoring system. Your entire network is monitored from a single screen, creating a uniform and integrated monitoring platform that provides visibility of your entire network.
And you can achieve this level of integration by simply replacing the masters. The T/Mon integrated network monitoring master supports both legacy systems. Your legacy remotes can stay in place, and you don't have to do a forklift swap out of embedded equipment.
Whether you need to integrate another company's network or your own, the net result can be the same: different systems, monitoring different parts of your network, and none of these systems will work together.
If you have to work with multiple network monitoring systems, you already know all the headaches that are involved:
Your staff has to monitor multiple screens to view the entire network, distracting their attention and increasing the chances that a serious threat will go undetected.
You don't have one screen that clearly indicates the total health of your network.
You can't automatically correlate and process alarm data from your entire network.
Your training, maintenance, and repair costs are doubled.

To find out how you can integrate your network monitoring system select an option below...

By using an integrated network monitoring platform you will:
Leverage your existing monitoring system to provide better monitoring now and an upgrade path for the future.
Provide advanced features like after-hours monitoring and automatic notifications at low cost.
Save your investment in legacy remotes by extending their working life.
Create substantial savings in initial expenditure, operational, and maintenance costs.
Spread equipment upgrade costs over several budget cycles, since both legacy systems and new monitoring equipment are supported by the multiprotocol platform.
Other Helpful Links
Integrated Network Monitoring With Legacy Remotes
One Stop Shopping - Integrated Monitoring
Consolidate Incompatible Network Monitoring Products with an Integrated Monitoring Platform
Consolidate Isolated Network Systems with an Integrated Remote Alarm System
Consolidate Your Isolated Systems with this Integrated Network Monitoring Tool
Legacy Protection