Consolidate Incompatible Network Monitoring Products with an Integrated Monitoring Platform
An Incompatible Network Monitoring Product Wastes Time, Effort, and Money
Whether you need to integrate another company's network monitoring product or your own, the net result can be the same: different systems, monitoring different parts of your network, and none of these systems will work together.
If you have to work with multiple network monitoring product, you already know all the headaches that are involved:
For more network monitoring product information on integrated monitoring select an option below
Using an integrated network monitoring product for all your monitoring applications will: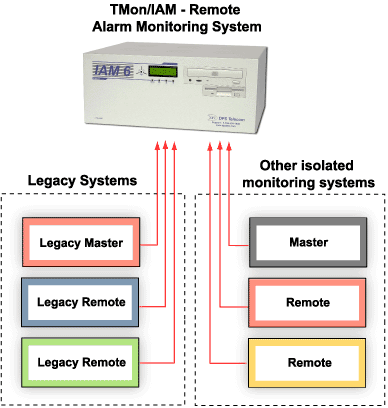 T/Mon Makes Incompatible Systems Work Together
In this application, two aging, failing legacy masters are replaced with a single multiprotocol system. Your entire network is monitored from a single screen, creating a uniform and integrated monitoring platform that provides best-quality visibility of your entire network.
You can bring your incompatible systems together with T/Mon Integrated Monitoring that supports multiple protocols.
And you can achieve this level of integration just by replacing the legacy masters. The T/Mon integrated monitoring master supports both legacy systems. Your legacy remotes stay in place, and you don't have to do a forklift swap out of embedded equipment.
Useful Links: