We Answered The Top 10 Questions About Remote Monitoring
Technology is rapidly changing and these changes have been reshaping many industries.
Remote monitoring systems are no different. These systems are evolving with new technological advances, bringing many organizational benefits for many industries. Despite that, many companies still have no type of monitoring system in place.
At DPS, we're often asked by potential clients if investing in remote monitoring solutions does actually make sense for their scenario. So, we evaluate their own specific network and pain points to find out if buying a monitoring system will actually be advantageous for them.
We're committed to helping you, even if it means that we're not making a sale. In this article, we'll answer some of the most frequently asked questions we get in order to help you determine if remote monitoring systems will be a cost-effective investment to your company.
1. What are the Advantages of Remote Monitoring?
Remote monitoring systems bring several advantages to the companies that choose to invest in this technology. There are four main areas where your organization will benefit most from having a monitoring system. These areas are:
Mission-critical network protection The number one goal of remote monitoring systems is to keep an eye on your equipment and processes located at multiple locations. Especially if you have a single, centralized interface providing continuous monitoring, you get the best chance possible to take corrective actions in a timely manner when issues occur.
Organizational safety The remote nature of monitoring systems gives you the ability to keep an eye on your network even without employees at the site. This means that you won't need to send your techs to remote sites during potentially hazardous conditions, such as natural disasters.
As a matter of fact, the recent COVID-19 pandemic reminded many companies of the importance of being able to continue monitoring networks without on-site personnel.
More time for other tasks If you currently perform manual monitoring, having an automated system that will do this task for you can allow your team to use their time and effort to focus on other important responsibilities. Also, this also leads to less human errors as the monitoring will be automated.
Cost reduction Having visibility over your network means less unnecessary truck rolls to remote sites to check on equipment. This reduces costs as you now only have to send techs to the sites when you know it's appropriate to do so.
Also, it goes without saying that since a remote monitoring system protects the network that provides services to your customers, it'll also be protecting your revenue.
2. How can I Determine if my Company Really Needs a Remote Monitoring System?
The previous advantages can already be reason enough for you to want to invest in a monitoring system, as they apply to different industries. With that being said, there are some other aspects that can further help you know if your organization really needs this technology.
Some of these aspects are:
Your company has a large network consisting of multiple sites
Many organizations need to monitor a massive network that includes thousands of different devices and processes. Also, these networks usually are spread out large geographic areas with diverse remote sites. In these cases, a remote monitoring system that allows you to manage all your network operations from wherever you are is extremely beneficial.
In a nutshell, the bigger your network is, the greater your monitoring needs will be. And the more advantages you will be able to get from a remote monitoring system.
You need to keep an eye on different elements of your network
Some companies don't have a network spread out across multiple remote sites. However, operators may need to monitor different aspects.
A hospital, for example, will have a variety of monitoring needs. Staff needs to keep an eye on freezers, medicine cabinets, access to determined areas, etc. This means keeping track of things like temperature, humidity, and door sensors. Having all these different monitoring needs centralized is highly valuable.
The key point here is that the more complex your monitoring needs are, the more you need the capabilities that a remote monitoring system can give you.
You have a small team
Remote monitoring systems will give you complete visibility over your remote sites with little to no input from your personnel.
So, if your company can't have a dedicated 24/7 network operations center (NOC) or is limited for any reason in terms of how many people can manually monitor your network, then investing in remote monitoring might be the most reasonable choice.
You need to protect sensitive products
Electronic devices have an ideal condition where they need to stay in order to remain operational. But, there are some products that also call for efficient alarm monitoring capabilities.
These products are so sensitive they also need to be monitored at all times. Vaccines, for example, are a highly sensitive (and valuable) asset that many companies choose to protect with remote monitoring.
3. Is it Complicated to Implement a Remote Monitoring System?
This is going to depend on the product you're buying.
The DPS well-designed remote monitoring solutions, for example, have a simple and straightforward installation process. Once the hardware is installed, all you need to do is access your intuitive device's web interface and edit your monitoring settings. After that, you are ready to go.
However, not all systems will be like that. Keep in mind that the ease of use will vary depending on the provider you choose.
When looking for a monitoring vendor, make sure they can provide installation support, tech support, and training.
4. What if I need to Monitor Multiple Sites at Once?
As I previously mentioned, companies that have a network spread out across multiple sites are the ones that will need remote monitoring the most. A good system will give you the capacity to support networks of any size and geographic configuration.
If you have more than just a handful of RTUs, having a master station is the best practice. T/Mon LNX, for example, can support more than 25 standard and proprietary protocols, so you can receive alarm data from multiple different devices from many different manufacturers.
This means that you can integrate all your remote monitoring network in one intuitive interface - the GFX.
GFX is a user-friendly graphical interface that gives you complete visibility over every element in your network. With it, you can see your alarm in real-time on layered geographic maps and you can zoom in from regions to cities, to facilities, and all the way to photos of your equipment. This "war room" view of your network allows your techs to know exactly where the problem is and what's going on, rapidly accelerating repair operations.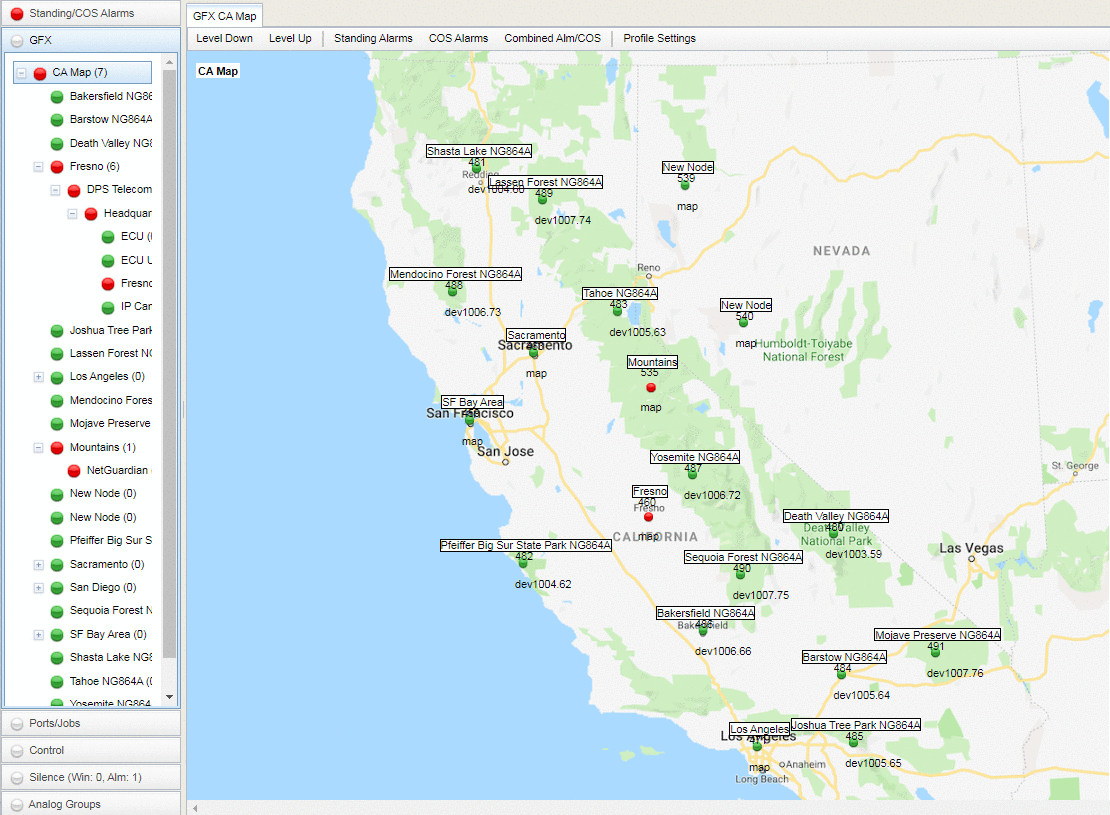 The GFX is a user-friendly graphical interface that gives you complete and intuitive visibility over every element in your network.
5. Is Remote Monitoring System Easy to Customize?
The right monitoring solutions provider will be able to give you a highly customizable system based on your needs and preferences. This should include things like:
Right capacity for your needs
Support for determined interfaces or protocols
Customization for alarm notifications
At DPS, we believe that no network is exactly alike. That's why we make it a point to listen to your requirements and pain points so we can make sure our solution is the right fit for you.
Since we design our software and build our hardware in our headquarters - in Fresno, California -, it's easy for us to customize our devices and give you exactly what you need. There's no man-in-the-middle or outsourced resources, we do everything in-house. We specialize in personalized monitoring solutions and our clients know they can treat us their own engineering department.

We are a
vertically integrated company
, so everything is made in-house. This allows us to personalize any of our solutions or to give you a completely new device.
6. How will I get Notified about a Network Problem?
Your remote monitoring systems should support at least email, text messages, and phone calls as notification methods. It should also be able to send the alerts to as many users in your team as you would want.
An efficient system will send out alerts immediately after an issue is detected - 24/7.
7. If I have an Audit Coming up What Should I Do with my Remote Monitoring System?
If you have a powerful remote monitoring system in place, then you already have taken the first step to be in good shape for your audit. However, there are some additional factors you need to take into consideration, such as:
Making sure that the system monitoring all relevant equipment and processes is up to date.
Making sure that your monitoring system is optimized to provide detailed notifications in order to comply with reporting requirements of the audit.
8. What makes DPS Different from other Remote Monitoring Companies?
We have multiple strengths that set us apart as a competent remote monitoring systems provider. We have more than 30 years of experience doing just that - providing efficient monitoring solutions.
Due to our own monitoring expertise, you don't need to be a monitoring expert in order to make your system work efficiently and attend all your monitoring needs, even the most unique ones. We create intuitive systems with user-friendly, easy-to-understand interfaces that allow you to use your device from day 1.
But, what really set us apart from other monitoring vendors is that our specialty is custom monitoring solutions. This makes us unique because you most likely won't find exactly what you need in an off-the-shelf device, so all you need to do is list us your must-haves and nice-to-haves and we'll get to work. You'll end up with a system custom-made for your network that is based in our time-tested designs.
9. What do I Need to Do to Install DPS Remote Monitoring Solutions?
Our monitoring solutions come with their own dedicated hardware, but you can view, acknowledge, and configure alarms from your computer via any web browser.
The on-site installation is very easy and practical, and our user manuals are a good guide to follow. But, if necessary, we can send one of our teams of experts to help you through this process. In this visit, we can also provide training to you so you know how to get the most out of your system.
10. Will DPS Devices be Compatible with my Current Gear?
Yes.
If you have legacy devices or any other equipment that you need to smoothly integrate into your DPS monitoring system, simply let us know. Since we can customize any of our solutions to fit your specific needs, we can make sure our devices can work with your current equipment.
The Bottom Line
Although remote monitoring systems bring many advantages to many companies, it's normal for many network managers to have questions about it. So, it's vital that you can count on your potential vendor to answer your questions as honestly as possible.
When you come to talk to us, there's no pressure to buy more than what you need or to buy our devices at all. In fact, we don't expect you to take our word for it. We provide you with testimonials and referrals - these companies might be from the same industry as yours so you'll get a better insight on our solutions from real clients that use them in real-world scenarios.
If you have more questions about our remote monitoring solutions, feel free to contact us today.


Morgana Siggins
Morgana Siggins is a marketing writer, content creator, and documentation specialist at DPS Telecom. She has created over 200 blog articles and videos sharing her years of experience in the remote monitoring industry.