Go with vendors that put their best foot forward by hiring a real person to deal with you.

The best full-service SCADA companies are the ones that believe that real people should be serving you. When you call in, their receptionist will be the first live voice you'll get. Your call will be quickly transferred to the appropriate technician or sales rep so you can get the answers you need.
Demand Top Quality & Free Tech Support
Nowadays, it's really hard to get great tech support, let alone great tech support that's also free. The reality is that many companies outsource this service, while others think that automated messages "will be OK". Taking those easy paths may save them time and money in the short term but - let's face it - you'll always get frustrated if you have to deal with that.
Always work with companies that recognize the big investment you already made when you trusted them with your SCADA system. Look for manufactures that offer you free lifetime technical support, when you buy any of their products - yes, that's possible to find.
Keep in mind that, just because they're giving you a free support, it doesn't mean that it will be low-quality. As a matter of fact, full-service vendors offering this kind of service tend to put in effort to make it the best support available.
As a result, you won't be trapped inside voice mail "hell". When you call them, you'll be connected to a live, competent human being who understands your equipment and can solve your problems. In some companies, your tech rep will actually be a real engineer that has extensive experience developing and working with your monitoring system.
An additional point to be certain of is that your tech support is not being supplied from overseas. Just imagine the headache of trying to deal with tech reps that are in another country, with a totally different time zone and language. Madness!
Free SCADA Training: The Class that will Make your Job Easier
Look for vendors that offer tuition-free factory training for all clients. If you're able to travel to their headquarters, you'll most likely get a big benefit from an in-depth course. This class should cover everything you need to know about your RTUs and master stations.
Here's how the best training classes can make the difference for you:
Small classes:
They should purposely hold classes for just a few students (typically 10-12). The intent is to have your instructor focusing on you. If you have questions, the instructor or an assistant must be able to give you more attention and individually help you.
Learn from engineers:
Your instructor and assistant must be engineers that have experience working with your equipment. When they're not teaching the classes, they should be developing monitoring systems and implementing them.
Hands-on with the equipment:
You shouldn't be getting only theoretical training. Look for companies that offer classes where you can work on real configurations with real equipment. There's nothing better than learning a process by actually doing it yourself.
Get to know your vendor:
During your training, you must have the opportunity to take a tour through your manufacturer's facilities. That's a special occasion where you should see for yourself how they make the products you may be investing in.
Friendly environment:
They should always welcome you into their family. Some companies even host lunches during factory training so you can take a break with your classmates and get to meet your vendor's teams on a more personal basis. By sharing experiences, you'll build relationships with people who have common interests, and you may gain insight on how other companies use the vendor's RTUs or master stations that may be applicable to your own.

The chance to attend a free training is one of the most important things any SCADA vendor can deliver for your money.
Annual Week-Long Tune-Up Visit: Get your System to Work at Maximum Capacity while Training your Entire Team
If you have a large team that needs to be qualified on remote monitoring, it might be hard or even impossible for your company to send everybody out for a factory training. Tune-up assistance might be the best idea for you to train your entire team and have an informed and knowledgeable staff.
Programs like these are the best and fastest way to tune up your system. The company should annually send an experienced technician to visit you in order to review your system's current setup. Also, they should show your team how to get the best use of your equipment, while covering your RTU configurations.
At the end of the visit, you must end up with a system that runs great and with the knowledge on how to maintain it.
We are Always Proactively Reaching out to You to Provide Support
We, from DPS, are not your typical sales department. We thrive on providing you the best value you can expect for your SCADA money.
Besides offering you all the services that I described before, we also make sure to keep supporting you after we provided you with the exact solution you needed.
Every now and then, you'll notice a new email from us in your inbox. In these emails, we're usually letting you know that new firmware is available to download and update your device with if you so choose. This means you get updated, optimized software with new features you might have not even thought of - for free!
We'll also call you periodically to check if your SCADA system is still working as expected, ask if you happen to have any questions or concerns, let you know about upcoming factory training classes, and to get overall feedback from you.
---
Get a Custom Application Diagram of Your Perfect-Fit Monitoring System
There is no other network on the planet that is exactly like yours. For that reason, you need to build a monitoring system that's the right fit for you.
"Buying more than you need" and "buying less than you need" are real risks. You also have to think about training, tech support, and upgrade availability.
Send me a quick online message about what you're trying to accomplish. I'll work with you to build custom PDF application diagram that a perfect fit for your network.
---
Don't make a bad decision

Your network isn't off-the-shelf.
Your monitoring system shouldn't be, either.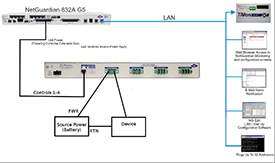 We'll walk you through this with a customized monitoring diagram.
Just tell us what you're trying to accomplish with remote monitoring.
Get Your Custom Diagram Now