It doesn't matter where your company is, the field trial team should be able to travel to your location.
Every Field Trial is a Challenge, so Make Sure Your Vendor is Ready
To be assured that you'll get a productive and efficient experience, look for companies that have a long history of successful field trials.
The first sign of an experienced company is that they'll ask for your time and attention. During the visit, they should want to meet with your entire team to understand your requirements, test their own assumptions in your real-world environment, and make sure that they're giving you the perfect-fit product for what you need.

During field trials, you'll get the chance to work with the company's team to design the perfect solution for your network.
From "Scary" to "Awesome": The Calendar of our Typical 5-day Field Trial:
During previous DPS field trials, I've noticed a common down-then-up pattern that you should know about before anything else.
You might presume that things will go pretty smoothly during our visit. After all, we're specialists in custom engineering work. We should be pretty good at it by now.
The truth is that every field trial is different. It always takes some amount of time to diagnose problems that we haven't anticipated in our labs and to engineer solutions accordingly. At the end of the week, though, we always get the job done.
Even though we've been on numerous field trials, this one-week process of initial disappointment followed by ultimate success is remarkably consistent from one field trial to the next:
The "scary" Monday
The "scary" Monday is the ordinary first day of a field trial. On this day, you'll wake up from your dreams of an extraordinarily easy process. We might discover that the prototype doesn't have a critical function. We may have made assumptions that turn out to be untrue. We still have 4 days left to dig out of the hole, but this is a scary situation.
The "Terrible" Tuesday
Tuesdays are no picnic either, and they often make Monday's look perfect by comparison. On the second day of our field trial, we're normally busy fixing Monday's new problems and discovering entirely new ones. We're doing a lot of things, but it just hasn't come together yet. With the week approaching its midway point and no success in sight, things are looking terrible.
The "There's a light at the end of the tunnel!" Wednesday
On the third day of our visit, we start to show progress. We've worked our way through all the surprises that came out from the first two days, so now we're starting to believe that we got safely past the critical point. There's still a lot to do, but there's a light at the end of the tunnel.
The "Hey, this might work..." Thursday
It's Thursday and the week is almost over, but at this point we're really showing improvement. You might chuckle to yourself when you think about how impossible the situation felt on Tuesday. Now, it just might work.
The "AWESOME!" Friday
Friday comes with the end of the field trial, and today you're impressed by what we've accomplished together. We'll have converted a best-guess prototype into a perfect-fit device crafted just for you. It'll be awesome, guaranteed.
---
Get a Custom Application Diagram of Your Perfect-Fit Monitoring System
There is no other network on the planet that is exactly like yours. For that reason, you need to build a monitoring system that's the right fit for you.
"Buying more than you need" and "buying less than you need" are real risks. You also have to think about training, tech support, and upgrade availability.
Send me a quick online message about what you're trying to accomplish. I'll work with you to build custom PDF application diagram that a perfect fit for your network.
---
Don't make a bad decision

Your network isn't off-the-shelf.
Your monitoring system shouldn't be, either.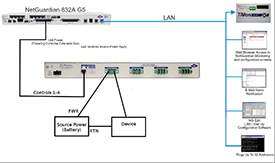 We'll walk you through this with a customized monitoring diagram.
Just tell us what you're trying to accomplish with remote monitoring.
Get Your Custom Diagram Now