Why parse your SNMP MIB files?
SNMP telemetry is becoming increasingly common in today's tech world. Telecom, I.T., and equipment networks have seen a growth of dependency on SNMP.
This tool can be a huge help if you're responsible for deploying SNMP equipment. It may be able to save you the pain of wading through directories of MIB files. It can help you avoid the complexity of ASN.1 notation. It can prevent the need to learn new MIB browsing tool interfaces.
By uploading either a MIB file or a zip file container MIB files, this tool will quickly scan for Trap Types and/or Notification Types.
When complete, you will receive an email with results of the scan. If any definitions are found, they'll be listed for ease of reference for your benefit. This MIB Parser tool is completely free for use. A valid email address is required only to receive your parsed SNMP MIB results; we will not send you any offers or spam.
Don't have a MIB file? Check out our MIB Library
We have a repository of SNMP MIBs located here.
Thank you for submitting your MIB document. Please check your email for the parsed results.
Click here to submit more MIB files to parse.
Have a question? Contact our friendly Sales Engineers here or give us a call at (559)454-1600.
---
Get a Custom Application Diagram of Your Perfect-Fit Monitoring System
There is no other network on the planet that is exactly like yours. For that reason, you need to build a monitoring system that's the right fit for you.
"Buying more than you need" and "buying less than you need" are real risks. You also have to think about training, tech support, and upgrade availability.
Send me a quick online message about what you're trying to accomplish. I'll work with you to build a custom PDF application diagram that's a perfect fit for your network.
---
Make an Informed Decision
Your network isn't off-the-shelf.
Your monitoring system shouldn't be, either.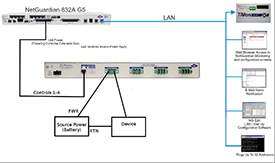 We'll walk you through this with a customized monitoring diagram.
Just tell us what you're trying to accomplish with remote monitoring.
Get a Custom Diagram