SNMP MIB Basics


Download White Paper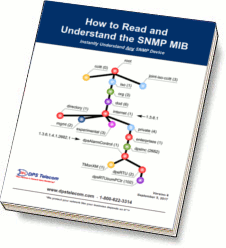 Demystifying the MIB by Marshall DenHartog
Understanding MIBs and how they describe SNMP telemetry messaging is critical to maximize your alarm system's capabilities.
One customer recently asked us about monitoring a new device, which was not in the library of SNMP MIBs for their system. They asked "can I reprogram the T/MonLNX to include this new device?" Fortunately, the TMonLNX can integrate SNMP telemetry without needing to load or compile a MIB file or files. For those with T/MonLNX montioring systems, the MIB files can be a helpful reference when deciding how to monitor a new element in your network.
For those with older SNMP Managers that require MIBs to be loaded in order to integrate SNMP messages from new network elements, MIB files are absolutely crtical to understand. In some cases, you may even decide to edit them to improve the messages for your SNMP Manager presentation. This report will help you understand why you absolutely need to be able to work with MIB files when you are using an older SNMP Manager.
In any case, you will learn the essentials of SNMP MIB files and will probably agree that this white paper is a must-read for anyone who works with SNMP.
Learn the SNMP Management Information Base:
Understanding the purpose and function of the MIB
How to read and make sense of a MIB.
Why multiple MIB files are usually required.
How a MIB can help to evaluate SNMP equipment.
How equipment telemetry messaging is presented in MIB file notation.
How to Read and Understand the SNMP MIB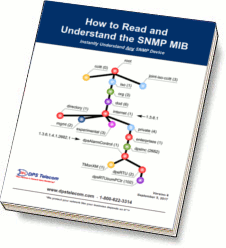 Demystifying the MIB by Marshall DenHartog
Learn how to quickly identify the alarm capabilities of any SNMP device.
This new report will teach you the essentials of SNMP MIB files. A must-read for anyone who works with SNMP.
A complete guide to the SNMP Management Information Base:
Understanding the purpose and function of the MIB
How to read the MIB
Using the MIB to evaluate SNMP equipment
Remember that we'll NEVER sell your email address to anybody, and that's a promise! We will also send you our informative eMagazine.
Why parse your SNMP MIB files?
SNMP telemetry is becoming increasingly common in today's tech world. Telecom, I.T., and equipment networks have seen a growth of dependency on SNMP.
This tool can be a huge help if you're responsible for deploying SNMP equipment. It may be able to save you the pain of wading through directories of MIB files. It can help you avoid the complexity of ASN.1 notation. It can prevent the need to learn new MIB browsing tool interfaces.
By uploading either a MIB file or a zip file container MIB files, this tool will quickly scan for Trap Types and/or Notification Types.
When complete, you will receive an email with results of the scan. If any definitions are found, they'll be listed for ease of reference for your benefit. This MIB Parser tool is completely free for use. A valid email address is required only to receive your parsed SNMP MIB results; we will not send you any offers or spam.
Don't have a MIB file? Check out our MIB Library
We have a repository of SNMP MIBs located here.
Thank you for submitting your MIB document. Please check your email for the parsed results.
Click here to submit more MIB files to parse.
Have a question? Contact our friendly Sales Engineers here or give us a call at (559)454-1600.