Perfect Fit Alarm Collection Remotes For All Your Network Sites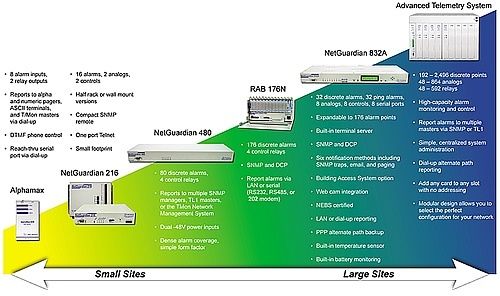 [Click for larger image]
Your network is unique, get alarm monitoring equipment that's a perfect fit
No matter what the size of your site-from a central office to the remotest of remote huts- you can get the best possible coverage of your network. These RTUs support a wide range of protocols and interfaces, and have alarm capacities that were designed with the small, medium, and large remote site in mind, so it's easy to find the solution that will perfectly match your critical remote site equipment and your existing network. What's more, you can get a demo of any and all our remote site solutions via the web-you don't need to go anywhere else.
Advanced Telemetry System (ATS)
The Advanced Telemetry System (ATS) is a comprehensive network monitoring solution providing best-of-class network visibility in a flexible, scalable framework. There's an ATS card to monitor every element of your network - discrete alarms, analog alarms, and control relays.
High-capacity alarm monitoring and control, coupled with modular design, means that you have a lot of options: up to 2,496 discrete alarms, 864 analogs, 592 controls, multiprotocol support, and remote site protocol mediation. Design your own alarm system, with the features and capacities you want. You can change or add capacities simply by adding cards, with no rewiring required-you can select the perfect configuration for your large network and all of it with simple, centralized system administration.
Find out more about the ATS...
NetGuardian 832A
The NetGuardian 832A is a NEBS-certified, LAN-based alarm collection device for comprehensive monitoring and control of remote site equipment. The NetGuardian has all the tools you need to manage your remote site, including stand-alone local visibility options for monitoring alarms directly through the RTU, bypassing the need for a master.
With 32 discrete alarms-expandable to 176, 32 ping alarms, 8 analog alarms, 8 control relays, a solid base of protocols, and a ton of expansion options, the NetGuardian is the best defender your network could ever have.
Find out more about the NetGuardian 832A...
Remote Alarm Block (RAB) 176N
The Remote Alarm Block (RAB) 176N is an extremely compact alarm collection remote with 176 alarm points and 4 controls, combining the functions of an alarm block and an RTU in the smallest possible space. The RAB 176N is the optimum combination of large capacity and versatile configuration in a small physical profile, making it the ideal solution for any site with a lot of alarm points, but limited rack space.
Find out more about the RAB 176N...
NetGuardian 480
The dense alarm coverage of the NetGuardian 480, coupled with a simple form factor means you can easily forward all the alarms of a small to medium-sized site. Boasting 80 discrete alarm inputs, 4 control relays, the ability to report to multiple managers, TL1 masters, and the TMon Network Management System, the NetGuardian 480 is an effective way to cover your entire site with a single high-quality unit.
Find out more about the NetGuardian 480...
NetGuardian 216
If you're looking for an easy way to monitor your small sites, look no further than the NetGuardian 216. This compact remote features 16 discrete alarms, 2 analog alarms, and 2 control relays, so your small sites won't suffer from small visibility. It's available in half-rack or wall mount versions, so what little space you do have in your small sites won't be wasted on anything.
Find out more about the NetGuardian 216...
AlphaMax 82A/82S/82S (High Speed)
The AlphaMax 82S is a compact dial-up alarm system remote for your small sites. It supports 8 discrete inputs and 2 control outputs over dial-up facilities, and besides reporting to the TMon, AlphaMax is specifically meant to perform with a pager. In fact, you have a complete alarm system with just an AlphaMax and a pager . Alarms can be reported to up to four different Alphanumeric or Numeric pagers, with a backup pager for each alarm point.
Find out more about the AlphaMax 82A...
See the full range of DPS solutions, including the Advanced Telemetry System, the NetGuardian family of remotes, the Remote Alarm Block 176N, and the AlphaMax 82A, and find out for yourself how well our remotes fit into your network. See real-life demos using your current protocols and data transport. You can also learn how you can integrate your existing monitoring equipment to a single multi-capability network reliability management platform.