Don't let your greenhouse go unmonitored - the right greenhouse monitor protects you from unnecessary risks.
Choose the Best Greenhouse Monitoring System That Fits Your Needs.
Not all greenhouse monitoring systems are created equal. Choosing a system with limited features doesn't guarantee you adequate protection. Here are a couple tips on what doesn't work in an effective greenhouse monitor:
How Can I Get the Best Greenhouse Monitoring System For My Needs?
You're ready to take the next step. Just imagine how easy your job would be if you always knew what was happening at your greenhouse. You would never have to worry about the status of the water system or the temperature inside your greenhouse or if you have any unwanted visitors. You can't wait a minute longer. Leaving your greenhouse exposed opens the door for headaches, headaches you don't want or have time for.
You're a professional, and you know exactly what you need. That is why I recommend taking a look at the NetGuardian 832A remote telemetry unit (RTU). This RTU gives you all of the features you need to fully monitor your greenhouse. The NetGuardian 832A has features like:

The NetGuardian 832A gives you powerful options for all of your greenhouse monitoring needs.
DPS Can Provide the Perfect-fit Solution to Your Greenhouse Monitoring Problems.
Don't wait any longer! You cannot afford to leave your greenhouse unmonitored. The experts at DPS Telecom are waiting to help you. They can answer your questions, concerns, or even provide a Return on Investment Analysis (ROI) - so you can see just how much you can save with the right greenhouse monitor. Call now at 1-800-693-0351 or email at
---
Get a Custom Application Diagram of Your Perfect-Fit Monitoring System
There is no other network on the planet that is exactly like yours. For that reason, you need to build a monitoring system that's the right fit for you.
"Buying more than you need" and "buying less than you need" are real risks. You also have to think about training, tech support, and upgrade availability.
Send me a quick online message about what you're trying to accomplish. I'll work with you to build a custom PDF application diagram that's a perfect fit for your network.
---
Make an Informed Decision
Your network isn't off-the-shelf.
Your monitoring system shouldn't be, either.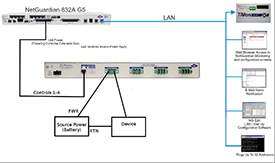 We'll walk you through this with a customized monitoring diagram.
Just tell us what you're trying to accomplish with remote monitoring.
Get a Custom Diagram