Nortel DMS-500 Telecom Switch: How to Monitor it Remotely
The Nortel DMS-500 is an example of a Telecom Switch
A telecom switch is a core part of your organization's communications. Larger switches provide this capability for entire networks of service providers' customers. When these switches encounter a problem, very large numbers of people are affected. This can be a nightmare for business, as too many lost connections result in lost customers (customer churn).
Network alarm monitoring minimizes and can even prevent these reputation-damaging outages. These systems provide you with constant visibility of your important switch equipment, enabling you to view the full status of your network of connected devices at any time.
Monitor the Nortel DMS-500 With Advanced Monitoring Gear
To truly ensure that your DMS-500 switch is operating properly, you need to monitor it. This applies to all of your network gear.
Monitoring the DMS-500 Ensures Switch Uptime
Monitoring your network equipment protects your critical equipment such as your DMS-500. It lets your technicians know immediately if there is a problem. By monitoring the transmission of data from your switches and other network devices, you can quickly dispatch technicians. You can send them to the exact site of a problem using your alarm monitoring system master.
When monitoring switches and other equipment, it is important to deploy advanced monitoring equipment for a cost-effective monitoring solution. The T/Mon LNX is an advanced master that will pay for itself by protecting revenue-generating uptime.
Monitor DMS-500 with Advanced T/Mon LNX Alarm Master Station
The DMS-500 is an ASCII protocol device that requires a master capable of interpreting ASCII alarms. With the T/Mon LNX master, your ASCII and other protocol alarms will be brought in to a single monitoring interface. This tells you the full status of your DMS-500 and other telecom devices at all times.
T/Mon automatically sends alarm alerts via pager or email. If you DMS-500 lose connectivity, you or your designated operator will receive a notification instantly. This allows you to dispatch a technician to the location of your DMS-500.
In a nutshell, these helpful alerts do not simply identify the problem. They also provide specific repair instructions for your specific equipment pieces in need of attention. Spending less time troubleshooting and repairing network problems helps your technicians get your DMS-500 (or other devices) back online as quickly as possible.
Protect Revenues by Monitoring DMS-500
If you are a service provider, your telecom switch is one of the most important parts of your business infrastructure. If your switch fails, your revenue-generating processes simply can't happen. This is why monitoring your telecom switches is of critical importance.
When your DMS-500 switch is offline, you are losing revenues every second. You need a monitoring system to help you quickly identify problems. You must provide consistent communications services for your clients. Protect your DMS-500 and other mission-critical devices with an advanced monitoring system built around T/Mon LNX, and prevent outages before they occur.
This type of ultra-high system reliability is what will galvanize loyalty among your current clients and attract new users to your service network. With alarm logging, you can even use your master's reports to identify switch problem trends, and perform maintenance before they truly cause a major network error. This type of responsiveness will set you apart from your competitors.
DMS-500 Provides Multi-functionality for Service Providers
The Nortel DMS-500 is a local and long-distance switch. The DMS-500 is a SuperNode application that combines the functionality of many different products in the Nortel DMS line. This includes the DMS-100/200 and the DMS-250, to create one multi-function switch for telecom usage.
The Nortel DMS-500 provides local and long-distance services using a single DMS switch. The DMS-500 also provides users with the toll and operator services of the DMS Traffic Operator Position System (TOPS).
As with the DMS-100 local switch, the Nortel DMS-500 supports many different line types. This provides residential and business clients with a number of applications. Using ASCII protocol communications, the DMS-500 can provide for these client support services.
The DMS-500 Greatly Increases Market Flexibility.
By combining the functions of many different DMS line products, the DMS-500 is a cost-effective switch device. It offers service providers flexibility in the market. It provides for the sale of local, long-distance, and business telephone services. It also provides optional operator services.
The DMS-500 provides operability with a number of vendors. This operability is ensured by the SuperNode system's open architecture.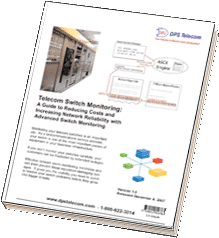 Download the Telecom Switch White Paper.
Related Products:
If you are a service provider with a telecommunication switch, you need to know about the advantages of advanced network alarm monitoring. Get to know the T/Mon LNX and the entire DPS family of monitoring equipment, and learn how you can protect your switch equipment to maximize your revenues.
To see additional information related to a Nortel DMS-500, please visit the Switches page.