Nortel DMS-250
The Nortel DMS-250 is an example of a Telecom Switch
Protect Your Nortel DMS-250 Investment With Network Alarm Monitoring.
An advanced alarm monitoring system will instantly alert you any time there is a problem with your DMS-250 or other mission-critical equipment. You and your network technicians can set up automatic alarm alerts through SMS or email. This will give you details on the locations of problems and the repair steps needed.
Monitoring Your DMS-250 Reduces Network Downtime.
When your DMS-250 is down, you and your clients are losing money, and possibly even customers. By monitoring this gear with an advanced alarm master, you will minimize your downtime and minimize your lost revenues. By providing for quick DMS-250 problem response while maximizing uptime, you will gain new clients who are looking for a dependable service provider.
The T/Mon NOC is one such master that can protect your uptime by monitoring your DMS-250 and other switching gear. With advanced alarm notification features, you can be certain that T/Mon will give you constant visibility of your network.
T/Mon is a Powerful Master for your DMS-250.
Your DMS-250 can easily be connected to a T/Mon alarm monitoring system. This will enable T/Mon to send your email and page notifications anytime you loose visibility of your DMS-250. With T/Mon, you can also group your DMS-250 alarms with alarms from your other network devices into a single, convenient window view. This will allow you to create your own alarm groups. You can group alarms by severity, location, or any other important criteria for your unique network.
DMS-250 Provides Users High-Speed Messaging Capability.
The Nortel DMS-250 is a long distance switch for use by telecommunications service providers. With its high capacity, the DMS-250 can be used by virtually any size of interexchange carrier.
The DMS 250 uses the SuperNode processing architecture. This means you can handle high-speed messages. The DMS-250 system software supplements the DMS-250's advanced hardware. This allows you to keep up with the long-distance voice and data communications needs of their customers.
Clients can increase their service sales with the DMS-250. The DMS-250 will allow service providers to offer powerful long distance services while frequently introducing new services using OAM capability.
Expensive Training is Minimized With User-Friendly Software.
The DMS-250 software uses common controls and user-friendly modules to provide for easy operation. This allows you to save money by minimizing your dependence on expensive training programs. The DMS-250 also provides for easy maintenance.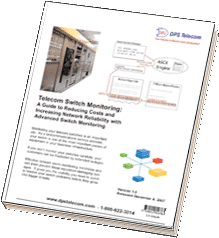 Download the Telecom Switch White Paper.
Related Products:
T/Mon
To see additional information related to a "Nortel DMS-250", please visit the
Switches
page.