TL1 Over TCP/IP - Translating and transporting over existing network infrastructure
Part 1 | Part 2
TL1 is one of the most widely used protocols in network gear today. While other protocols, such as SNMP, do have advantages over TL1, it is still present in most SONET (Synchronous Optical NETwork) and legacy gear. DPS provides an entire product line that can collect, mediate and send TL1 messages over a TCP/IP network. Using DPS gear to send TL1 messages over TCP/IP will reduce costs and guarantee message delivery.
There are several benefits to sending your TL1 alarm data over a TCP/IP network. The first benefit is speed. TCP/IP is simply a faster network than a dedicated land-line (circuit-switched network) due to the a lot of paths that data can take in a packet-switched network. The second benefit is reliability. TCP/IP features automatic recovery from any dropped or lost data. It can guarantee that the data is transferred without the need for any intervention by the user. The third benefit is the mediation of legacy gear to different computer systems. TCP/IP is compatible with any computer system, eliminating the need for proprietary systems for telemetry monitoring. Finally, using TCP/IP to transport TL1 will save you money. The price for a dedicated copper line for each TL1 device can be eliminated by the ability to report alarms over existing LAN/WAN infrastructure. DPS has several products that have the ability to collect, mediate and/or send TL1 messages over a TCP/IP Network: the KDA, the NetGuardian and the T/Mon NOC.
The KDA-TL1 is an alarm and control remote with 64 discrete alarm points and 8 control points. It reports alarms via pagers and to an OSS in TL1 over TCP/IP when equipped with a Network Interface Adapter (NIA) card.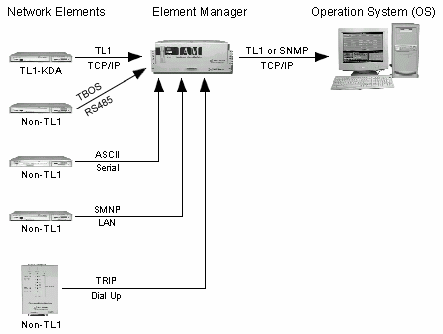 Data transport: LAN transport of TL1 and SNMP alarm data
The NetGuardian is an alarm and control remote with 32 discrete alarm points, 8 controls and 8 analogs. It reports alarms to pagers, e-mail, DCP masters, a lot of SNMP managers and a lot of TCP ports. It features a web browser interface for user-friendly monitoring and provisioning. It also acts as a terminal server for 8 serial ports, providing reach through access via TCP/IP to a proxy port for each device. Using the proxy ports of the NetGuardian, legacy equipment reporting TL1 can be mediated to your existing LAN/WAN.
---
Using the proxy ports of the NetGuardian, legacy gear reporting TL1 can be mediated to your existing LAN/WAN.
---
The IAM and the T/MonXM are the most powerful and flexible tools that DPS offers for telemetry monitoring. Different types of messages sent through a variety of protocols over differing transports can all be utilized while presenting them in a graphical format that is the same regardless of the input protocol. In the case of TL1, this eliminates the need for laborious interpretation of TL1 messages. The instant a TL1 alarm is generated, the user is notified with a blinking, color-coded icon based on its severity. T/MonXM can not only receive TL1 from serial and TCP/IP transports, it can also mediate other protocols and report them in TL1 to a higher level network master over serial or TCP/IP transports. Numerous alert methods are also supported including pager and e-mail. A web interface is also available.
If you would like more information about the KDA, NetGuardian, T/Mon NOC, give us a call. DPS is dedicated to meeting all of your network alarm monitoring needs, saving you time and money while giving you better, more reliable visibility of remote sites.
Do you have questions about using TL1 for Network Alarm Monitoring?
Give us a call at our toll-free number and talk to one of our specialists. They'll help answer any questions you may have.
Sales: 1-800-693-0351 * Support: 559-454-1600 * Fax: 559-454-168
The Protocol Newsletter - January/February 2001.
Marshall DenHartog - A Solution to Every Problem.
DPS is here with you throughout the entire life of your project and beyond.