Many different industries are turning more and more to SCADA systems in order to have visibility over the performance of their remote sites and networks. The collection of data performed by SCADA systems let you monitor your equipment and keep track of your processes and assets. This helps ultimately helps companies respond to network threats in a timely manner, and develop preventative maintenance strategies.
If you work in the oil and gas industry, SCADA can be valuable to you as well. It can gather information about the performance of your individual wells and your entire sites. This means that you will be on top of any unexpected changes in conditions related to your remote network.

SCADA is widely applied in the upstream, midstream, and downstream oil and gas sectors.
However, before jumping to purchase, it's important to remember that just like any other type of technology, SCADA systems will not only have benefits. There are some disadvantages that you need to pay attention to.
Weighting the pros and cons of SCADA systems is a critical step - after all, this is a long-term investment. So, let's take a look at some main points that need to be taken into consideration.
The Pros
SCADA systems can provide many benefits for the oil and gas companies. As a matter of fact, no matter how complicated your process is, it all can be handled by a SCADA system.
A few typical reasons for implementing SCADA are:
Information Reliability and Accuracy
SCADA systems are able to give you details about a device or process in real-time. This information will be transferred digitally from your RTUs to your Human-Machine Interface (HMI).
No typing or interpretation will be needed between your pumps, production and field teams, and management. The SCADA HMI will give you and your techs up-to-the-minute information about the status of all your monitored devices in the field.
Immediate Notifications
Since SCADA gives you information in real-time, this means that you'll be able to get notifications instantaneously as a change of status happens. This allows for better response when issues arise.
With instant alerts, you'll be able to react to issues in a timely manner and you'll be able to prioritize what needs to be addressed. Your system will be able to tell you which equipment needs immediate attention, which ones will need maintenance soon, and which ones are working as expected.
Trend Analysis
Usually, HMI units can give you a summary of the information gathered as a trend analysis report. This means that you can choose determined dates and your HMI will give you an analysis report, normally in the form of graphs or spreadsheets.
This is an important tool to detect trends, such as issues with pumps or declining production. Ultimately trend analysis reports allow you to spot a recurring issue or detect opportunities to optimize network performance.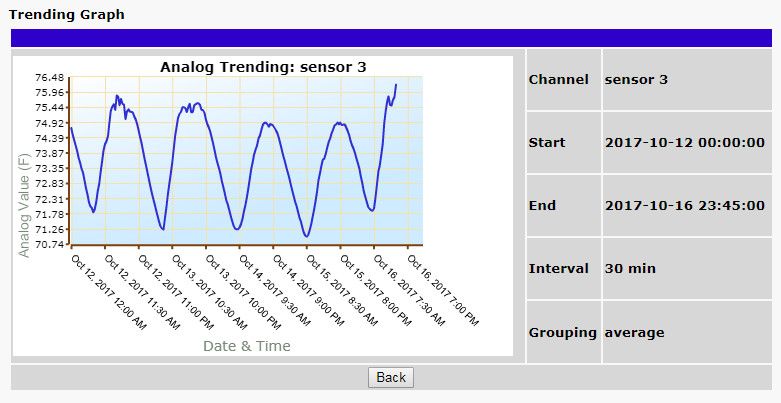 Look for a SCADA system that features a web interface with analog graphing capability. It takes the data points from its internal log to do trending and analysis. You can also output the raw data to a CSV file.
Proactive Maintenance
With accurate, real-time data and trend analysis reports, you can perform early maintenance in your equipment. Instead of only when you think the device needs maintenance, or after it is presenting problems or when it gets broken.
SCADA data allow you to perform proactive maintenance, allowing for early intervention before an issue escalates. Your system will allow you to identify the units that need attention, and change settings remotely. If you have a defective pump, for example, your HMI can send a control command to shut it down and send another one to turn the backups on.
Proactive maintenance allows you to solve any issues with little to no downtime.
Increased Equipment Lifespan
Performing proactive maintenance and tuneup will increase your equipment lifespan.v
Devices that are operated under proper conditions and that are not exposed to circumstances that can overwhelm them will last longer. Your remote monitoring system will protect the investment you've made on your wells and other equipment.
Informed Decisions
All the previous key points lead to this one. Instead of wasting time simply trying to keep up with all the problem solving necessary to run your remote networks, such as equipment damage, pump shut down, tank overflow, spills, and etc. Instead, your techs will be able to make informed decisions that will prevent many of these problems.
It's important to keep in mind that the cost of preventing issues from happening is way lower than the costs of fixing an issue that has already happened.
The Cons
Any kind of technology will present some challenges associated with it. SCADA remote monitoring systems are no different. Even though some of the SCADA disadvantages will depend on what kind of network you have and on what kind of company you work for, it's still important to keep in mind some key points.
Significant Initial Investment
The best remote monitoring and control systems are not free, so you'll probably be looking at a significant initial investment (depending on how many remote sites you have and what you need). Also, sometimes, technicians have a hard time trying to justify the need for a SCADA system, since these systems don't actually generate any kind of profit.
Many people see SCADA systems as a type of insurance that they don't need.
If you're trying to justify the purchase of a SCADA system, remember to explain how these systems pay for themselves - by preventing network downtime that would otherwise affect your bottom line.
Technicians Need to Adapt to The New System
Your technicians will have to let go of their old way of doing the monitoring of wells and tracking performance. This can lead to some reluctance from your technicians that are used to do things a certain way.
Your techs need to be convinced that the new SCADA system is more reliable than the processes that they have been doing and easy to use as well. It's important to get your team to comply with the new system, otherwise, you'll be investing in a system that won't be used or won't be used as expected due to lack of interest.
Some Training Will Be Required
When you deploy new technology, you need to train all the people that will be involved with it. Training all your techs can be a very hard task.
Not only many vendors don't really offer training, but when they do, it's expensive and impersonal. Many companies don't afford to send all their technicians to training courses, and the ones are attending the classes are not able to absorb and remember all of the information that is being thrown at them in a disinterested way.
Operating a SCADA system without the proper knowledge defeats the purpose of having visibility and practical control over your remote sites.

Look for a SCADA vendor that will provide you with free training with the engineers that helped design your system.
Tech Support
If you are planning on deploying a SCADA system, you need to be confident that you can rely on it to protect your network. You also need to be positive that your system will be well supported after the initial purchase.
A SCADA system that is not backed up with tech support is a recipe for disaster. What happens if your new SCADA is sending you an alert that you don't know what it is about? Worse, what if your monitoring equipment is malfunctioning and you can't fix it?
The problem is that many SCADA vendors don't offer competent tech support. Many of them are located overseas, so you will have to deal with language barriers and different time zones. You should also be aware of companies that charge by the minute or by instance simply to have you going through an automated voice mail.
Make sure to go with a vendor that has been providing remote monitoring solutions for many years and that has extensive experience in the oil and gas industry. Your SCADA vendor needs to understand how your network works in order to give you a system that will make sense for your applications.
System Maintenance
System maintenance is very important to keep your SCADA system running in its peak condition. However, this can be very expensive depending on how big your network is and the complexity of your monitoring equipment.
Maintenance costs can include repairs, calibrations, spare parts, and tuneup services offered by your SCADA vendor or manufacturer.
Your System Might Become Obsolescent
Another problem that you need to think about is that your SCADA equipment will become obsolete at some point.
Many SCADA vendors will completely stop manufacturing legacy devices and will drop their support for their legacy equipment when newer versions are released. The intent here is to lead you to invest in new technology since it'll not be practical for you to keep using your legacy equipment.
Keep in mind that transitioning to new SCADA equipment can be disruptive and expensive.
Is Investing in a SCADA System The Best Option For You?
In a nutshell, the main pros of having a SCADA system are:
The ability to reduce operating costs and improving network performance and reliability at the same time.
You can avoid sending your techs to expensive truck rolls because the SCADA system will let you know the cause of issues and how serious they are.
Your team can remotely access your SCADA system to make configuration changes and to send out control commands when needed.
Network data is always being saved in your SCADA system, so your techs won't need to manually read and record any information. This avoids human error.
Your staff won't have to keep track of hundreds of log sheets because your system will be able to transform all the data recorded in trend analysis reports that can be downloaded and studied at any time.
On the other hand, the principal cons of deploying a SCADA system are:
You'll need to be aware of the initial costs when buying a SCADA system and you maybe need to justify the investment to the management.
Your techs will need to be properly trained in order to be able to operate the system efficiently.
Training and tech support might be expensive if your vendor does offer these services. Also, there are some more challenges to keep in mind if your tech support is based overseas.
System maintenance is needed to maintain your system optimized, which can mean more expenses to you. And you also need to make sure your vendor won't stop manufacturing your devices or parts that you need, nor will drop support for your system if it becomes a legacy.
Some security concerns might arise when you have access to important information and can control equipment through a web interface.
If you think that the advantages of a SCADA system justify the upfront cost of the investment, your next step is to find a competent vendor. You need to find a vendor that is able to give you a perfect-fit solution by addressing any pain points you might be experiencing, such as reliability and security.
If you're considering deploying a SCADA system to monitor your oil and gas sites, you can always reach out to us. We've been providing remote monitoring and control solutions for more than 30 years and we can provide a list of referrals and success stories for you to review.
Give us a call today and get your SCADA project started.


Morgana Siggins
Morgana Siggins is a marketing writer, content creator, and documentation specialist at DPS Telecom. She has created over 200 blog articles and videos sharing her years of experience in the remote monitoring industry.