Designing your custom SCADA system is a process that involves developing software/hardware applications that meet the needs of a company or individual network. Different from off-the-shelf options, custom devices usually address unique problems.
As a SCADA manufacturer that specializes in providing custom solutions, we know that deciding if you need a personalized system can be sometimes difficult - as there might be many factors involved with this decision. To help you decide, let's take a look at some benefits you can get from investing in a customized solution.

To address all your specific network requirements you might need to find a manufacturer that can design and build a perfect fit solution for your scenario.
Is a Custom SCADA Design and Development Right For You?
Identifying if the best strategy for your company is to invest in custom SCADA system design and development can save you a lot of time and money in the long run. A custom design is not the best fit for every network, but if you identify yourself with the following questions, then you should consider investing in a custom solution.
Does my network have a critical unique monitoring need or requirement?
Do I have to have specific features in my system?
Do I have to integrate different communication protocols?
Do I have to integrate older devices that are outdated or hard to use?
Do I need to create a competitive edge while protecting my mission-critical equipment?
If you answered yes to any of these questions, then it's recommended that you consider a custom SCADA design. It's often challenging and unrealistic to find an off-the-shelf product that will meet all your requirements.
Benefits of Having a Custom SCADA Solution
Even though a personalized monitoring and control system might seem like a large investment, the advantages of this approach are often worthwhile and can enhance your business results. Spending wisely on custom SCADA can be an investment in your mission-critical equipment, which will pay for itself for the first time it prevents network downtime.
Here are some benefits you can achieve with an efficient SCADA system.
Tailored for your specific network
The most important reason to invest in a custom SCADA system is that you develop a device that addresses your exact needs. The end product targets your specific network and focuses on what you really need to accomplish. It's not unusual for companies to choose an off-the-shelf device just to realize that it's unsuitable for them.
SCADA manufacturers will work with you to accommodate your goals and build with your main objectives in mind. You will also have the opportunity to give feedback to ensure that the team is designing your ideal product. These custom SCADA solutions are developed to align with your mission-critical equipment.
Every network is unique and it is hard to find a one-size-fits-all solution when it comes to remote monitoring and control. Choosing to work with tailored gear doesn't only give you a lot of space and possibilities to grow, but also means you are serious about your company's success.
Integration with other equipment
Many companies have issues when they try to make existing devices communicate with new equipment. Usually, off-the-shelf gear is challenging to integrate because they weren't built to work with your exact devices.
The custom design of SCADA equipment makes it easier to integrate them with your current devices that are already in use. When it comes to off-the-shelf solutions, it's very unlikely for them to interact without errors, which doesn't improve the visibility over your network or your system's efficiency.
A personalized system will avoid integration issues and can easily fit within any network, being able to communicate with any device without problems.
It's easier to scale up
As your company and network grow, so do your needs. Buying an off-the-shelf monitoring device may become a problem once it's not able to support your needed capacity or becomes too expensive to license.
Creating a SCADA solution that is able to grow and scale to your network needs will make sense if you don't want to be limited by capacity as you expand. Even though it sometimes requires more time for development and investment in the beginning, it will save you time and money when the time comes to scale your network.
You know better than anyone what challenges and barriers your company's network faces and a custom SCADA system is a solution that is specifically designed to address those problems.
Licensing Costs
When your network grows and you need more capacity, this can mean that you'll need to buy additional SCADA devices. Depending on your licensing model, this can get very expensive very fast. To solve this problem what you can do is, of course, choose a vendor that works with a one-time technology licensing - you buy your equipment and you are free to use it forever and no licensing fee is involved.
However, it's not always possible to find these types of vendors. But, you can still get a tailor-made system that will take into consideration your current hardware capabilities, which helps you to save money and avoid unnecessary purchases of additional hardware to increase capacity.
Most custom SCADA systems are developed in a way that supports your network instead of forcing it to adapt to your system. The design and integration of personalized devices should consider every aspect of your business to make it as seamless as possible.
Independence from the manufacturer
Often times when you buy off-the-shelf monitoring devices, you are dependent on the vendor that has developed it - on the pricing it sets, terms and conditions of use, and the future of the business. If that company suddenly goes out of business or stops updating your equipment, you may need to change your whole system in a short period of time - this can cost you both money and peace of mind.
Investing in a custom SCADA device means that you can use it for as long as you like and the way you like. Of course, it does still require maintenance sometimes, but on a larger scale, it provides benefits that are worth the cost.
Create a competitive edge
You can differentiate your services in the crowded marketplace. Custom SCADA systems protect your mission-critical equipment and network from outages that can affect the services delivered to your customers or end-users.
Deploying a system that allows you to remote monitor and control your network in a variety of ways gives you a competitive edge, increasing overall efficiency and making sure your a perfect network uptime.
Custom SCADA systems don't need to break the bank
A custom monitoring system can give you many benefits, however, many network managers think that the cost of developing a personalized device puts those benefits out of their reach. And it's not hard to understand why. The notion of having a dedicated SCADA manufacturer develop a brand-new system can seem like a very expensive project.
But the fact is, the design of your SCADA system doesn't need to break the bank. The following are three reasons why it can be more cost-effective than you might think to develop your personalized system.
1. There are many ways to develop your SCADA solution
The first step is to find the right-fit manufacturer for your project. Today, you've got an entire globe of SCADA manufacturers to choose between, from international companies to companies located right in your area.
There are great SCADA manufacturers all over the world, and many of them would likely make effective vendors. How smooth your experience will depend on the type of vendor you choose.
It's important to keep in mind that vertically integrated companies eliminate the middle-man from the supply chain (which shaves some costs) while being capable of overcoming any manufacturing challenges.
2. Post-sale costs
Your upfront expense might be higher if you choose to invest in a custom SCADA system, but (if choose your vendor wisely) you can have post-sale services included in your purchase price. Look for a manufacturer that knows you are making a substantial investment, and are willing to provide services such as training and tech support free of charge after the sale.
3. Try before you buy
Another way to make sure your SCADA investment won't blow your budget is to make sure you can test your new system before actually committing to it.
Ensure that your potential vendor allows you to test your custom SCADA system for a certain period of time. If it doesn't fulfill your expectations you should be able to return it, get your money back and no questions asked.
How To Guarantee The Reliability Of Custom SCADA Systems
Having in mind all that we've talked about previously, working with an efficient vendor to design a custom SCADA system can bring you many benefits. But, how can you make sure you are not being a guinea pig to test a brand new technology?
The answer to these questions relies on the ability of the manufacturer to provide you with a system that was tested and proven to last. Although tests are a very good indicator of your device's reliability, they are still not able to match real-world conditions 100%.
For this reason, it's important to put your network on the hands of a vendor that can offer you proven designs. They are the best proof of quality you can have. This means that even though the core of your SCADA system is customized to attend your needs, the components of your system were time-tested and demonstrate dependability.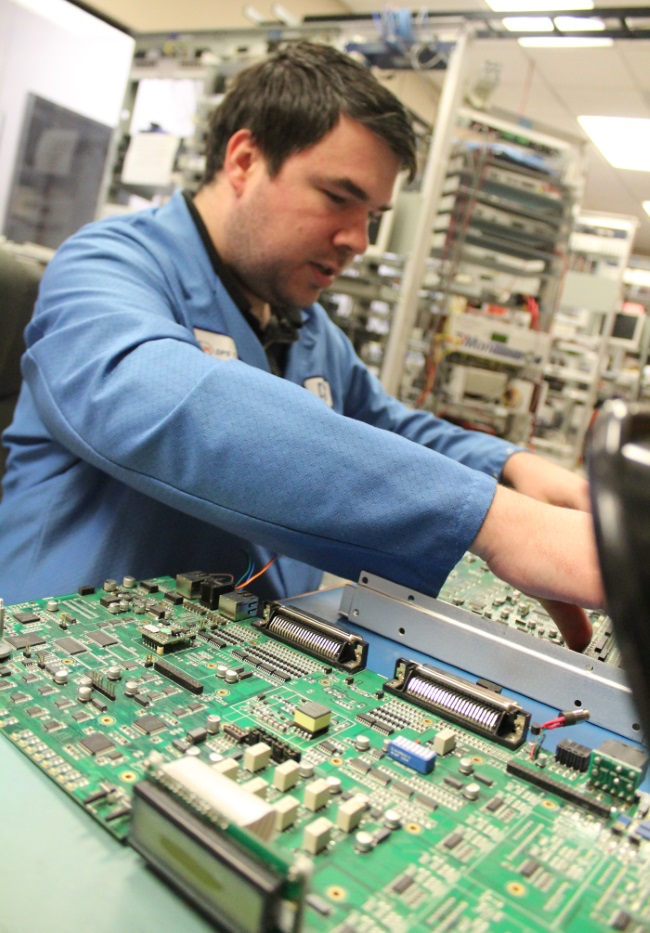 We've been in the market for more than 30 years, and customized monitoring solutions is all we do. From software design to hardware build - we do everything in-house.
US-Based Custom Monitoring Solutions Developed By Experts
Trying to develop a personalized SCADA system with the wrong vendor can be a time-consuming headache that won't produce any results. With DPS, our US-based team is able to enhance your current monitoring project or develop a brand new solution. Do you need a real SCADA solution? We can help.
We don't bother with exaggerated words or big promises. We'd rather deliver value and results, so you can see in who you're trusting your network. Want to know more about our solutions? Just reach out to us.


Morgana Siggins
Morgana Siggins is a marketing writer, content creator, and documentation specialist at DPS Telecom. She has created over 200 blog articles and videos sharing her years of experience in the remote monitoring industry.