You probably know that keeping your mission-critical equipment cool is one of the most critical aspects of the overall health and performance of your network. After all, high temperatures inside your facilities can result in a complete thermal shutdown.
If you depend on HVAC units to cool your remote sites, then you're most likely paying an expensive energy bill. But, there are other methods that will help you save energy - which ultimately means saving money.
As a remote monitoring solutions provider, we are experts in these kinds of scenarios. And, we want to make sure you can make informed decisions when it comes to your network, so we'll go over how you can accomplish cooling your remote sites while monitoring them and saving money.
Let's dive in.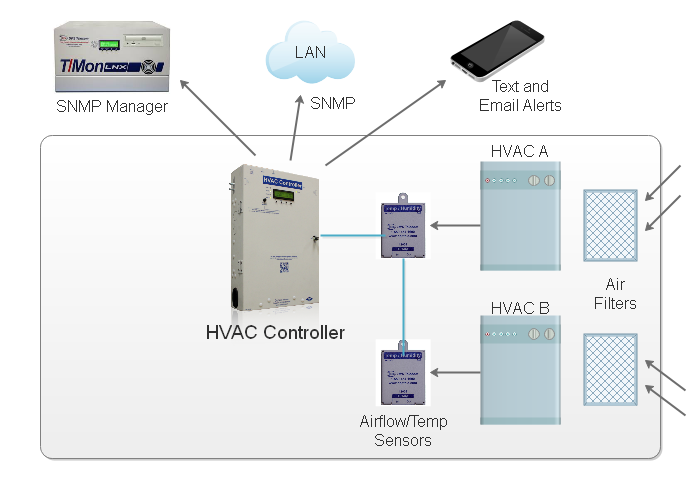 An efficient HVAC Controller will be able to handle lead-lag control of multiple units, plus logging for efficiency analysis. Features like these are important to reduce allow for AC unit efficiency and less energy consumption.
Issues That Affect Remote Sites
Most telecommunications remote sites are affected by problems that need to be taken into consideration to ensure efficiency. Some of them are:
Lack of human presence
Large consumption of energy
No room for downtime
So, in order to have a reliable and "visible" site, you need to be aware of the status of your remote equipment. This way, in case a problem happens, you must be notified immediately about it to be able to respond in a timely manner.
Initially, remote sites were cooled by free-air systems that used outside air to cool the interior and the equipment within. This method, however, was deemed unacceptable due to the dirt, dust, and other debris that were brought into the structure.
The solution was to replace the free-air systems with two HVAC units. The two-unit protocol was put in place so that backup was available in the event of extreme temperatures in the area that the remote sites were located.
Monitoring or cooling systems alone are not enough
With such an intense focus on reliability, visibility, and energy savings, much attention has been turned to finding a solution to cooling issues within remote sites.
Free-air cooling and AC economizers
Remote monitoring devices
Although each point above is able to solve parts of the overall problem, they still leave issues unaccounted for. So, in order to solve the problem as a whole, you need a product that can cool efficiently while monitoring the environment and relaying the information back to network technicians for constant situational awareness.
Monitoring and Cooling Control
To solve the remote site cooling issue and to gain complete visibility over your HVAC system, the recommended solution is an intelligent high-efficiency, energy-saving fan with a remote monitoring lead-lag controller. This system makes it possible for techs to constantly monitor equipment performance remotely while also being able to make adjustments and take advantage of free outside air.
This results in decreased air conditioning usage by around 50% (averaged across the coolest 77% of US climates). There are a handful of obvious benefits of utilizing an economizer system like this:
Energy use reduction (saving money)
Increased cooling reliability
Prolonged lifespan of equipment
The ability to control the site remotely
As existing remote sites age, this system will allow for cooling operations to be streamlined, and new sites will deploy this new type of economizer HVAC system going forward.
Components of an Economizer System
The controller
The controller system will allow for lead lag control, as well as monitoring and remote control of the site's environment. It will use data collected by multiple sensors which will measure the following:
Interior and exterior temperatures
Humidity
Amperage and voltage versus time
Static pressure
Smoke
Hydrogen gas
Duct leakage or blockage
Damper stuck open or closed
All of these points need to be monitored in order for the overall status of the remote site to be relayed. Also, the environmental aspects play a big role in the operation of the economizer system. If the temperature outside is too warm, the high-efficiency fan will not introduce it in to the structure. Instead, one of the AC units will run.
Humidity inside the remote site needs to be monitored as condensation can build up and cause equipment failure. Other aspects are monitored in order to give visibility over the condition of system components.
The high-efficiency fan
An intelligent free-air cooling device should be comprised of durable materials to guarantee long life, as well as reliable cooling. The third necessary component is remote monitoring capabilities.
How an Economizer System Works
Traditional remote site cooling systems, such as HVAC units, operate by cooling down recirculated air within your structure. There are typically a few disadvantages to using HVAC units to cool spaces, they are:
High energy usage
Costly to continuously run and expensive upkeep
Susceptible to quick wear and tear
Your network equipment can go on a complete thermal shutdown when under high temperatures, so it's critical to keep your sites cool. But, how do we do this without using tons of energy and spending a great deal of money?
In order to better understand how an economizer can save you energy and be a worthwhile expenditure, you need to know how it works.
When deployed, the system will collect information from both HVAC units and the high-efficiency fan. It will relay the site's internal and external temperature, humidity, hydrogen levels, static pressure, and detect smoke if it's present.
As the internal temperature rises due to heat output from the gear in the site, cooling becomes necessary. When the outdoor temperature is sufficient (below 78 degrees F, for instance) the system will start the cooling process with the intelligent high-efficiency fan.
When these elements are conveyed, the system controller will communicate to the fire dampers, telling them to open. Once open the fan will be told to run. It starts at a slow speed, drawing in cool air through a sophisticated filtration system while only using a few watts of energy.
The fan simultaneously blows the warm exhaust outside of the site and away from the equipment. When the fan is in operation, the site's internal and external static pressures are monitored using a pressure differential gauge. This information conveys the status of the filters (if they need to be replaced, or if they are obstructed, etc.).
As the internal temperature of the site is monitored, the controller will automatically adjust the fan speed in order to maintain a precise site temperature of under 78 degrees F. At its maximum speed, the intelligent fan will move 2,000 CFM or air through the site using 150 watts. This makes it four times more efficient than any other free-air fan, and up to twenty times more efficient than a conventional AC unit.
When the external temperature rises and is no longer sufficient for effective cooling with the fan, the controller starts the fan shutdown sequence. The dampers automatically shut after the fan comes to a complete stop, and this alerts AC unit #1 to start running. This process takes about four seconds.
The temperature in the remote site is logged over time by the system controller. If the air conditioning is giving the desired cooling effect for the power consumed, it continues to run. If not, it is stopped and AC unit #2 starts up. In the occasion of neither unit is producing the necessary cooling effect (temperature less than 78 degrees F), the fan will start running again using the sequence described previously.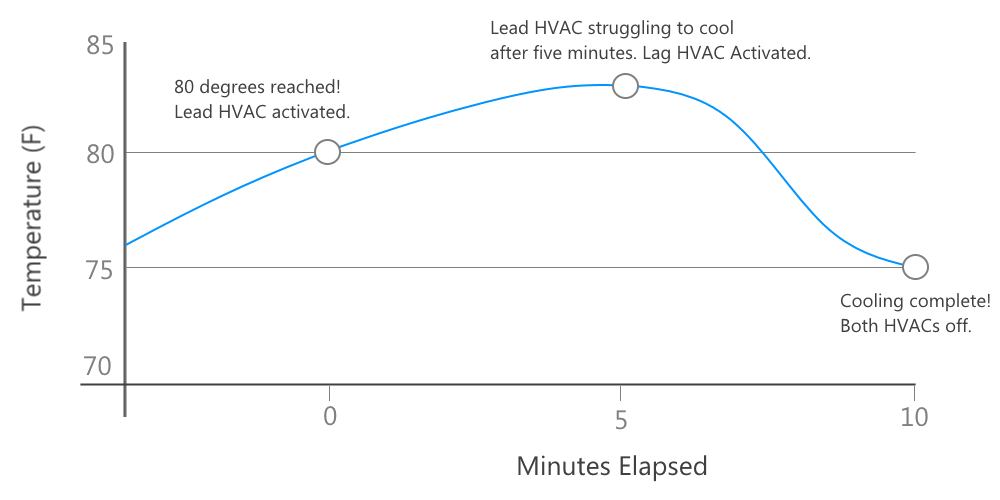 Having multiple HVACs at a single location gives you cooling flexibility. You don't have to run all the units when only one will do, but you can run them all simultaneously when you're fighting a large heat load.
Characteristics of a Competent HVAC Controller
There are many preferences that you need to pay attention to when looking for your HVAC controller. Some of the most important are:
HVAC efficiency monitoring
The system controller should monitor the HVAC system and any discrepancies in wattage drawn will lead technicians to understand the cycle times and efficiencies of each unit. Along with each unit's serial number, this information allows a historical perspective of unit degradation over time and predict maintenance or replacement.
Fire choking
Economizer system will automatically shut down and dampers will close if the presence of smoke or fire is detected in order to minimize damages.
Hydrogen venting
To prevent the build-up of hydrogen gas within your remote site.
Comfort button
This allows for an optimal work environment when the presence of technicians if needed for maintenance or repairs without them having to remember to change the set point back.
LAN accessible
For SNMP and web interface.
Local web browser graphing
Provides you the ability to analyze and diagnose issues from any computer and location, such as the visuals of fan and HVAC unit efficiency.
Ability to replace existing lead-lag controller
Make sure your controller has the hardware necessary to interface to legacy HVAC units while providing contemporary lead-lag features, as well as Ethernet for when the HVAC is ready to be replaced.
Standard interfaces for sensors
With these, there are no proprietary traps. Your controller should support non-proprietary interfaces for dry contacts sensors, 0-5 VDC analog sensors, and 4-20 mA sensors.


With a few temperature and airflow sensors combined with a smart HVAC Controller, you can easily monitor the complete picture of your HVAC units' performance.
The End Result
The obvious benefits of deploying an economizer system are reduction of energy use, increased cooling reliability, the prolonged lifespan of equipment, and of course the ability for network techs to have visibility and remote control of remote sites.
In a nutshell, investing in a temperature monitoring system will give you important ROI results.
But, there are some aspects and details that you need to keep in mind in order to be successful. So, nothing better than getting a tech brief prepared by our engineers about temperature monitoring. In this document, our experts aim to give specific solutions for your temperature monitoring needs. Get your free PDF copy.


Morgana Siggins
Morgana Siggins is a marketing writer, content creator, and documentation specialist at DPS Telecom. She has created over 200 blog articles and videos sharing her years of experience in the remote monitoring industry.