How Remote Monitoring Systems Help The Reliability of Public Safety Communications
Every single day people put their lives on the hands of a 911 call. And people expect the 911 service to be always reliable - in an emergency situation you don't have to wonder if the system will work.
Behind the scenes of a simple phone call, there is hard work. The 911 service depends on a network of two-way radio communication between dispatchers, police officers, firefighters and EMTs.
Public safety and even the safety of the first responders themselves depend on a reliable, unerring radio network.
Let's take a look at how alarm monitoring systems are trusted to keep the 911 network up and running.

Reliable communications are especially important for emergency response organizations. When lives depend on you, it's simply too risky to gamble with your two-way communications.
Monitoring Microwave Networks
Microwave systems are used by public safety professionals to allow for public safety radio communications. The effective management of these radio networks makes sure that services provided (like phone, 911, police/radio) are reliable and can be trusted by the population.
When planning a microwave radio system, many organizations tend to take remote monitoring into consideration early on. They need to have the most reliable microwave radio system possible since end-users depend on it. Deploying a network monitoring system significantly helps to enhance this reliability.
The most basic things to monitor at remote microwave sites are:
Equipment alarms that are self-reported by your multiple transmitters, receivers, switchers, etc.

Environment aspects, like temperature and humidity, to ensure that your equipment isn't subjected to conditions it can't handle.

Commercial power

Backup generator
The main objective of a remote monitoring system in this case is to allow you to remotely monitor and control your radio networks to make sure it is always working properly.
Deploying RTUs to Protect Your Critical Microwave Communications
A network alarm monitoring system is composed of a fleet of remote telemetry units (RTUs). They collect alarms from your microwave communication equipment and forward them directly to you or to your alarm master.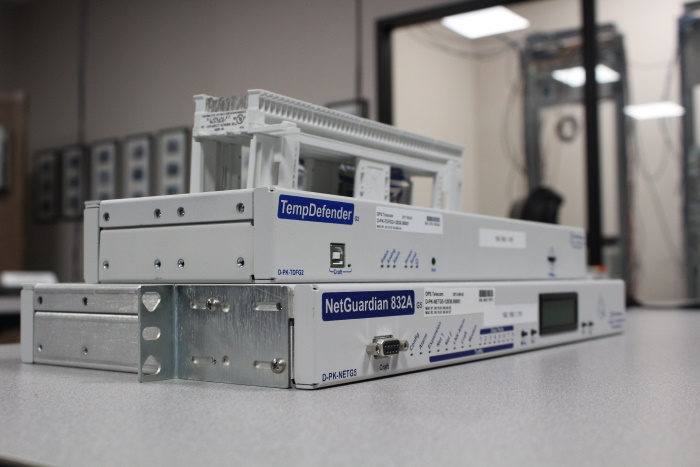 RTU is a remote device that monitors and reports events occurring at a remote site.
This gathered information is a critical piece of your monitoring system because, with that, you are able to know, in a timely manner, when an outage or any other issue happens. Which allows you to react accordingly before it affects your network uptime.
There are many different types of RTUs built by many different manufacturers in the market. It's important that you know how to evaluate your options in order to avoid putting the visibility over your public radios at risk.
When searching for an RTU, make sure to take the following points into consideration:
Power input voltage

What power voltage do you have available at your microwave sites? These sites rarely support 110VAC. This makes IT RTUs not a good choice. Make sure your RTU supports -48VDC, +24VDC, or whatever power voltage you have at your site.

Inputs

Do you know how many contact closures you have to monitor? How many battery voltages? Do you need a single sensor or do you need to mount several at different locations? Your RTU should be able to cover all the critical equipment and environmental conditions at your microwave sites.

Outputs

Can your gear be remotely controlled with a contact closure? If so, then your RTU should have control relay outputs to cover each one. Also, do you have gear that gets jammed up and needs a routine power cycle? Higher-amp relays (10A) can remotely toggle power to force a reboot. It all comes down to your RTU having the right outputs.

Transport

Do you have older (but still operational) analog transmission gear that requires a 202 or FSK modem? Do you need a serial connection or do you have IP overhead channels on your digital microwave? Your RTU needs to support the transport(s) you use.

Protocol

Your communications protocol will depend on your method of transport and what your alarm master is compatible with. If you have older equipment, then you probably need support for older protocols, such as E2A, TBOS, TL1, or TRIP. Or you might only need support for newer protocols, like SNMP and DNP3. Your RTU should be able to support whatever protocol you need.
No matter what RTU you choose, you'll still be in better shape than if you use "embedded" monitoring built into your microwave system. It's not reliable to let equipment monitor itself.
Alarm Masters Tie All Your RTUs Together
Efficient RTUs are your first step into having a reliable alarm management system.
If you have fewer than ten RTUs, you can probably handle all of them with no problems. Most RTUs can be programmed to send you an alert by email or text message whenever there is an alarm.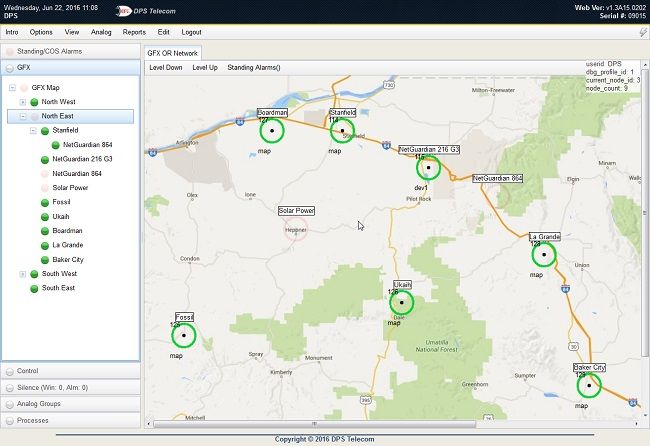 Your master station should allow you to see alarms visually on layered geographic maps.
However, if you have a larger network that needs more than ten RTUs, a central alarm master station will help you manage alarms throughout your extensive network. If that is your case, you also need to make sure you are selecting a competent master. Keep in mind the following points:
Protocol compatibility

Your master should be able to support whatever protocol your RTU and equipment use.

Time-tested design

Ensure that you are buying a device that was extensively tested to make sure it can endure all kinds of different situations.

When you buy an alarm master, make sure you don't get charged every time you need to add a new monitored device.

Capacity

If you have around twenty remote sites, then you will need a master station. But, you won't need an enterprise-scale master that is able to handle thousands of locations. Take your present needs as well as reasonable future expansions into consideration to find a perfect-fit master for your scenario.
Real-World Application
Dan Apperson, Integrator Engineer for RadioDanLLC, does maintenance services for several local counties in Oregon, mostly involving law enforcement and public safety radio systems.
To keep public radios up and running, he needs to have visibility over every remote site. Since no network is exactly the same, this means that he needs to work with a remote monitoring company capable of providing custom solutions.
"I had the good fortune of discovering DPS through a previous coworker, in a marine fire and safety project," Dan recalls. "They used DPS devices in all of their projects. After being exposed to that and setting a NetGuardian RTU up, I thought 'Wow! That's the way to go.' Now we've added them to every system that I maintain."
One of Dan's responsibilities is to maintain a repeater system on national VTAC channels. "In the VTAC system, all the repeater systems are all the same frequencies and tones," Dan explained. "So, obviously, if they're all on at the same time, it's a big mess."
To achieve better control over this system, Dan and DPS Telecom worked together. "We use the NetGuardian 16 and we have a telephone dial-in, and also an over-the-air DTMF control," he said. "So you can remotely turn the repeater on and off. And the counties themselves can do that from dispatch centers, or whatever they need."
Another way to know what's happening on the repeater system is to get notifications from the NetGuardian RTU. "All the local dispatch centers in the coverage area can call up and turn it on or off if they need to," Dan described. "And when it enables or disables, it calls my phone and tells me, so I know somebody is messing with it."

Custom application drawing for RadioDan.
After deploying RTUs, Dan is notified immediately of any problems at county radio sites - so he can react quickly before radio service goes down. "Yeah, it's critical," he said. "Five or six years ago, we had a real winter at one of our sites. There was snow and ice, and the power went down, so the generator came on. Pretty soon, the air intakes to the buildings got snowed over and the generator stopped. The NetGuardian called me and told me 'The site is down', so I had time while things were running on batteries to go up there and deal with it."
RTUs that can withstand harsh conditions and remain operational is vital when dealing with public safety radios. "If I didn't have that, I wouldn't know when the site went down," he explained. "You know, that's a hub site for three counties and lots of people would be off the air. So, yeah, monitoring is critical."
Remote monitoring systems aren't helpful only during major events though. Most of their job is to make sure daily maintenance is taken care of, so companies can avoid windshield time. "In routine stuff, you can essentially see your sites without driving to them," Dan said. "So, if you have a problem, you can narrow it down quite a lot before you take off driving."
Knowing where to go is the first step to be prepared to correct any issues. "You have to know which site has the problem, especially at multisite systems where a problem at any site can cause a problem at all of the sites," Dan explained. "And it helps that you actually know where you need to go - you can see equipment that sends alarms at each site."
Having proactive remote monitoring equipment sending automatic and detailed alarm notifications ensures that Dan knows what's actually happening at every county's remote sites. "I can remote into some of the equipment," Dan says, "But the only one that calls me to tell me what's going wrong is the NetGuardian."
We Can Work Together to Protect Public Safety Communications
The emergency networks and services that help ensure public safety depends on reliable communication between the public, dispatchers, and responders.
Keeping your network up and running has the potential to save lives. It's critical that all equipment and backup equipment is fully operational. So, monitoring your equipment is vital.
The monitoring equipment you choose is equally as critical.
Our RTUs and master stations are designed to monitor radio, communications, and power equipment, helping you keep emergency services online for when they're needed the most. We've provided a perfect-fit solution to nearly all our clients with public safety monitoring needs. With the flexibility of our custom engineering options, you get exactly what you need and nothing you don't.
If you want more information about our products, give us a call and one of our experienced applications engineers can help you design a cost-effective alarm monitoring system.


Morgana Siggins
Morgana Siggins is a marketing writer, content creator, and documentation specialist at DPS Telecom. She has created over 200 blog articles and videos sharing her years of experience in the remote monitoring industry.