T/Mon also has complete server redundancy. You can deploy two complete master stations at two different locations. If the primary goes offline for any reason, the secondary will take over the remote alarm monitoring duties within seconds.
Our master station also has strong security protections. You can enforce password rules and set individual access rights for each user.
Filter nuisance alarms
If you want to focus your attention on real threats and avoid alert notifications for minor alarms, then you can set up your T/Mon to ignore nuisance alarms.
You can also configure an alarm's severity to receive automatic alerts at different times of the day. Syncing your T/Mon to your technicians' schedules is also a possibility, this way it'll automatically follow them to know who is "on call" at determined times.
You should keep in mind that you don't have to do away with any of your currently monitoring equipment when going through an upgrade; you should avoid vendors who tell you otherwise. You've invested hundreds of man hours – and resources – on your equipment that would be a waste to discard. And you should consider a vendor who believes in legacy support.
Start Planning your Legacy Migration Now
When it is time to replace, upgrade or expanding your legacy monitoring system, the right preparation will eliminate lost visibility and downtime. A systematic plan of deployment will ensure your monitoring solution meets your current and future needs.
At DPS, we've helped hundreds of clients successfully re-deploy their monitoring, and we also provide engineer-based technical support to ensure hassle-free operations.
Call 1-800-693-0351 or email us and we'll be happy to design and perfect your monitoring infrastructure.
---
Get a Custom Application Diagram of Your Perfect-Fit Monitoring System
There is no other network on the planet that is exactly like yours. For that reason, you need to build a monitoring system that's the right fit for you.
"Buying more than you need" and "buying less than you need" are real risks. You also have to think about training, tech support, and upgrade availability.
Send me a quick online message about what you're trying to accomplish. I'll work with you to build custom PDF application diagram that a perfect fit for your network.
---
Don't make a bad decision

Your network isn't off-the-shelf.
Your monitoring system shouldn't be, either.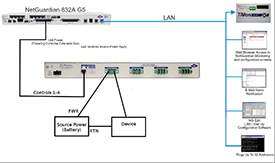 We'll walk you through this with a customized monitoring diagram.
Just tell us what you're trying to accomplish with remote monitoring.
Get Your Custom Diagram Now