Monitor Every Entrance and Exit to your Site and Know Exactly Who is Coming and Going at All Times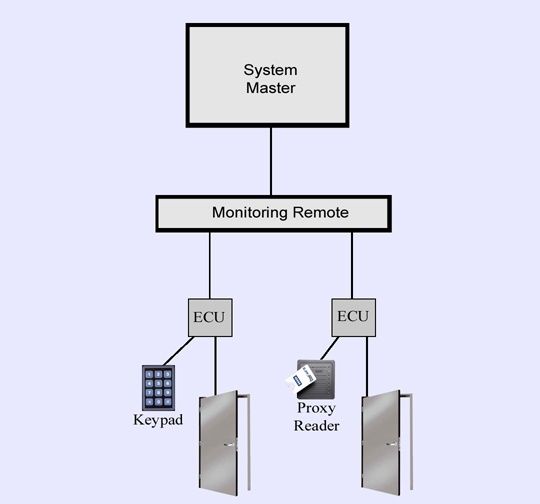 An Building Access Gives You Site Visibility Around the Clock
If you can't be certain who is accessing your site during and after hours, you need a building access system that can give you those details. By using an advanced alarm master, you can integrate building access control functions right into your network alarm monitoring system. Combining these systems will provide you with detailed histories of every site access attempt, letting you know who has accessed your site in the event of theft or vandalism.
Monitor Entrances and Exits More Efficiently with Integrated Building Access Controls
Integrating building access controls into your existing alarm monitoring system will provide you with heightened visibility of all your networked devices and sites. These systems can provide you with enhanced site visibility by:
Creating historical logs of every access attempt at your site- giving you details such as the time and user profile associated with each attempt
Distinguishing between entrances and exists with "Request to Exit" capabilities
Databasing all access information with the system's master database, providing you important access history information
Historical Access Records Help Identify Intruders
When your monitoring system can identify specific details for every site access event, you'll never be left wondering who has accessed your site. Even at 2 am on a Sunday morning, you can be certain who has come and gone.
In the event of equipment damage, theft, or vandalism at your site, your advanced building access will help to identify the culprit. Since you'll always know who has come and gone, you will be able to easily identify a culprit during an intrusion.
Advanced building access systems allow you to create unique user profiles with specific access parameters. This will prevent even authorized users from entering your site during off hours. This allows you to take every precaution to secure your site.
Customized Access Systems Give You the Best Visibility for Your Important Sites
You need a system that can be tailored to the unique access needs of your important sites. At DPS Telecom, this custom design is a standard service. Our business has been built on continuous innovation, and we embrace opportunities to design new monitoring solutions.
Our integrated building access systems are backed by a 30-day, no-risk guarantee. Test the proposed solution under real-world conditions for 30 days, and if, at any time during that period, you decide for any reason that our solution will not meet your access control needs, you can cancel your order with no further obligation. It sounds crazy, but in the 15 years we've offered our no-risk guarantee, not one client has returned a custom solution.
Monitor Every Part of Your Network From One Uniform Platform
Monitor Legacy Devices with a Modern Master
Monitor Live Analog Values
Monitor SNMP Devices and Forward SNMP Traps to a MOM
Monitor Alarms From Any Web Browser
Operate Remote Site Equipment From Your NOC
T/Mon NOC Remote Alarm Monitoring System: Ordering Options
Page Repair Technicians Automatically When Alarms Occur
Ping Network Devices
Receive E-Mail Notification of Alarms
Provide Redundant Backup Monitoring
Generate Detailed History Logs of All Site Access Attempts
T/Mon NOC Remote Alarm Monitoring System: An Easy-to-Use Interface Ensures Rapid and Accurate Response to Network Threats
Standing Alarms in GFX
Standing Alarms in T/Windows
Standing Alarms in the Web 2.0 Interface
Alarm Summary in GFX screen
T/Mon NOC Remote Alarm Monitoring System: Support
T/Windows: Working with T/MonXM on the Windows Platform
Texas Lone Star Networks Provides Its Member Telcos with 24/7 Monitoring