Wireless Monitoring: The 6 Essential Features
Leaving your network, infrastructure, or remote site unmonitored is a crisis waiting to happen. Without the right tools in place to monitor your valuable assets, you're setting yourself up for preventable repair damage, lost revenue, and disgruntled customers. Don't set yourself up for critical outages - here are the 6 must-have features of any effective wireless monitoring system: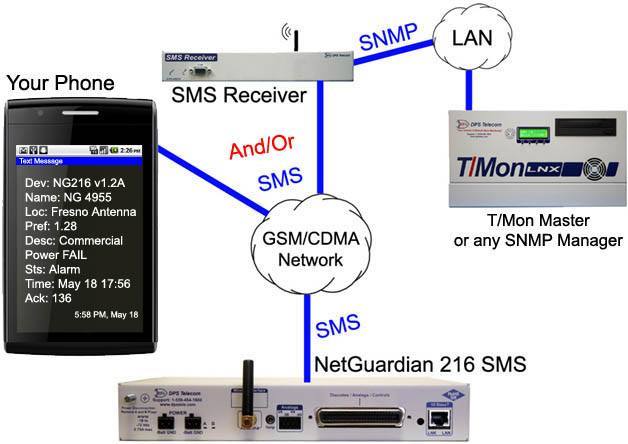 The NetGuardian 216 SMS wireless monitoring device sends direct SMS text messages to a cell phone. It also transmits specially encoded text messages to an SMS. The SMS receivers accepts messages from many NetGuardians and transfers them to your SNMP manager. This method cuts out third-party data providers who "punch a hole" in your network.
GSM or CDMA wireless reporting capabilities

- Your wireless monitoring system should be capable of transmitting alerts and data via GSM and CDMA without paying a third-party data provider and without opening a hole in your IP network. Wireless reporting is perfect for monitoring remote sites that don't have LAN. Wireless reporting also allows you to send SMS traps and text message alerts.

Dual sensor technology

- For the greatest versatility, you need a system that offers more than one type of sensor. Don't settle for only discrete sensors, which only report if something is "on" or "off". Discrete sensors are great for things like measuring if the power is shut off to a remote site or a server room, but lack the required detail for many alerts. Analog sensors are capable of providing these more detailed alerts. Instead of just indicating a binary "on/off", analog sensors are capable of providing precise readings - such as the temperature (within 1 degree of accuracy) or water flow rate. Your wireless monitoring system should support both discrete and analog sensors to arm you with the information you need.

User-friendly graphical user interface (GUI)

- Having an easy-to-use GUI is essential. Needlessly complex systems don't provide solutions - they only provide confusion and headaches. Having intuitive graphical menus and geographic maps give you the simple tools to fully manage your network. With a user-friendly GUI, you and your employees can set up and manage your alarm network with ease.

24/7 alerts - Don't be limited by weak alert methods that can only alert you while you're at your desk

- use wireless monitoring technology that can notify you wherever you are via email, pages, and SMS text messages. If you have a 24/7 NOC center, you can use the SMS receiver for SNMP via wireless. Wireless monitoring gives you versatile alert methods so you're always in the loop.

Full customization and accessory support

- No two networks are the same, so you should have the option to customize your wireless monitoring system, either with special order requests or through accessories for the system. A good vendor will give you affordable options to customize the design of your monitoring system and give you plenty of options for accessories - that way your solution is perfectly customized to your needs.

Durable quality

- The best technology in the world is useless without reliability. Your monitoring system is the guardian of your valuable network, so don't rest this critical burden on the shoulders of cheaply constructed hardware. Expect rugged industrial-grade design and nothing less.
Can you point me in the right direction?
You're a professional and you know exactly what you need. You need the power of wireless monitoring technology to protect your network and give you peace of mind.
Many solutions fail because they don't see the big picture. They fail to incorporate the critical design features to make the right product that can get the job done. Skimping on the quality and the features of a system costs you an arm and a leg in the long-run.
Don't wait any longer. Every extra minute you leave your network vulnerable increases the risk you'll suffer a critical outage. You don't want to cut any corners in guaranteeing your network security. You know what's possible with the right system:
Quality design that won't let you down.
Detailed alerts that can reach you anywhere, so you're never left guessing about what's going on.
Easy to setup and use, so you don't waste valuable time monitoring your network.


The NetGuardian 216 SMS wireless monitoring device gives you the tools you need to control your network, infrastructure, or remote sites.
Since you want the best, I recommend taking a look at the Netguardian 216 SMS. This device has all six of the essential wireless features to best protect your network. Best of all, this device comes with first-class 24/7 tech support and a 30 day risk free guarantee. If the Netguardian 216 SMS doesn't tackle your network visibility challenges, return it for a full refund.
Give the DPS Telecom network monitoring specialists a call at 1-800-693-0351 or email them at sales@dpstele.com to get started on protecting your network.
Other Helpful Links
Remotely Track your Propane/Diesel Levels with this Industrial Wireless Multi-site Monitoring System
Two Wireless Solutions: Propane Tank & Railroad Track Monitoring via 900Mhz/2.4Ghz
The 4 Must-Have Network Alert Software Features