Remotely Track your Propane/Diesel Levels with this Industrial Wireless Multi-site Monitoring System
If you have multiple remote sites with propane (or diesel) tanks, you need to be managing them intelligently. It doesn't matter if you're a telco, a power utility, a railway, or any other kind of organization. If you fail to monitor your propane tank levels, it's just a matter of time before you run out of fuel and a site goes dark.
Don't think that you can get away with buying consumer-grade devices, either. It may seem cheaper in the short term, but you'll pay for it soon enough. Devices built for monitoring a single residential propane tank don't have the durability for your industrial application. Also, they won't integrate into a single, cohesive monitoring system. Devices at different sites can and will get out of sync if you choose standalone equipment.
You need a propane monitoring system with industrial-grade remotes and sensors, plus a central aggregation master. The remotes and the master should have all the capacity you need to monitor propane and other important things (equipment status, temperature, door alarms, etc.) without going overboard on specs or price. Imagine the satisfaction of knowing - not simply hoping - that you have plenty of propane available during a network emergency.
Fortunately, this combination of wireless propane sensors, NetGuardian RTUs, and a T/Mon master station performs that function exactly. You'll simply connect a wireless sensor to each of your propane tanks, place a NetGuardian RTU in each hut/cabinet/site, and install a central T/Mon master station to aggregate all of the data at your central office.

T/Mon (various models available) acts as a central collector of propane levels and other important data
Depending on the NetGuardian model you choose, you can have more or fewer excess inputs to monitor other important values (equipment status, temperature, door alarms, etc.). You always get more value by using the same equipment to perform multiple functions, so it's best to tie as many things into your NetGuardians as possible.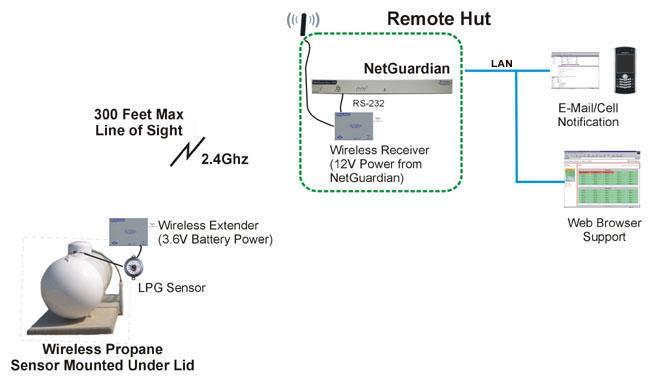 The NetGuardian RTU at each site/hut will wirelessly receive data from the propane sensor at the propane tank (up to 300 feet, line of sight) and transmit it to the central T/Mon master station.
Propane sensor float demonstration:
Don't wait until after an incident to deploy a reliable fuel tank monitoring system.
Call DPS today (1-800-693-0351 or sales@dpstele.com) to talk about your remote sites and propane (or diesel) tanks. There are many options available to fit your capacity requirements, so it's usually easiest for you to tell us your requirements. We'll narrow the possibilities down to a few good choices for you.