T/Mon SLIM puts the power of T/Mon to work in your local/regional network, in a slim 1RU form factor.
T/Mon SLIM Can Monitor All Your Network Equipment
Most alarm systems support only the vendor's own devices or just one protocol. But T/Mon SLIM monitors all your equipment - no matter who made it, or what protocol it uses - and display all your alarms on one screen.
T/Mon SLIM can monitor nearly all your network equipment - DPS remotes, other manufacturers' remotes, switches, routers, PBXs, SONET equipment, multiplexers, battery plants, microwave radios, and more.
Why is this so important? Integrating all your alarms on one system gives you capabilities you can't get from separate, isolated systems:
Know absolutely, 100% for certain if you have an alarm
Monitor every essential piece of equipment in your network
Correlate alarms across your entire network
Integrate older, incompatible monitoring equipment
Simplify training, maintenance and databasing
The power of T/Mon - scaled to your needs.
T/Mon SLIM monitors up to 64 network devices and up to 10,000 points - exactly the right capacity for monitoring the sites you're responsible for, without you paying for more capacity than you use.
T/Mon SLIM monitors DPS Telecom remotes, including the fullfeaturedNetGuardian 832A, the light-capacity NetGuardian 216 and the 176-alarm-point Remote Alarm Block 176N. T/Mon SLIM also monitors SNMP devices, any telecom equipment that outputs ASCII text or TL1, and legacy RTUs from Badger, Dantel, Larse, NEC and Pulsecom.
Next Page:
The Power of T/Mon SLIM
Download White Paper
---
Get a Custom Application Diagram of Your Perfect-Fit Monitoring System
There is no other network on the planet that is exactly like yours. For that reason, you need to build a monitoring system that's the right fit for you.
"Buying more than you need" and "buying less than you need" are real risks. You also have to think about training, tech support, and upgrade availability.
Send me a quick online message about what you're trying to accomplish. I'll work with you to build a custom PDF application diagram that's a perfect fit for your network.
---
Make an Informed Decision
Your network isn't off-the-shelf.
Your monitoring system shouldn't be, either.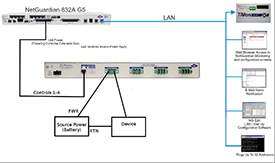 We'll walk you through this with a customized monitoring diagram.
Just tell us what you're trying to accomplish with remote monitoring.
Get a Custom Diagram