4 Serial Router Frequently Asked Questions
Have you wasted countless hours and loads of budget money driving to and from your remote sites? Do you wish you could use that time on other projects? Imagine the cut costs and the improved productivity of being able to control the external devices at your remote sites from your desk?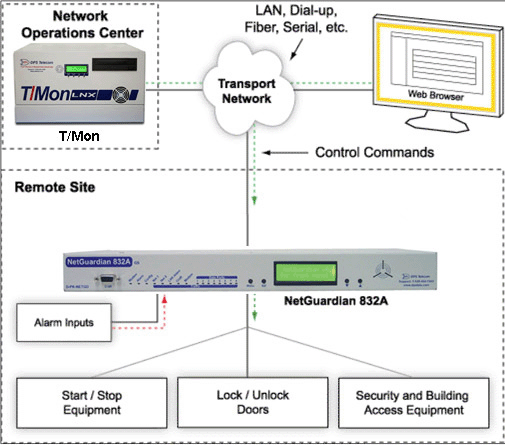 Using a NetGuardian 832A to control remote sites via a serial router.
Using a serial router can provide you with this capability. You no longer will have to drive 30, 45, or even 60 minutes to your remote sites just to plug in your laptop and change a few settings.
Here are the 4 frequently asked questions about using a serial router for remote access:
How do serial routers work?

Using your existing LAN connection, you can connect a serial router to your external serial devices (typically legacy) at your remote site. Through this LAN connection you can "reach through" to your devices, allowing you to reconfigure settings and even cycle power.

So a serial router saves time and money, are there any other benefits?

Yes! A serial router can also act as a guardian for your remote sites. Your equipment faces threats from multiple sources: temperature, humidity, or unwanted visitors. Using a serial router that doubles as a remote terminal unit (RTU) can provide you with powerful tools to monitor the status of your remote site - in addition to giving you remote control.

Is monitoring my equipment just as important as having remote access to it?

Consider the following scenario:

One of your distant remote sites provides a mission-critical function to your network. One day, the generator powering the site begins to overheat. The temperature steadily rises, going completely unnoticed by you and your team. The temperature reaches a critical point, and your power generator fries, cutting power to your remote site. Your network goes down, and you begin receiving calls from your customer complaining about the outage. At this point, it's too late, the damage is already done.

Imagine if you had received an alert "Generator 3 temperature has risen to critical levels". You would have realized the threat, accessed your remote site via your serial router, activated the right cooling systems, and dispatched a technician to handle the threat - without driving all the way to your distant remote site. Crisis averted. Having this monitoring power could mean the difference between an outage and maintaining smooth network uptime.

What technology exists that can provide both of these solutions in the same box?

Getting control of your remote sites isn't a luxury - it's a necessity. Leaving your remote sites unmonitored and without remote control is a disaster waiting to happen. That's why it's important to choose the right technology to get the job done.

Picture how much easier your job would be if every time you needed to restart some equipment or adjust some settings, you didn't have to send your well-paid technician out to your remote sites - you could do it right from your desk. The money and time you could save are huge.

You're a professional and you want the best you can get, so that's why I recommend the NetGuardian 832A G5 for your remote access and monitoring needs. This device has all the key features you need: remote control for up to 8 external serial devices, 32 discrete and 8 analog alarms, industrial-grade durability, and first-class 7x24 tech support, so you're never alone monitoring your network. All DPS Telecom products also come standard with a 30 day risk free guarantee.
"All the alarm monitoring systems I make are backed by my no-risk, money-back guarantee. If you buy my equipment and you're not satisfied for any reason during the first 30 days, simply return it for a full refund. If my product doesn't solve your problem, I don't want you to have it."
- Bob Berry
Call (1-800-693-0351) or email (sales@dpstele.com) the specialists at DPS Telecom to get started today. They can answer your questions, provide you with additional support, and even give you a free Return-on-Investment (ROI) analysis - so you can see just how much you can save with the right RTU.