---
LPG Controller
The NetGuardian LPG Controller gives you maximum control over propane/diesel distribution and vessel management. This small device is ideal for remotely managing up to 5 liquid propane gas or diesel fuel tanks from a single piece of equipment.
The LPG Controller provides accurate and up-to-date readings to help you easily avoid preventable propane outages. It uses advanced analog sensor technology like Rochester gauges. This RTU can also be used for diesel by simply connecting the appropriate tank level sensors.
The LPG Controller features both automatic and manual gas tank cycling. Whenever a tank is nearly empty, the valve is closed. Then, the next tank valve is opened. This function provides a steady supply of fuel and ensures that your revenue-generating network equipment is never compromised.
With a built-in web interface, the NetGuardian LPG allows you to remotely monitor your tank levels anytime, from virtually anywhere in world. You need only a standard internet browser. In addition, the unit's front panel provides four propane threshold levels and valve status (open/close) through visual LED displays.
---
At DPS, we receive many urgent quote requests after an earlier "Do Nothing" decision comes back to bite you. You have no reason not to be proactive (and maybe you'll manage to impress your boss).
Call us. Chat with an expert for 10 minutes. We'll email you a detailed quote with a custom application drawing. We'll even include a summary of business benefits you can use to justify your project budget.
Call 1-800-693-0351 now for your quote
(or send us a quick online message instead)
---
Get a Custom Application Diagram of Your Perfect-Fit Monitoring System
There is no other network on the planet that is exactly like yours. For that reason, you need to build a monitoring system that's the right fit for you.
"Buying more than you need" and "buying less than you need" are real risks. You also have to think about training, tech support, and upgrade availability.
Send me a quick online message about what you're trying to accomplish. I'll work with you to build a custom PDF application diagram that's a perfect fit for your network.
---
Make an Informed Decision
Your network isn't off-the-shelf.
Your monitoring system shouldn't be, either.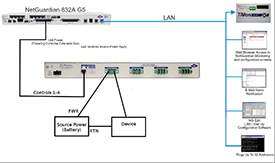 We'll walk you through this with a customized monitoring diagram.
Just tell us what you're trying to accomplish with remote monitoring.
Get a Custom Diagram