Nebraska Central Telephone Company Protects Upgraded Infrastructure with Advanced Alarm Monitoring
Nebraska Central Telephone Company provides a variety of integrated services to meet its customer's communication needs. In addition to local telephone service, dial-up, and broadband Internet access, NCTC provides PC maintenance and SPAM filtering services.
Remote Sites Had Outgrown Embedded Alarming Capacity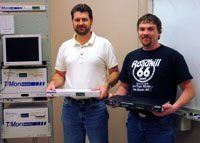 Curt Ritter and Jason DeGroff
Nebraska Central Telephone
To enhance the quality of its services, Nebraska Central Telephone is transitioning from DMS equipment to CopperCom's Softswitch technology. Historically, NCTC used basic integrated DMS alarm monitoring capabilities to keep tabs on its remote cabinets.
As sites grew beyond the available alarm capacity, however, they faced a big monitoring challenge. With capacity for only a handful of discrete alarms per site, NCTC technicians found themselves "OR-ing" multiple alarms into a single input. This created the potential for confusion, as received alarms could not be precisely matched with site conditions. Technicians were dispatched to remote sites without knowing exactly what the problem was, and they risked not bringing the right tools to get the job done.
A Big Question: Keep an Unused Switch in Service Just For Alarm Monitoring?
Capacity issues were problematic enough, but the transition to Softswitch from DMS was about to eliminate the embedded monitoring altogether. In this scenario, the question a manager faces is: Do I keep my major switch just for a handful of discrete alarms? Nebraska Central Telephone didn't think that was a very good idea. They decided to cut the DMS off, saving electricity and space, and purchase a new state-of-the-art monitoring system. "My manager just couldn't rationalize keeping the DMS in service just for its basic monitoring capabilities," said Jason DeGroff, a Central Office Technician for NCTC.
Safeguarding New Infrastructure With Enhanced Monitoring
During the Softswitch transition, NCTC received an important lead in its search for better monitoring. CopperCom integrates the DPS Telecom NetGuardian-16S into its infrastructure solutions and suggested giving DPS a call.
After speaking with DPS, NCTC purchased its own NetGuardian RTUs to provide dedicated monitoring in its cabinets. The NetGuardians provide substantially more alarm capacity than the integrated DMS system could. Going way beyond the simple discrete alarm collection that NCTC had been used to, the NetGuardian family provides them with analog collection capabilities and locally originated automatic paging and email notifications.
And after installing the new NetGuardians, NCTC wanted to be sure they would get the most out of their new monitoring investment...
Factory Training Builds Monitoring Expertise
Curt Ritter is Network Administrator for Nebraska Central Telephone, and Jason DeGroff is a Central Office Technician. They recently attended Factory Training at DPS Headquarters to maximize the value they receive from their NetGuardians.
NCTC plans to use the stand-alone monitoring capabilities of the NetGuardian. In fact, the company goal is to one day monitor everything in the central office with a NetGuardian. This made the Web Browser, TTY interface, and automatic paging/email portions of the Factory Training course particularly valuable.
Because they had already installed several NetGuardians at their sites, Ritter and DeGroff were well prepared to attend factory training. They brought good background knowledge to class, enabling them to ask meaningful questions and better understand the advanced features of the NetGuardian.
Ritter and DeGroff also got a chance to see the versatile and compact T/Mon SLIM master. In the future, a T/Mon SLIM could poll NCTC's NetGuardians, providing complete network visibility on a single screen.
Better Monitoring For Reduced Costs and Better Service Reliability
Using dedicated NetGuardians instead of the simple integrated DMS system at its remote cabinets will allow Nebraska Central Telephone to enhance service reliability and reduce costs.
Because technicians will receive detailed alarm notifications, they will never have to leave the office without knowing they have the right tools to fix the problem. Also, some minor alarms might not require immediate action, allowing techs to combine several trips into one. Especially in a region where snowfall can be very heavy, minimizing truck rolls is a great way to reduce costs.
"If you have to make a trip out to some of our distant sites, half the day is shot," said Ritter. "Last year, we had to take snowmobiles to get out to some areas. I had to run whole routes by snowmobile to locate problems," added DeGroff. "The NetGuardians are going to be a big help in minimizing that kind of waste."
---
No matter what kind of equipment you need to monitor, DPS Telecom has a perfect fit solution for you. Whether you need small, versatile RTUs like the NetGuardian 216 ... large, full-function RTUs like the NetGuardian 832A ... or the complete T/Mon NOC Remote Alarm Monitoring System master station, DPS solutions are 100% guaranteed to work for you - or your money back.

See full specifications of all DPS Telecom alarm monitoring solutions ...
To receive a price quote or ROI analysis...
Call 1-800-693-0351