Replace Your Legacy Master With a Modern Master That Supports Your Legacy Remotes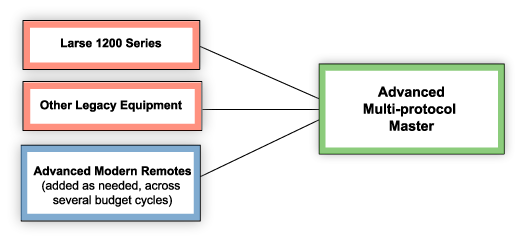 Feel Like You're Stuck With An Obsolete Legacy Master?
If you have an obsolete legacy master, you feel trapped. The manufacturer's long gone, and there's no support for it. You can't find spare parts. It's old, and it's starting to break down - or it's already broken down.
Your legacy master is a dead end. It's turned your network monitoring system - the system that's supposed to keep the rest of your equipment reliable - into the most unreliable system you work with.
It's time to get rid of your legacy master, and replace it with something new - something that works.
But you feel like you're stuck with it. Your network includes hundreds of legacy remotes. You can't replace them all at one time. You don't have the budget to buy that many new remotes, and even if you had the funds, you don't have enough people to swap out every remote in the network.
But sooner or later, the legacy master is going to die. And then you'll be really be stuck. Because then that budget-killing forklift swap out is going to hit you all at once.
What are you going to do?
There is a way out of your legacy dilemma. A modern multiprotocol alarm master can poll your legacy remotes - and advanced modern remotes as well. As your budget and manpower permits, you can gradually replace your legacy remotes with new ones.
Replacing your master with a modern system produces both immediate and long-term benefits to your business. You can poll your existing remotes with better reliability and features, plus you'll have a smooth, step-by-step migration path to upgrading your entire network monitoring system.
Immediate Benefits of Replacing Your Legacy Master
Reliable visibility of your existing remotes
Save your investment in legacy equipment
Use advanced monitoring features like nuisance alarm filtering, alarm silencing, and after-hours notification with your existing remotes
Long-Term Benefits of Replacing Your Legacy Master
Smooth, step-by-step migration path to replace your legacy remotes
Spread network upgrade costs across several budget cycles.
Upgrade your remotes as your budget and manpower permits
Legacy Equipment that your modern master should support
Larse
Badger
NEC
Pulsecom
Datalok