Filter Nuisance Alarms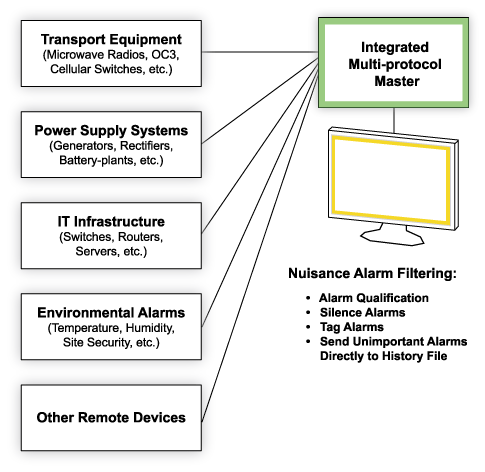 Eliminate Distractions and Focus Your Effort on Serious Emergencies
What happens when your alarm management system constantly bombards your staff with status events and non-alarms that require no action other than an acknowledgement?
Your staff becomes desensitized to alarm reports, and they start to believe that all alarms are nonessential alarms. The staff stops responding to ANY alarm - even critical alarms - defeating the function of the alarm management system.
These self-defeating, nonproductive alarms are called 'nuisance alarms', and they can have devastating effects. An advanced monitoring system has features that filter out nuisance alarms, so your staff stays focused on preventing serious threats to your network.
Nuisance alarm filtering includes features like:
No Log: alarms that are simply not important do not even need to appear on the monitoring screen. The alarm report goes straight to the history file, where it is recorded and can be retrieved later for analysis, if necessary.
Alarm Qualification: if problems are self-correcting, you might not need to know about them. You can filter these alarms by using an alarm qualification time that sets how long the alarm condition must be in effect before an alarm is declared.
Alarm Tagging: oscillating alarms can also be tagged to stay silent until untagged.
Alarm Silencing: alarms that oscillate and create a lot of alarm activity can be silenced for a specified length of time.