Monitor Your HVAC Systems For Preventive Maintenance
You know that your HVAC (Heating, Ventilation, and Air Conditioning) units are important. Your HVAC system plays a critical role in keeping your remote sites online. It fights the damaging effects of an outside climate that may be too hot, too cold, too humid, or sometimes even not humid enough.
You also know that heating and cooling systems require maintenance to perform reliably. They have compressors, air filters, and lead-lag configurations. If you don't keep up, you'll suffer through failures, outages, and sometimes even equipment damage.
Fortunately, some fairly simple monitoring technology can really simplify your HVAC management. You'll be able to do more with the smaller staffs that most companies have these days. Let's take a look at an example monitoring system: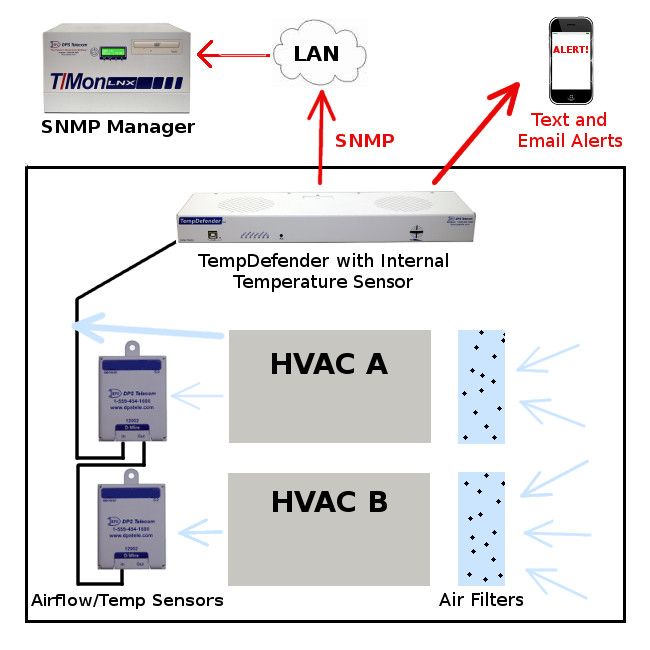 In this example, you're able to monitor a pair of HVAC units and take control of the system with just an airflow & temperature sensor mounted at each output. A TempDefender RTU collects the data and adds an overall "room temperature" sensor. Data is reported via
SNMP
, email, or SMS.
Only two types of sensors are required in this HVAC control diagram:
Temperature Sensors

HVAC units produce temperature change, so that's an obvious thing to monitor. An array of properly positioned sensors yields best results.

Temperature sensors are not at all complex, quite compact, and relatively cheap. They typically give you an analog temperature reading within one degree Fahrenheit of the actual temperature.

Install one sensor in the output stream of each unit. A change in running temperature indicates a compressor failure or similar problem. One global temperature sensor for the site gives you the "big picture".

Airflow Sensors

While temperature sensors are necessary, they don't tell you the whole story. One less-obvious thing to monitor is your HVAC airflow.

As your air filters begin to clog, you'll be able to detect a drop in output airflow. Your temperatures will be maintained, but your HVAC will have to push itself harder and harder - increasing run time and reducing the unit's overall lifespan. Eventually, it won't be able to keep up at all.

Temperatures will rise. You could even suffer thermal shutdowns and equipment damage that takes service offline.

So, before the problem grows, you can send out a technician for a routine filter replacement.
Remember that if your HVAC goes down, it generally isn't long before you'll encounter several serious problems that can take down a good portion of your network.
So, this is where an RTU comes in. It monitors your HVAC for failures. This happens both directly (most HVAC units will self-report at least a few different types of failures by latching a relay contact) and indirectly (monitoring the temperature and humidity ranges that the HVAC system controls).
Your RTU (a TempDefender in this diagram) will collect data from these sensors and report back to you. If you already have an SNMP manager, that's an excellent method to use. If you have just a few sites, it probably makes more sense to send an email or SMS text directly to your smartphone.
An RTU can also monitor many other pieces of gear simultaneously. A complete discussion of RTU monitoring options is outside the scope of this article, but you do need to realize that your HVAC monitoring needs must justify only a small fraction of an RTU purchase. You're going to get a lot of other value out of a deployed RTU.
Lead-Lag Monitoring
A properly configured pair of HVAC units will run on a rotation when only some cooling is needed. This balances their lifespans and maintenance requirements.
For that, you need a controller to activate them appropriately and rotate them over time. This is known as a "lead-lag" controller (One "lead" HVAC activates first (phase lead), then others activate after a "lag" (phase lag) if necessary).
How do you know if your HVAC System is operating at its best? Unless you are properly monitoring your system, you won't know there's a problem until you have a failure.
With the simple sensors described above, a smart RTU will be able to track comparative performance between the two units. When one falls too far out of spec, you'll get an alert. You'll avoid overworking the other HVAC unit because one has quietly failed.
Five Things to Consider When Purchasing Your Smart Controller
No matter how efficient or inefficient your cooling system is, you have to know that it's working. Any outage opens up the risks of overheating: thermal shutdowns & equipment damage. You'll increase your costs as you shut down your revenue.
Considering the costly dangers of unseen HVAC failures on your budget, there's no excuse for not monitoring. Compared to the cost of an outage, it's a no-brainer purchase decision.
When purchasing remote monitoring gear for your HVAC units, be sure to pick a device that is specifically designed for HVAC systems. Not just any RTU will do. Keep these 5 things in mind when purchasing your HVAC monitoring gear:
Lead/Lag function

Data trending and analysis

Easy to install

Easy to configure

A manufacturer that offers tech support and training
With a smart controller, such as the high-performance HVAC Controller G3 from DPS Telecom, you no longer have to analyze HVAC efforts yourself. The HVAC Controller will do it all for you.
The HVAC Controller can:
Control lead/lag transfer function efficiently

Log HVAC run times for analysis

Delay lag operations to give lead levels a chance
At DPS, we receive many urgent quote requests after an earlier "Do Nothing" decision comes back to bite you. You have no reason not to be proactive (and maybe you'll manage to impress your boss).
Call us. Chat with an expert for 10 minutes. We'll email you a detailed quote with a custom application drawing. We'll even include a summary of business benefits you can use to justify your project budget.
Call 1-800-693-0351 now for your quote (or send us a quick online message instead)