Monitor Door Sensors, Windows Sensors, Water Sensors, & Generator Sensors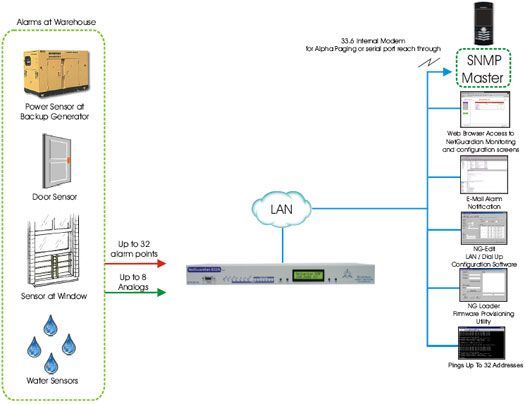 Monitor Door Sensors, Windows Sensors, Water Sensors, & Generator Sensors
Equipment Used:
Door Sensors
Water Sensors
Backup Generator Sensors
Window Sensors
How This Application Works:
You can use the NetGuardian G4 to monitor your generator and environmental alarms at your warehouse or other site. The NetGuardian G4 will be the perfect RTU for this application because it will be able to send to your cell phone a descriptive text message for every alarm. Upon receiving the alarm, you will also be able to view the alarms via the built in web browser.
We've also included the 19" Pluggable Back Panel.
You'll also have the option of a DPS Care package for the NetGuardian G4. The DPS Care package will ensure your NetGuardian is under warranty for an additional year, for a total of 3 years.
Additional Sensor and RTU Details
The RS485 port included in the NetGuardian can be used with a number of optional accessories we carry at DPS Telecom. A couple of products that can be used with the NetGuardian G4 are the general LCD display and Building Access System.
The NetGuardian G4 alarm remote supports 32 discrete alarms, 8 analog inputs, 8 control relays, 7 RS232 serial ports, 1 RS485 port and an informative local LCD display all in a 1 rack unit of space. The major improvement in this design is the dual NIC support. This will allow you to report to two simultaneous networks. In addition, the back panel will differ in that we've moved away from the DB9 connectorization in favor of RJ45 connectors for the serial ports.