Morgana Siggins
Monitoring Specialist
A Network Operations Centre (NOC) is a centralized location where operators directly support the efforts of remote monitoring your network and responding to potential problems. It forms the core of most medium or large-scale network monitoring effort.
Your NOC team will keep an watchful eye on your remote monitoring equipment.
Having a NOC means that you might have a vital link between the detection of a network problem and the implementation of a solution - usually in the form of a technician dispatched to the remote site.
However, having a NOC is an investment, and just as any other investment it will bring you some pros and cons.
So, let's take a look at what these advantages and disadvantages can be.
Benefits of Having a NOC
Starting with the pros that a NOC can bring to your business, we have three major points.
Continuously Monitor your Remote Sites

When it comes to maintaining high availability and top performance, your network operations centre might play a key role. A NOC's responsibility is to ensure stability, security and functionality by continuously monitoring and maintaining your network infrastructure. A capable and well-equipped NOC can be key to ensure a successful remote monitoring system.

Focus Only on Your Tasks

Having a NOC to keep an eye on your remote monitoring devices means that you can focus on your other duties. This can, ultimately, add better response times and proactive actions when it comes to dealing with alarms at your remote sites.

The Number of Alerts Can be Overwhelming for One Person

Especially if you have a large network, the flood of notifications can be overwhelming for only one person - or for a small team. Having a NOC with a larger number of staff available 24/7 can solve this problem. Another efficient way to solve this issue is, of course, having an efficient alarm master with nuisance alarm filtering capabilities.
Potential Disadvantages of Having a NOC
On the flip side, here are two major pitfalls in terms of having a Network Operations Centre.
Financial Factors

NOC costs can increase exponentially when we're talking about tools, processes and personnel.

In order to assure the best visibility possible of your remote sites, monitoring equipment need to be upgraded as newer technologies come around. And this means having to constantly train technicians on the skills needed to understand and operate these systems.

If you have a small or even medium company, setting up and operating an efficient NOC can be an expensive - challenging task.

Non-Business Hours

While many NOCs are open 7x24x365, this isn't always the case.

Some companies are in a transitional phase of growth. Their network might be large enough to have warranted an investment in NOC centre construction, but they can't quite yet justify the expense of staffing it outside of regular or possibly extended business hours.

One way around this issue is having a monitoring equipment capable of sending alarm notifications (to email or phones) during after-hours to alert on-call technicians of alarms in the network.
How to Give your Personnel Maximum Visibility of Your Network
Whether you have decided to make the investment on a dedicated Network Operations Centre for your company or not, it's important that your staff have access to monitoring equipment with all the following capabilities:
Power failure monitoring

Environmental monitoring

Root cause analysis

Problem alerts for your key personnel

Escalating notifications that are forwarded to supervisors after user-defined time limits
The only way to obtain these capabilities - with or without a NOC - is to deploy an advanced alarm monitoring system. This system will provide you with important alarm alerts, while also tracking alarm histories to help you tackle the source of frequently occurring problems.
Why Do You Need Alarm Monitoring in your NOC?
Alarm monitoring is an integral component of your NOC (as well as of your company overall, even if can't afford to have a dedicated NOC). Without it, you won't know about problems in your network until it's too late, and by that time your customers have already lost service - and a good deal of patience with your service levels.
A good alarm monitoring system provides your staff with all the important info they need about problems throughout your network. You or your NOC staff will be able to look at this alarm info in a variety of ways, enabling you to dispatch technicians to your various remotes sites.
What are The Components of your NOC's Alarm Monitoring System?
To deploy the most effective alarm monitoring system for your business, you need advanced remote telemetry units - RTUs - as well as a modern alarm master. The most advanced gear will provide you with the best alarm collection and reporting.
The RTU's job is to handle the alarm collection portion of your network monitoring. These remotes can monitor a number of devices at a remote site.
In Telecom and IT industries, an RTU ("Remote Terminal Unit" or "Remote Telemetry Unit") is a remote device that monitors and reports events occurring at a remote site. This allows you, the network operator, to manage the network more effectively, keeping service flowing to your customers/users and protecting your revenue stream.
After collecting an alarm, these remotes will then report the data to your alarm master, providing your staff with important details about the problem. This alarm will be displayed within your NOC (if you choose to have one), as well as in emails or pages to your appropriate network technicians.
If you decide to have a NOC or already have one, your alarm master is going to be the core of it. It aggregates alarms from remotes and gear across the network, notifying NOC personnel and field technicians of all problems that arise. NOC operators can specify how the alarm master displays this information, customizing their system to make their network operations centre as efficient as possible.
T/Mon LNX Provides the Alarm Master Capabilities you Need
Get the functionality you need to provide the visibility you absolutely must have by deploying a T/Mon LNX master station.
The T/Mon LNX Remote Alarm Monitoring System is a multiprotocol, multifunction network alarm manager designed as a single-platform solution for all alarm monitoring applications. T/Mon collects alarm data from lots of different equipment throughout many manufacturers and protocols.
The T/Mon is an alarm master that provides you with the visibility you need of your vital operations. With it, you won't be left wondering what is going on in your network. Instead, you'll be able to view the status of your whole network of devices, right from your NOC (or right from your own desk).
If you choose to build a dedicated NOC (or already have one), with a high-quality master in place, your NOC staff will be able to provide your techs with all of the important applications they need to be successful.
With the T/Mon, you'll have a number of options for accessing alarm alerts, including email and pager alerts. With the single window browser view, you'll be able to view the status of your entire network at once right in your desk.
You can even define your own criteria for grouping alarms, allowing your NOC personnel to view alarms by severity, geographic location, and more.
T/Mon also helps you to make sure your network recovers quickly after an issue. It provides for escalating alerts, informing increasingly high-level staff if technicians don't clear or acknowledge alarms in a timely manner.
T/Mon filters out your nuisance alarms to silence unimportant recurring alarms as well. This keeps you and/or your NOC personnel from being conditioned to ignore alarms, which can be a recipe for disaster.
Being able to prevent problems, by collecting incoming alarm data and trending it over time, is just as important as spotting and responding to problems as they occur. Using T/Mon's web browser interface, you'll be able to do just that. T/Mon keeps logs of all of your incoming alarms, enabling you or your NOC team to quickly run reports and generate graphical representations of trends to identify trouble spots in your network.
Get The Peace of Mind You Deserve
The bottom line is that a NOC can bring you many advantages as well as disadvantages, and having this center in your company depends solely on your unique scenario.
However, to efficiently manage your network operations, you need advanced alarm monitoring capabilities. To get the functionality you need to provide the visibility you absolutely must have, deploying a T/Mon is the answer.
You deserve to enjoy peace of mind and know that your alarming is taken care of, so don't wait until an easily preventable problem festers into a major outage. Give us a call and start increasing your network reliability today.
---
Get a Custom Application Diagram of Your Perfect-Fit Monitoring System
There is no other network on the planet that is exactly like yours. For that reason, you need to build a monitoring system that's the right fit for you.
"Buying more than you need" and "buying less than you need" are real risks. You also have to think about training, tech support, and upgrade availability.
Send me a quick online message about what you're trying to accomplish. I'll work with you to build custom PDF application diagram that a perfect fit for your network.
---
Don't make a bad decision

Your network isn't off-the-shelf.
Your monitoring system shouldn't be, either.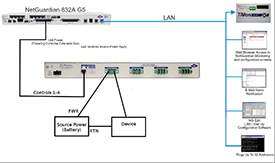 We'll walk you through this with a customized monitoring diagram.
Just tell us what you're trying to accomplish with remote monitoring.
Get Your Custom Diagram Now