Heating, ventilation, air conditioning, and refrigeration (HVACR) systems are used to heat, cool, and control moisture levels - humidity can be especially damaging for equipment - in multiple different facilities. Commercial HVACR for places like hospitals, data centers, restaurants, warehouses full of perishable goods, and rooms or buildings with delicate electronics or telecommunication gear can be expensive and difficult to track and properly maintain.
In terms of commercial businesses, HVACR accounts for the biggest share of energy consumption. But, the challenge here is not only how much you're spending on energy bills. Problems increase when you have to first manually discover what's going on so you can assess the issue.
In this article, we'll talk about how commercial businesses can reduce energy consumption and increase network efficiency while deploying reliable, cost-efficient HVACR monitoring solutions. The goal here is to achieve smarter, safer, and more efficient operations.

Source:
US Energy Information Administration
Common Problems With HVACR
At DPS, we receive many inquires from companies looking for solutions for various HVACR problems. Some of them are:
Expensive system downtime
Damage to mission-critical equipment
Human discomfort
Product waste or spoilage
Regulatory compliance
Out with Clipboards, in with Monitoring Solutions
The old-school days of limited productivity and singular focus on HVACR when technicians arrived at the facility armed with clipboards are almost gone. Smart HVACR systems that can preemptively address inconvenient emergencies and improve network efficiency and productivity are rapidly becoming the norm.
Remote monitoring systems help improve processes that have traditionally been manual. This is important since manual processes increase the possibility of errors and are difficult to track. Also, you won't need to have specialized personnel to monitor and control HVACR equipment.
With a monitoring solution, errors can be discovered quickly to minimize network downtime, prevent expensive equipment damage, and increase process efficiency.
Remote Monitoring Systems For HVACR
Why is a remote monitoring system important for commercial HVACR systems?
Remote monitoring systems are the ever-growing network of physical monitoring devices that are capable of collecting and exchange critical operational data from any HVACR system. Monitoring systems have been around for years, and their wide applications are a necessity for many networks.
Many companies can't afford to do without monitoring systems as a competitive advantage. They allow for real-time troubleshooting and diagnosis of HVACR issues, which in turn provide cost-effective remedies, and the ability to maintain uptime critical to satisfying customers and preserving a positive reputation.
Using DPS remote monitoring solutions, companies can remotely monitor and manage temperature and environment from anywhere, anytime, using our D-Wire sensors and HVAC Controller G3. This means you can securely record and exchange data, as well as receive immediate alerts about issues before they become costly, time-consuming problems.
DPS monitoring solutions for HVACR provide real-time information that helps reduce energy consumption and costs.
DPS HVACR Remote Monitoring is an All-In-One-Solution
Our remote monitoring solution is making a big impact with many companies that rely on HVACR systems. Our monitoring system can help you and your staff monitor various aspects of your network environment. You're able to remotely fix issues to ensure that operational issues are actually fixed rather than masked.
Here are some of the benefits of that you'll get with DPS monitoring system:
Monitor your HVAC units 24x7
Extend the lifetime of your HVACR system
Save time and resources
Protect your investments in expensive gear
Enhance safety
Maintain regulatory compliance
Protect your company's reputation
How Our Solution Works
Today, the importance of convenient, flexible, and intuitive access to your system data can't be overemphasized. With that in mind, the HVAC Controller G3 allows you to keep track of HVAC units from anywhere in the world, while securely logging data and immediate alerts whenever conditions exceed predefined thresholds.
Our solution consists of D-Wire sensors, the HVAC Controller G3, and the T/Mon LNX, to offer a complete remote monitoring system.

The DPS HVACR monitoring solution.
Our D-Wire sensors are used to monitor various environmental levels across your facility and will collect real-time data. We build many different types of D-Wire sensors (not only for environmental monitoring purposes), and all of them have unique characteristics whose application will provide the solution you need.
The HVAC Controller G3 will allow you to view sensor information anytime from wherever you are. It can also provide immediate alerts via email or text message when pre-configured conditions you've set are met or exceeded.
The T/Mon LNX is a multiprotocol master station that will expand your network view from a single local area to a comprehensive multi-site one. All of your HVAC Controllers and other equipment can be configured, monitored, and managed from one intuitive, geographical interface.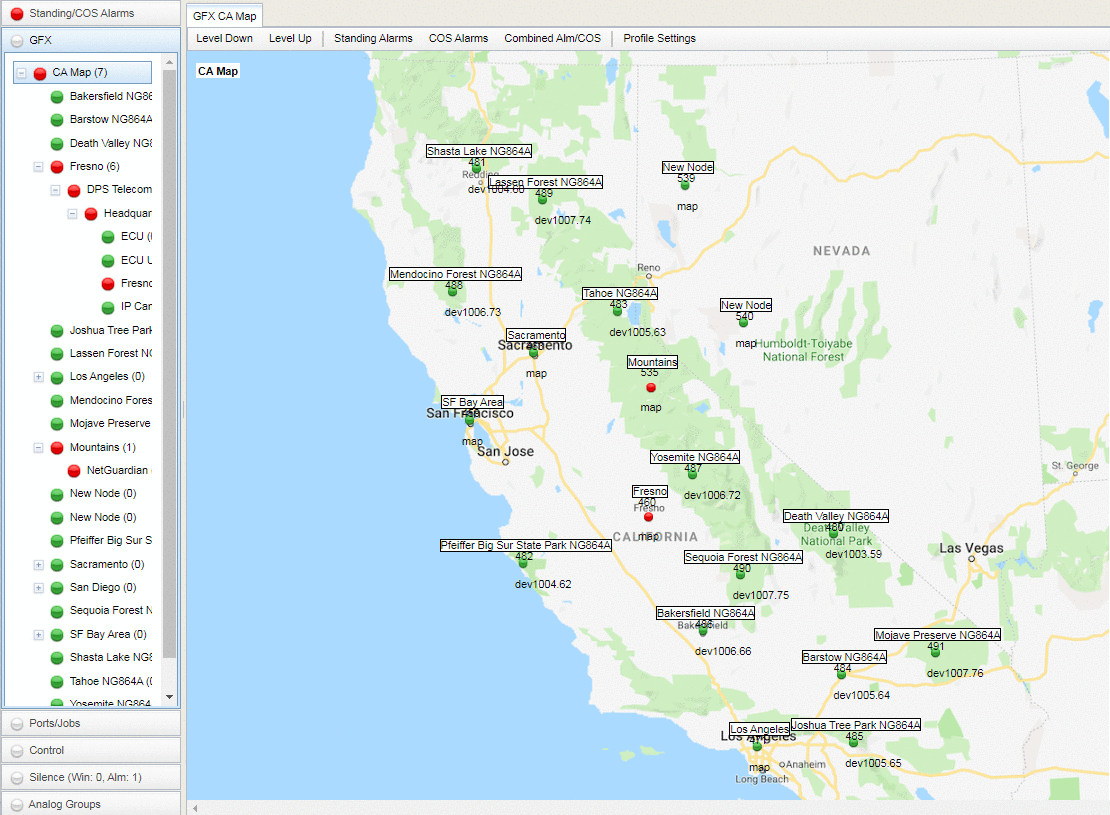 See all your HVACR facilities in a dynamic interface.
Features and Advantages that Can't Be Ignored
DPS monitoring solutions provide visibility that allows you to remotely control your HVACR systems. Our systems are the most intuitive, reliable, and cost-effective solution in the market.
In a nutshell, these are some of the main benefits you'll achieve with us:
Easy setup and use
Reliable, proven technology
Cost-efficient
Scalable
Text message, email, or phone call alerts
24x7 access from anywhere
Key Takeaways
HVACR monitoring systems offer you the opportunity to gain peace of mind by monitoring and recording important operational HVACR data 24x7. If your HVACR system performs outside specified parameters, you'll be alerted via text message or email. This eliminates the potential for human error, saves you time and money while giving you the control to ensure network reliability.
We empower businesses with easy-to-use, low-cost remote monitoring solutions for multiple different applications. Keeping track of HVACR is one of these applications.
Our HVACR monitoring system is a valuable tool when it comes to protecting your network. It will help you with your goal of saving time, money, and stress by preventing issues, allowing for proactive maintenance, and alerting you promptly when problems happen.
So, if you need a competent remote monitoring and control system, just let us know.


Morgana Siggins
Morgana Siggins is a marketing writer, content creator, and documentation specialist at DPS Telecom. She has created over 200 blog articles and videos sharing her years of experience in the remote monitoring industry.